Ian Bibby solo'd to victory and a sensational race by NFTO in the first Chorley Grand Prix which was an outstanding success
---
Feature – Chorley Grand Prix 2015
(thanks to Adrian Elwood for being my moto pilot today)
See the start list and preview here
Ian Bibby (NFTO) back to his best winning solo after an attack over a kilometre from the finish. Ian was part of a three man move which was started by Liam Holohan of Madison Genesis and then countered by Raleigh's Steve Lampier.
Ian Bibby of NFTO then danced on the pedals and Lampier and Bibby were away. Seeing the rest were suffering, teenager Eddie Dunbar of NFTO jumped across and he and Bibby talked and Dunbar was taking flight. Lampier and Bibby rejoined Dunbar though and the Irish rider gave it his all to make sure the break succeeded.
Ian Bibby then finished the job by attacking a kilometre from the finish and solo'd to the win from Lampier. Morgan Kneisky of Raleigh was third after he and a few others caught Dunbar on in the finale of the race.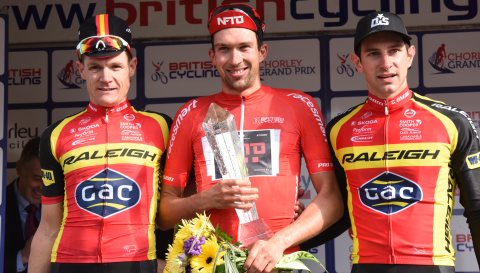 Win for Ian Bibby ahead of Steve Lampier (Raleigh) and world champion Morgan Kniesky (Raleigh)
RIDER REACTIONS
Ian Bibby of NFTO – "Everyone in the team rode really well today and we rode it as a team. Come to the last climb, I knew Eddie was so strong on the climb I knew we had to use that. He said to me what should I do and I replied 'go' and he rode off."
"A few people went and I felt real comfy and I looked behind and there was only me and Lampier left so I did a big turn and we got across to Eddie with Lampier and fairplay to him, he rolled through with us."
"Eddie was amazing out there. Once we were away, he knew the best chance was to get his head down and he fully committed and he pulled some long hard turns."
"I felt good and the hard work I put in during the winter at home and in Australia has paid off. Having a coach telling me to do something and I've done it pretty much and it's worked. I was feeling good and do this in a race and hopefully keep it rolling all year now. I am definitely feeling like I am back to my best now."
Steve Lampier (Raleigh GAC) – "The whole race, everyone was watching each other and then the last lap, Liam Holohan (Madison Genesis) attacked and I went over the top and Bibby came with me. Then Dunbar came from no where and just smashed it. He got a gap and so Karol Domagalski my teammate did a massive turn to pull the gap back and I attacked and Bibby and I got across to Eddie."
"I was in a bind being with two riders from the same team and we still had 30k to ride. So I rode to see how far I could get with them before they started attacking. Bibby hit us with a K and a half to go and it was the Bibby we used to see in 2011 when he was going real well. He hit us from the back and I chased but he had the gap and I was screwed."
"I am pleased with the form. I have had a big lifestyle change early on in the year so the focus has changed from being a near family man to having a girlfriend who understands. I am just really happy with my life, really happy with the team and everything is positive which is a big thing. Also a good coach in Stephen Gallagher at DigDeep so I'm looking forward to the season.
Morgan Kniesky 3rd from Raleigh GAC – the World Madison champion from France had been racing in London the day before and admitted that his legs were not good for the first few hours. "The race long and it was good for me as we controlled the final and it was perfect. Last year it was a learning experience for me but now I know the riders, the races, and now I want to be on the podiums in the races."
Eddie Dunbar "I was quite surprised with how it went. I have been learning from my mistakes in the past few weeks so I approached this race with a different mentality. I was looking to do what I normally do in the first hour in the last hour and that kind of worked today."
"I watched the race unfold in the first half and then got away in a group of 18 and me and Bibby were in that and talking constantly. I knew Bibby would be stronger than me in the finale because he has plenty years of this racing in his legs and I am kind of new to it. It was also his home race so I had no problem helping him."
"One of the Madison guys (Holohan), Bibby and Lampier got away and I was in the group behind and they all seemed to struggling and I was very comfortable as I knew two (from NFTO) in the lead was better than one so I jumped across."
"I had a chat with Bibby and decided to make it as hard as possible for the rest so Bibby had an easier ride up the climb. It paid off in the end and there were just three of us after the climb. In fairness, Steve Lampier was working with us as I think he knew there were guys behind faster than us in the gallop. If you can get a podium in these races, you may as well go for it rather than getting caught and finishing fifth or sixth in a bunch sprint."
"I wanted to help Bibby as much as I could so I worked as hard as I could before he went and I was trying to hold on for third but two of the Raleigh boys caught me but I didn't mind as long as the team won."
"It is a very good start to the season for me. I didn't know what to expect and it gives me a lot of confidence going forward and I'm learning every day and in every race."
Dave Povall (NFTO manager) – The strategy for NFTO today was exactly as it panned out. There is obviously a big element of luck but Bibby knows the course really well as he lives close by. We drove round it in the car on the Friday and the two riders with me, were Bibby and Dunbar talking the whole way round. We had radios between the two cars so both cars chatted all the way round."
"Genuinely, when we got back to the hotel, what we wanted to do, was that. To a man today, they were spot on for me. If I'd been able to move up when the gap to the leaders was 55 seconds so I could tell them the gap was decreasing, I think that would have helped them more and Eddie would have come third. We'll take the win though and it was a fantastic ride by Raleigh which was no surprise".
REPORT – See the race unfold here
 Race started in the centre of Chorley with the sun breaking through making it a great day for a bike race.
Olympic champion Ed Clancy was at the head of affairs early on showinmg good 'road legs' after a lot of track racing the day before.
Mike Northey of Madison Genesis stretches the peloton and forces a split for a short time
Dan Fleeman of SportGrub Kuota let loose his climbing legs on the climb at Belmont
But it was Tom Stewart of Madison Genesis and Steve Williams (Pedal Heaven) who managed to make a break stick for the first few laps.
NFTO were the team that took up the control of the peloton
Hugo Robinson bridged to the two leaders on his own and went to the front but the peloton was closing in.
Richard Handley forces the pace back in the peloton to bring the gap to the leaders right down
After a lot of skirmishes, a big break of around 18 riders got clear and with the top teams having several riders in it, the gap quickly opened but not by much.
Starley Primal took up the chase first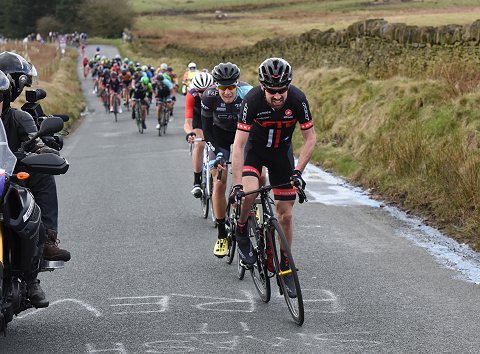 Jonny McEvoy does some damage in the peloton but it came together on the descent.
Three riders go clear to chase the break but it failed to stick.
Final lap and Liam Holohan is the first to go at the bottom of the climb
Then Steve Lampier went drawing him and Ian Bibby clear.
NFTO's Eddie Dunbar then bridged to them …
Before going clear to force the move forward and give Bibby an easier ride with a teammate up the road.
Ian Bibby all smiles as his teammates look on as gets the race winners jersey.
RESULTSÂ 
|1 Ian Bibby NFTO E 4:39:14
2 Steve Lampier Raleigh GAC E 15
3 Morgan Kneisky Raleigh GAC 22
4 Karol Domagalski Raleigh GAC E st
5 Eddie Dunbar NFTO 1 26
6 Adria Moreno Sala Velosure Starley Primal 2 33
7 Mark McNally Madison Genesis 1 41
8 Richard Handley JLT Condor E st
9 Wouter Sybrandy Nuun-Sigma Sport-London RT 1 st
10 Yanto Barker One Pro Cycling E st
11 Liam Holohan Madison Genesis E 45
12 Dan Fleeman SportGrub KUOTA Cycling Team E 57
13 Marcin Bialoblocki One Pro Cycling E 1:11
14 George Wood Richardsons-Trek RT 1 st
15 Robert Partridge NFTO E 1:38
16 Peter Williams One Pro Cycling 1 2:00
17 Ryan Perry Army Cycling Union 1 4:51
18 Joshua Hunt One Pro Cycling 1 6:00
19 Steven Lawley 1 6:03
20 Stephen Williams Pedal Heaven RT E 6:06
21 Bradley Morgan Raleigh GAC st
22 Mike Northey Madison Genesis E st
23 Thomas Scully Madison Genesis E st
24 Thomas Moses JLT Condor E st
25 James McLaughlin Madison Genesis 2 st
26 Lloyd Chapman Richardsons-Trek RT 1 9:22
27 George Harper One Pro Cycling E 11:08
28 David McGowan Pedal Heaven RT E st
29 William Bjergfelt SportGrub KUOTA Cycling Team E st
30 David Creeggan Pedal Heaven RT 2 st
31 Connor Swift Polypipe Cycling Team 1 st
32 Tom Neale Catford CC Equipe/Banks E st
33 Josh Burns Velosure Starley Primal st
34 Will Fox Pedal Heaven RT 1 st
35 Ashley Dennis Catford CC Equipe/Banks 1 st
36 Alex Paton Pedal Heaven RT 1 st
37 Steele Von Hoff NFTO E st
38 Lawrence Carpenter Catford CC Equipe/Banks E st
39 Tobyn Horton Madison Genesis 1 st
40 George Atkins One Pro Cycling E st
41 James Lowsley-Williams NFTO 1 st
42 Andrew Feather Bikeshed – Exeter Uni E st
43 Jonathan Mould One Pro Cycling E st
44 Jacob Tipper Neon-Velo Cycling Team E st
45 Rhys Lloyd NFTO 1 st
46 Tom Barras NFTO 1 st
47 Sam Lowe Raleigh GAC 1 st
48 Evan Oliphant Raleigh GAC E st
49 Andrew Nichols Langsett Cycles RT 1 st
50 James Lowden Neon-Velo Cycling Team 2 st
51 Ryan Davis SportGrub KUOTA Cycling Team st
52 Anthony Moye Easton Ritte 2 st
53 Dave Clarke Giordana-Mitsubishi Electric RT E st
54 Ben Hetherington Achieve Northside Skinnergate E st
55 Richard Lang JLT Condor 1 st
56 Marius Cordier Velosure Starley Primal st
57 Stuart Reid Wheelbase Altura MGD 1 st
58 James Gullen Velosure Starley Primal E st
59 Dexter Gurdias One Pro Cycling st
60 Jonathan McEvoy NFTO E st
61 Alexander Royle Army Cycling Union E st
62 Ben Davis Wheelbase Altura MGD 1 st
63 Joseph Clark Team Envelopemaster/Bikeboxalan 2 st
63 Martin Ford BowlPhish BONTRAGER Racing 1 st
65 Matt Cronshaw Madison Genesis E st
66 Peter Murdoch Neon-Velo Cycling Team E 11:16
67 Iain Paton Team Wiggins 3 11:20
68 Thomas Bustard Giordana-Mitsubishi Electric RT E 11:25
69 Sam Boast Wheelbase Altura MGD 1 11:33
70 Russell Hampton Polypipe Cycling Team 1 11:38
71 Thomas Stewart Madison Genesis E st
72 Gruffudd Lewis Pedal Heaven RT E st
72 finishers
Send your results as well as club, team & event news here
---
Other Results on VeloUK (including reports containing results)

---
Other News on VeloUK