The 2015 CiCLE Classic has been won by Steele Von Hoff of NFTO,in the biggest bunch sprint so far in the races 11 year history
Feature – 2015 CiCLE Classic
The 2015 CiCLE Classic has been won by Steele Von Hoff of NFTO.
Above: Aussie Steele Von Hoff of NFTO beats Chris Opie to the line from Harry Tanfield (in black and yellow) and Kiwi Aron Gate (second from right) and Ian Wilkinson (Raleigh GAC) right.
It was a brilliant show by the team in the last third of the race with Ian Bibby crossing to a break and then going again with a rider from a visiting team. They were caught with 5 k to go and then Bibby put himself at the services of Steele Von Hoff who came off Chris Opie's wheel to win his biggest race so far in Britain.
THE PHOTO REPORT
Steele Von Hoff (NFTO) gives the bubbly a spray
The first moves are going and eventual winner Steele von Hoff (NFTO) is right up there in the mix.
Early move with a rider from Pedal Heaven and Sam Lowe from Raleigh GAC
The riders from Ireland get stuck in attacking
Tom Scully of Madison Genesis was another 'serial' attacker 
A rider from Zappis goes and some react, some watch and some do nothing!
Elliott Porter leads a small move away but again, nothing was sticking early on.
Another rider who was attacking all day, Karol Domagalski of Raleigh-GAC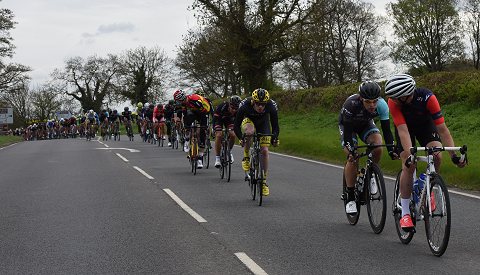 A lined up peloton – quite a common site but the more the moves failed to stick, the more bunched up the race became.
Rider from Latvia was first into Oakham after the Rutland Water loops.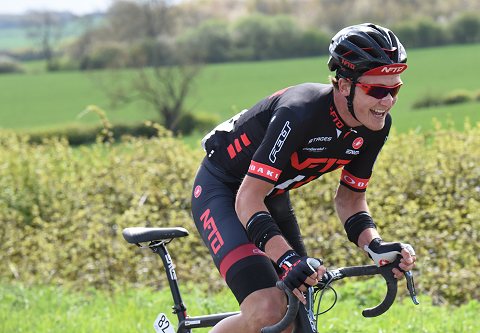 Then Sam Harrison of NFTO went on the attack.
It wasn't until the feed zone and I photographed the race come past I could see how split the race really was with the string of riders several miles long
By the time the race came through Somerberg the first time, what had looked like a promising move was still away led by Marcin Bialoblocki from Karol Domagalski and Steve Lampier (both Raleigh GAC), Tom Stewart (Madison Genesis) and several others from foreign teams. The gap was coming down though.
But, ominously, a chase was on and they came through led by Ian Bibby (NFTO)
The race though had changed on the return leg through Somerberg where Morgan Kneisky   (Raleigh GAC) led a duo of riders out front.
Madison Genesis and Mike Northey had taken up the role of chasing it
And the two leaders were joined by two riders who had both bridged to it on their own, first Ian Bibby of NFTO and then Alex Paton of Pedal Heaven.
Behind in the hills as they headed for the finishing circuit, Richard Handley was giving it some with Dan Fleeman of Sportgrub Kuota on his wheel chasing the four leaders.
Sawgate with eight or so k to go and there are only two, a rider from Park Hotel and Ian Bibby (NFTO).
Once Bibby and co were caught though, the attacks were constant. Five k to go and rider from 3M and Richard Handley have a go. Madison Genesis also threw in many a dig but it came down to the big sprint.
Karol Domagalski of Raleigh GAC won the King of the Bergs
Whilst  Tom Stewart of Madison Genesis with just a fraction of the beer he won after being first through Owston the second time.
1 VON HOFF Steele NFTO Pro Cycling 04:16:15
2 OPIE Chris One Pro st
3 TANFIELD Harry JLT-Condor st
4 GATE Aaron An Post-Chain Reaction st
5 WILKINSON Ian Team Raleigh GAC st
6 VAN DIEMEN Jurgen Park Hotel Valkenburg Continental Team st
7 BEUKEBOOM Dion Park Hotel Valkenburg Continental Team st
8 BJERGFELT William SportGrub-Kuota st
9 OCKELOEN Jasper Park Hotel Valkenburg Continental Team st
10 PEYSKENS Dimitri Team 3M st
11 Â MOSES Thomas JLT-Condor st
12 PATON Alex Pedal Heaven RT st
13 DE JONGE Maarten Bike Aid st
14 TENNANT Andy Team Wiggins st
15 SYBRANDY Wouter Nunn-Sigma Sport-London RT st
16 APPLEBY Dale NFTO Pro Cycling st
17 MAXWELL Oliver SportGrub-Kuota st
18 NOLTEN Bram Park Hotel Valkenburg Continental Team st
19 ROWSELL Eric Madison-Genesis st
20 McCONVEY Connor Team 3M st
21 BARKER Yanto One Pro  st
22 TANNER Jake Team 3M st
23 HANDLEY Richard JLT-Condor st
24 BIALOBLCKI Marcin One Pro  st
25 AITKEN Roger Team Asea st
26 LAWLEY Steven Neon Velo Cycling Team st
27 SCULLY Thomas Madison-Genesis st
28 KNEISKY Morgan Team Raleigh GAC @10s
29 OLIPHANT Evan Team Raleigh GAC @13s
30 BIBBY Ian NFTO Pro Cycling st
31 WILLIAMS Peter One Pro  @15s
32 MCNALLY Mark Madison-Genesis st
33 DOMAGALSKI Karol Team Raleigh GAC st
34 CERVENKA Martin AC Sparta Praha @18s
35 FLEEMAN Dan SportGrub-Kuota @22s
36 BECK Joschka Bike Aid @24s
37 HARRISON Sam NFTO Pro Cycling st
38 GOOVAERTS Tom CCT-Champion System st
39 NEWEY James Zappis Racing @26s
40 LAMPIER Steve Team Raleigh GAC st
41 FERGUSON Callum Zappis Racing st
42 LEWIS Gruffudd Pedal Heaven RT st
43 HAMPTON Russell Team Polypipe st
44 McEVOY Jonathan NFTO Pro Cycling @29s
45 MULLEN Ryan An Post-Chain Reaction @44s
46 BECIS Armands Reitumu-Delfin @52s
47 MORENO SALA Adria Velosure Starley Primal Pro Cycling @56s
48 NEALE Tom Catford CC-Equipe Banks @1:28
49 LORENTE Carlos Keith-Mobel-Partizan @2:06
50 DUNNE Connor An Post-Chain Reaction @2:54
51 STOHR Pavel AC Sparta Praha @3:07
52 STEWART Thomas Madison-Genesis @3:25
53 PATON Iain Team Wiggins @3:44
54 LOWE Samual Team Raleigh GAC @4:23
55 KENWAY Adam SportGrub-Kuota st
56 MOYE Anthony Easton-Ritte st
57 JUDD James Park Hotel Valkenburg Continental Team @4:49
58 BARRAS Tom NFTO Pro Cycling @5:36
59 HOUSE Kristian JLT-Condor @6:49
60 NORTHEY Michael Madison-Genesis @7:53
61 HORTON Tobyn Madison-Genesis st
62 SLATER Alistair An Post-Chain Reaction st
63 AULD Scott Zappis Racing st
64 DZERVUS Darijus CCT-Champion System st
65 WILLIAMS Stephen Pedal Heaven RT @9:18
66 McAULEY Ali Team Asea @10:56
67 MAYER Yannick Bike Aid @13:27
68 THOMPSON Mike Team Wiggins st
69 CARPENTER Lawrence Catford CC-Equipe Banks st
70 BICHLMANN Daniel Bike Aid st
71 ROBINSON Hugo Neon Velo Cycling Team st
72 REID Stuart Wheelbase-Altura-MGD st
73 HALES Jake Spirit Bikes Race Team @13:40
74 STOKES Bradley Achieve Skinnergate Racing st
75 LINES David Velosure Starley Primal Pro Cycling st
76 FIALA Petr AC Sparta Praha st
77 GULLEN James Velosure Starley Primal Pro Cycling st
78 STOHR Jan AC Sparta Praha st
79 MONTGOMERY David Team 3M st
80 STANNUS Jordan An Post-Chain Reaction st
81 STEDMAN Max Pedal Heaven RT st
82 TANFIELD Charlie Easton-Ritte st
83 TIPPER Jacob Neon Velo Cycling Team st
FORMER WINNERS
2005 Scott Gamble
2006 Robin Sharman
2007 Malcolm Elliott
2008 Ciaran Power (IRL)
2009 Ian Wilkinson
2010 Michael Berling (DEN)
2011 Zakkari Dempster (AUS)
2012 Alexandre Blain (FRA)
2013 Ian Wilkinson
2014 Tom Moses
---
Send your results as well as club, team & event news here
---
Other Results on VeloUK (including reports containing results)

---
Other News on VeloUK