"There's a bit of pressure on our shoulders" says NFTO DS Dave Povall as they reveal their eight riders for Tour of Yorkshire
Team News – NFTO for Yorkshire
After three big wins already in 2015, NFTO know they will be in the spotlight at the Tour of Yorkshire. In a press release on their website, the team explain that Friday, the start of the race, is a very important day for the team.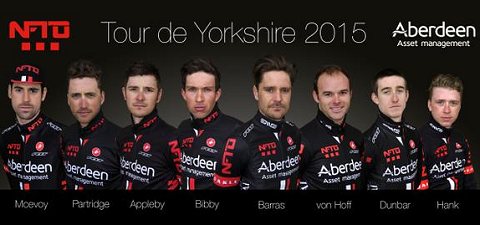 Stage 1 will see the riders wearing their new look jersey with new sponsor Aberdeen Asset Management displayed prominently for the first time in a race. That in conjunction with the fact the riders are racing on the roads of Yorkshire, home to the teams own Tom and Sid Barras, and the countryside where the owner of NFTO – John Wood from Wakefield grew up training and racing himself for the Calder Clarion team.
"Having stated our intention to progress to Pro Continental status in 2016, and this being the first ASO organised event for the team, the culmination of factors, mean we want to make an impression on the event and try to animate the race more so than normal" the team say.
"As a result, we have selected riders that we feel would best suit the parcour, and give us the best chance to make our mark, for our sponsors, owner and the people of Yorkshire, to give back to them and show our appreciation to the organisers for selecting us".
Steele Von Hoff taking a picture of Rob Partridge on the team's recce
Dave Povall, the team's chief Sports Director adds "there's a bit of pressure on our shoulders – but the riders we've selected, we believe, are up to the challenge. Ian Bibby and Steele von Hoff come into the race with significant wins already under their belt this season, taking out Chorley GP and the Rutland – Melton International CiCLE Classic respectively".
"They will go into the event supported by the Irish prodigy, Eddie Dunbar for whom his baptism of fire is certainly within his capabilities. He's been riding tremendously recently as seen in La Cote Picardie and has been out doing some hard training with Rob Partridge in preparation".
"The international stage race experience of Rob & Dale Appleby and determination and hard work ethos of James Lowsley-Williams gives us a strong foundation to build upon. Matched with the Yorkshire pride, dogged determination and professional experience on the domestic scene of Tom Barras, I'm reasonably confident and very happy of the line up that will represent NFTO at the very first Tour de Yorshire".
"Whether we go home with a stage win, or just animating the race, I'm already proud of the team, as what we are building here is really something special, and the group is really starting to gel".
"The course is much harder than it looks on paper, and we could be at an advantage as we came up and did a reccie here a month or so ago. But one thing we know for sure, is we are pumped for the weekend ahead. If you're standing by the road side give us a shout and you never know… we might just #hittheawesomebutton (#HTAB)"
Riders
Dale APPLEBY
Tom BARRAS
Ian BIBBY
Eddie DUNBAR
James LOWSLEY-WILLIAMS
Johnny McEVOY
Rob PARTRIDGE
Steele VON HOFF
Send your results as well as club, team & event news here
---
Other Results on VeloUK (including reports containing results)

---
Other News on VeloUK