On a night when the Redditch circuit split the womens race to bits, Laura Trott showed who was champion in the sprint to the line
Report – Matrix Fitness GP Series
by Gordon Wiseman
Matrix Fitness Grand Prix Series – round 1 – Redditch – Debut Girl Trott's Maiden Win!
Pulling away from an elite group of four other riders, British Women's Road Race champion Laura Trott (Matrix Fitness) won tonight's opening round of the country's top televised race series in front of a damp and cold but very appreciative crowd, outsprinting her Olympic Team Pursuit team-mate Dani King (Wiggle-Honda) and Team Giordana Triton's Nikki Juniper.
Such was the size of the field, made up of over 70 riders and again proving how far women's racing has progressed in recent years in the UK, as the peloton dived into the first corner chicane, towards the back many rides were slowly pedalling through with a good number having to unclip from their pedals to avoid falling.
Ellie Dickinson (Team Giordana Triton) and Mel Lowther (Matrix Fitness) were less lucky, being involved in a bad fall having just negotiated that first chicane although both were soon back on their bikes.
The very select group with a few laps to go with world and Olympic champions Laura Trott, Katie Archibald, Elinor Barker and Dani King along with Nicola Juniper.
As the racing settled down, a group of between 20 and 25 riders quickly established themselves at the front – including the eventual top three – and went about separating themselves from the rest of the field by some distance.
After around 20 minutes, at the start of the first Sprint lap, Katie Archibald (Pearl Izumi Sports Tours International) showed her face at the front and some thought she might ride away from that point onwards – just as she had in Stoke last year – but first over the line at the end of that Sprint was Jessie Walker (RST Racing Team), with second placed Juniper leading the chasers.
Juniper was then in the thick of the action for the rest of the race, winning the second Sprint – and so taking the evening's Sprint jersey – and constantly pushing with the likes of Dani King and Elinor Barker (Matrix Fitness) to keep their lead intact whilst Trott cleverly played a waiting game.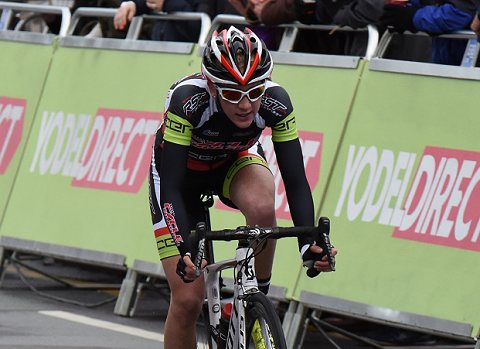 Jessie Walker in the colours of RST Racing on her solo break
With 5 laps to go the lead group was down to just five riders. But what a quintet, King, Juniper, Barker, Trott and Archibald, National, World and Olympic champions all together.
They also started the last lap together but coming into the all-important final corner it was Laura Trott who'd positioned herself just perfectly so she opened the sprint to the chequered flag ahead of King and Juniper.
For a Series debutant, Trott looks like quite a talent and one to watch for the future!
The chase group chasing flat stick and making contact before the sprint for the win
Dani King (Wiggle Honda) – "I've never won the whole Series before but I've won two races in Stoke. But tonight I came up against this lady again and so was second to her, again. It's becoming bit of a regular occurrence!
"I'm feeling fine now after my accident and I'm really looking forward to the rest of the season. I've clearly got some good form which is really nice and I'm feeling good on my bike again so I'm now really excited about the future and my aim is to get back into the Pursuit squad again. I'm really enjoying racing on the road with Wiggle Honda and this has been really good tonight. I'm not sure how many other rounds I'll be doing. I'm definitely doing Bath and maybe Peterborough".
Nikki Juniper (above) (Team Giordana Triton) – I wasn't coming into tonight's race with too many expectations as we've got a very young team so I just said to them all 'just enjoy it and if you're there in a sprint and want to, go for it'. It was very wet to start with and there was a lot of nerves and a crash on the first corner.
"I cheekily got second in the first sprint and won the second so I got that jersey tonight,
"When we pulled away in the last few laps I thought some of them started to slow down so I said 'come on or we're going to get caught' but I had a really good sprint for third place.
"This is a fantastic team. They're all so young and it's about their development. The junior girls came in here tonight against the likes of Dani King. Laura Trott and Katie Archibald and we won the team prize. I couldn't be more proud of such a young team. They've all done themselves proud"
Jessie Walker (RST Racing Team) – Combatively Award – "I didn't set out to win the Sprints competition tonight' – Jessie was second overall – 'I kind of saw the opportunity to attack and sort of went for it from there. It was such an aggressive race and I was trying to ride it from the front because of the rain because I knew that the rain would make it split up. I got the first sprint and was 3rd in the next one. I won the Combatively award so I'm glad I came away with something".
Jon Johnston (Managing Director, Matrix Fitness) – "This has been a fantastic night for Matrix Fitness with Laura winning so we're not only sponsoring the race but also having the winner from our own team.
"With us now sponsoring a top team this is going to be a big year for us. We've got some exciting developments coming through but I can't really say any more about that just yet. This is a big step up for us so really for this year we just want to see how things go and then I think next year we'll give it an even bigger go".
Course was like a skating rink in some places early on and crashes followed.
WOMENS
1 Laura Trott Matrix Fitness
2 Dani King Wiggle Honda
3 Nikki Juniper Team Giordana Triton
4 Ellie Dickinson Team Giordana Triton
5 Katie Archibald Pearl Izumi Sports Tours International
6 Jessie Walker RST Racing Team
7 Lydia Boylan Team WNT
8 Manon Lloyd Team USN
9 Charline Joiner Team WNT
10 Annasley Park Team Giordana Triton
11 Elinor Barker Matrix Fitness
12 Abby-Mae Parkinson Team Giordana Triton
13 Louise Mahe IKON Mazda
14 Dame Sarah Storey Pearl Izumi Sports Tours International
15 Charlotte Broughton Corley Cycles Drops RT
16 Rebecca Raybould Team Jadan
17 Jennifer George Les Filles
18 Henrietta Colborne Team Jadan
19 Ciara Horne Pearl Izumi Sports Tours International
20 Laura Greenhalgh Les Filles
21 Lauren Dolan Giant Cycling Club – Halo Films
22 Ella Hopkins IKON Mazda
23 Rebecca Mackey Aspire Bicycles/HSS Hire
24 Rebecca Rimmington IKON Mazda
25 Katie Curtis Pearl Izumi Sports Tours International
26 Amy Gornall Aspire Bicycles/HSS Hire
27 Emily Kay Team USN
28 Emily Nelson Team USN
29 Mel Lowther Matrix Fitness
30 Beth Crumpton North West Cycling Club
31 Brit Tate Team WNT
32 Lucy Martin Matrix Fitness
33 Edita Janeliunaite Aspire Bicycles/HSS Hire
34 Georgi Pfeiffer Giant Cycling Club – Halo Films
35 Becky Womersley Corley Cycles Drops RT
36 Abigail Dentus Team Velosport
37 Louise Laker PMR@ToachimHouse
38 Hannah Walker Team WNT
39 Laura Clode VC St Raphael
40 Hannah Payton Corley Cycles Drops RT
41 Pia De Quint Velosure Starley Primal
42 Abi Van-Twisk Corley Cycles Drops RT
43 Natalie Creswick Team Mulebar Girl – Sigma Sport
44 Madeline Moore VC St Raphael
45 Gabriella Leveridge Velosure Starley Primal
46 Rose Osborne High Wycombe CC
47 Corinne Clark Ride 24/7
48 Maisie Duckworth Wolverhampton Wheelers
49 Clover Murray Corley Cycles Drops RT
50 Mary McFadzean GB Cycles.co.uk
51 Corrine Hall IKON Mazda
52 Monica Dew Team Jadan
53 Anna Christian Wiggle Honda
54 Eleanor Jones VC St Raphael
55 Tanya Griffiths Velosure Starley Primal
56 Lucy Harper Aspire Bicycles/HSS Hire
57 Ruth Summerford PMR@Toachim House
58 Sian Botteley Velosure Starley Primal
59 Nicola Soden Carnac Planet X
60 Jasmine Diotti Team Velosport
61 Lucy Shaw Matrix Fitness
62 Jennifer Crouch Team Velosport
63 Jo Tindley Team WNT
64 Sandra Mackay Carnac Planet X
65 Ellie Coster Team USN
66 Adele Martin PMR@ToachimHouse
67 Eleanor Cadzow PMR@ToachimHouse
68 Chloe Weller PMR@ToachimHouse
Sprints Competition
Sprint 1
1 Jessie Walker RST Racing Team 5
2 Nikki Juniper Team Giordana Triton 4
3 Manon Lloyd Team USN 3
4 Dani King Wiggle Honda 2
5 Laura Trott Matrix Fitness 1
Sprint 2
1 Nikki Juniper Team Giordana Triton 5
2 Elinor Barker Matrix Fitness 4
3 Jessie Walker RST Racing Team 3
4 Katie Archibald Pearl Izumi Sports Tours International 2
5 Laura Trott Matrix Fitness 1
Sprints Classification for Round 1
1 Nikki Juniper Team Giordana Triton 9
2 Jessie Walker RST Racing Team 8
3 Elinor Barker Matrix Fitness 4
4 Manon Lloyd Team USN 3
5 Laura Trott Matrix Fitness 2
6 Dani King Wiggle Honda 2
7 Katie Archibald Pearl Izumi Sports Tours International 2
Sprints Overall Classification at Round 1
1 Nikki Juniper Team Giordana Triton 9
2 Jessie Walker RST Racing Team 8
3 Elinor Barker Matrix Fitness 4
4 Manon Lloyd Team USN 3
5 Katie Archibald Pearl Izumi Sports Tours International 2
= Dani King Wiggle Honda 2
7 Laura Trott Matrix Fitness 2
Team Classification for Round 1
1 Team Giordana Triton 46
2 Matrix Fitness 30
3 Team WNT 26
4 Pearl Izumi Sports Tours International 25
5 Team USN 13
6 IKON Mazda 8
7 Team Jadan 8
8 Corley Cycles Drops RT 6
Team Overall Classification for Round 1
1 Team Giordana Triton 46
2 Matrix Fitness 30
3 Team WNT 26
4 Pearl Izumi Sports Tours International 25
5 Team USN 13
6 IKON Mazda 8
7 Team Jadan 8
8 Corley Cycles Drops RT 6
Send your results as well as club, team & event news here
---
Other Results on VeloUK (including reports containing results)

---
Other News on VeloUK