Richard Handley (JLT Condor) soloed to an impressive first ever individual Pearl Izumi Tour Series victory in Durham, as ONE Pro Cycling were the team winners to edge closer to leading team Madison Genesis.
Report & Results – Tour Series Durham
Richard Handley took an impressive first ever individual Pearl Izumi Tour Series in Durham, as ONE Pro Cycling were the team winners to edge closer to leading team Madison Genesis.
Richard Handley celebrates a glorious victory in Durham, the third in a row for his team JLT Condor
Handley put over a minute into the rest of the field, who were headed home on the tough Durham circuit by Kristian House to make it a 1-2 on the night for JLT Condor presented by Mavic.
But it was the ONE Pro Cycling team, with Jon Mould and Marcin Bialoblocki among the only ten riders to remain on the lead lap, who took the team win to move themselves to within two points of Madison Geneis.
The win, awarded to the team with the lowest cumulative time from their five riders, came in part thanks to the performance of ONE Pro Cycling's fifth rider George Harper, who despite being caught up in a crash early on, chased and then broke away from the final Madison Genesis rider on the road, Mark McNally.
One Pro Cycling celebrate a victory in the team award showing that the battle for the team award is very much a close one with Madison Genesis with Pedal Heaven in third.
Behind there was another third place for Pedal Heaven, who also sit in third overall in the Pearl Izumi Tour Series, eight points clear of NFTO and the top ranked non-UCI team in the competition.
As well as taking the individual win, Handley also won the evening's Chain Reaction Cycles Sprints prize, but Tom Stewart stays in control of that competition, albeit with House now his nearest challenger, five points in arrears.
There was also a superb effort by Ed Clancy to take the Costa Express Fastest Lap, in a flying 2:00.560, ably assisted by a strong mid-race leadout from his JLT Condor presented by Mavic teammate Felix English.
Still overall leaders though at the halfway mark are Madison Genesis.
Highlights from Durham will be shown on ITV4 at 2100 on Friday 29 May, with a repeat at 0800 on Saturday 30 May.
Barrow in Cumbria hosts Round Six of the Pearl Izumi Tour Series on Friday 29 May, with a full afternoon of support events and activities ahead of the evening's race at 1930.
Kristian House celebrates a 1-2 for JLT Condor as he beats one of the riders of the series, young Chris Lawless of Team Wiggins
Operation Boris – Ed Clancy (JLT Condor) had a secret mission for the race and when given the code, hit the burners to blast round the course well faster than any other lap to win the Costa Fastest Lap and get on the podium. Boris is his cat ;-)Â 
The moment the TV bike pulled away, the race started to explode and within a lap was already seeing splits and within five laps, was all over the circuit. Durham is nothing short of brutal especially when riders like Jon Mould (One Pro Cycling), Jonny McEvoy (NFTO), Ian Bibby (NFTO) and others were attacking the climb flat stick lap after lap.
Last years winner Jon Mould was all over the race early on, attacking again and again but when Handley went, was unable to go with him.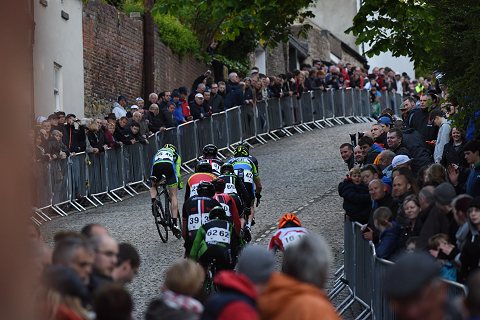 The crowds were yet again huge!
All thats left of the 'peloton' at the end, seven or so riders, led here by Tom Scully (Madison Genesis) with yet another brilliant ride.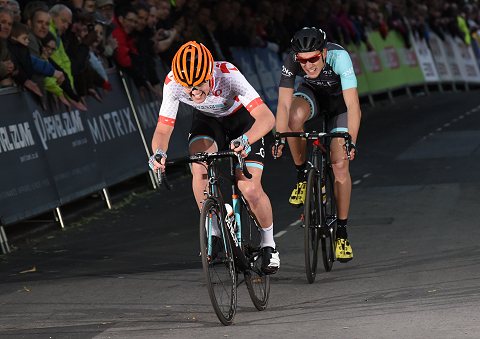 Tom Scully outsprints Jon Mould for fourth place.
Jonny McEvoy (NFTO) gets around the very tricky off camber bottom corner
Richard Handley, winner!
Individual Classification
1 Richard Handley JLT Condor presented by Mavic
2 Kristian House JLT Condor presented by Mavic
3 Chris Lawless Team WIGGINS
4 Tom Scully Madison Genesis
5 Jon Mould ONE Pro Cycling
6 Marcin Bialoblocki ONE Pro Cycling
7 Tom Stewart Madison Genesis
8 Adria Moreno Sala Velosure Starley Primal
9 Steve Lampier Team Raleigh – GAC
10 Stephen Williams Pedal Heaven
11 Ian Bibby NFTO Pro Cycling
12 Josh Hunt ONE Pro Cycling
13 Tobyn Horton Madison Genesis
14 Liam Holohan Madison Genesis
15 Karol Domagalski Team Raleigh – GAC
16 Peter Williams ONE Pro Cycling
17 Will Bjergfelt SportGrub Kuota
18 Max Stedman Pedal Heaven
19 James Lowsley Williams NFTO Pro Cycling
20 Jack Pullar Velosure Starley Primal
21 Dale Appleby NFTO Pro Cycling
22 George Harper ONE Pro Cycling
23 Gruff Lewis Pedal Heaven
24 Rob Partridge NFTO Pro Cycling
25 Jonathan McEvoy NFTO Pro Cycling
26 Will Fox Pedal Heaven
27 David McGowan Pedal Heaven
28 James Gullen Velosure Starley Primal
29 Morgan Kneisky Team Raleigh – GAC
30 Mark McNally Madison Genesis
31 David Lines Velosure Starley Primal
32 Tom Moses JLT Condor presented by Mavic
33 Ben Rowe Achieve Northside Skinnergate**
34 James Davey Velosure Starley Primal
35 Dan Fleeman SportGrub Kuota
36 Felix English JLT Condor presented by Mavic
37 Liam Stones Team Raleigh – GAC
38 Ben Hetherington Achieve Northside Skinnergate**
39 Alex Luhrs Achieve Northside Skinnergate**
40 George Pym Team Raleigh – GAC
41 Adam Kenway SportGrub Kuota
42 Ryan Perry SportGrub Kuota
43 Stephen Adams SportGrub Kuota
44 William Brown Achieve Northside Skinnergate**
45 Ed Clancy JLT Condor presented by Mavic
46 Luc Hall Team WIGGINS
47 Steven Burke Team WIGGINS
48 Jack Rees Achieve Northside Skinnergate**
DNF Daniel Patten Team WIGGINS
TEAM
Team Classification for Round 5
1 ONE Pro Cycling 6:14:48 10
2 Madison Genesis 6:16:35 9
3 Pedal Heaven 6:16:45 8
4 NFTO Pro Cycling 6:17:18 7
5 Velosure Starley Primal 6:22:30 6
6 JLT Condor presented by Mavic 6:24:24 5
7 Team Raleigh – GAC 6:25:14 4
8 SportGrub Kuota 6:35:29 3
9 Team WIGGINS 6:55:34 2
Team Overall Classification after Round 5
1 Madison Genesis 65
2 ONE Pro Cycling 63
3 Pedal Heaven 53
4 NFTO Pro Cycling 45
5 Team Raleigh – GAC 45
6 SportGrub Kuota 33
7 Velosure Starley Primal 30
8 JLT Condor presented by Mavic 30
9 Team WIGGINS 14
PODIUM
Costa Express Fastest Lap Winner: Ed Clancy, JLT Condor presented by Mavic
Points Competition Round Winner: Richard Handley, JLT Condor presented by Mavic
Points Competition Overall Leader: Tom Stewart, Madison Genesis
Individual Race Winner: Richard Handley, JLT Condor presented by Mavic
Team Round Winner: ONE Pro Cycling, Jon Mould, Marcin Bialoblocki, Josh Hunt, Peter Williams, George Harper
Team Overall Leader, Madison Genesis
POINTS
Chain Reaction Cycles Points Competition
Sprint 1
1 Jon Mould ONE Pro Cycling 5
2 Kristian House JLT Condor presented by Mavic 4
3 Chris Lawless Team WIGGINS 3
4 Jonathan McEvoy NFTO Pro Cycling 2
5 Tom Stewart Madison Genesis 1
Sprint 2
1 Richard Handley JLT Condor presented by Mavic 5
2 Marcin Bialoblocki ONE Pro Cycling 4
3 Kristian House JLT Condor presented by Mavic 3
4 Ian Bibby NFTO Pro Cycling 2
5 Tom Stewart Madison Genesis 1
Sprint 3
1 Richard Handley JLT Condor presented by Mavic 5
2 Tom Stewart Madison Genesis 4
3 Jon Mould ONE Pro Cycling 3
4 Kristian House JLT Condor presented by Mavic 2
5 Chris Lawless Team WIGGINS 1
Finish
1 Richard Handley JLT Condor presented by Mavic 5
2 Kristian House JLT Condor presented by Mavic 4
3 Chris Lawless Team WIGGINS 3
4 Tom Scully Madison Genesis 2
5 Jon Mould ONE Pro Cycling 1
Chain Reaction Cycles Points Classification for Round 5
1 Richard Handley JLT Condor presented by Mavic 15
2 Kristian House JLT Condor presented by Mavic 13
3 Jon Mould ONE Pro Cycling 9
4 Chris Lawless Team WIGGINS 7
5 Tom Stewart Madison Genesis 6
6 Marcin Bialoblocki ONE Pro Cycling 4
7 Tom Scully Madison Genesis 2
8 Ian Bibby NFTO Pro Cycling 2
9 Jonathan McEvoy NFTO Pro Cycling 2
Chain Reaction Cycles Points Overall Classification after Round 5
1 Tom Stewart Madison Genesis 44
2 Kristian House JLT Condor presented by Mavic 39
3 Morgan Kneisky Team Raleigh – GAC 36
4 Jon Mould ONE Pro Cycling 28
5 Chris Opie ONE Pro Cycling 20
6 Chris Lawless Team WIGGINS 19
7 Mike Northey Madison Genesis 18
8 Richard Handley JLT Condor presented by Mavic 16
9 Ed Clancy JLT Condor presented by Mavic 12
10 Tom Scully Madison Genesis 12
11 Jonathan McEvoy NFTO Pro Cycling 9
12 Tobyn Horton Madison Genesis 9
13 Ian Bibby NFTO Pro Cycling 7
14 James Lowsley Williams NFTO Pro Cycling 6
15 Will Bjergfelt SportGrub Kuota 6
16 Zach May NFTO Pro Cycling 5
17 Marcin Bialoblocki ONE Pro Cycling 4
18 Alex Paton Pedal Heaven 4
19 Steele Von Hoff NFTO Pro Cycling 3
20 Gruff Lewis Pedal Heaven 1
= Rory Townsend Pedal Heaven 1
= George Harper ONE Pro Cycling 1
Send your results as well as club, team & event news here
---
Other Results on VeloUK (including reports containing results)

---
Other News on VeloUK