Jack Billyard, the 18year old from Wiltshire, once again the master of the Owslebury course in the Portsmouth North End Summer RR on Saturday 6th June
Report – Portsmouth North End Summer RR
Jack Billyard (RP Racing Team) the 18year old from Wiltshire once again was the master of the Owslebury course having recently won the South region junior Championships on the same course. Billyard was part of a five rider breakaway for the last three laps of seven and then with 1km to go he sprung his attack with almost the same tactic he employed at the Regional's.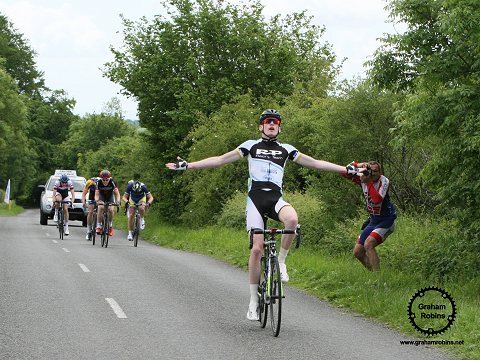 On a warm sunny morning just to the North of Southampton the peloton rolled through the little village of Owslebury before turning right to start the race proper. The race was seven laps with a total of 96km/60 mile and more than 500meters of climbing on each lap. The course rolls through the Hampshire country side with very little rest bite on each lap.
The first rider to show at the front was Harrison Fielding (Bournemouth Jubilee Wheelers) who took the race and just rode off the front to lead the early couple of laps; his lead at one point was over 30secs. Fielding managed to hold position until the start of lap three when he was caught and by three chasers. Not content he attacked again but this time his lead was pegged back quickly.
After nearly a lap all back together the next attack came when Callum Clarke (Kingston Wheelers), Billyard and Liam Walsh (VC St Raphael) started to work together and soon had a lead of nearly 30secs. The three leaders held their advantage for the remainder of lap four but between them and the peloton were two riders Liam Bromiley ((University of Bath CC) and Daniel Halksworth (Velo Sport Jersey) and the rest were now sitting up at over one minute.
Lap five and six didn't see any change on the front as the five riders held an advantage of 30secs over Andrew Syme (Primera-Sports.com) and over a minute to the peloton. Syme never managed to get across the gap and he slipped back into the clutches of the now diminished bunch. The final lap saw the five leaders maintain station until the 1km to go flag where Billyard made his final attack to pull clear of Callum Clarke who won the sprint for second.
There were prime prizes on laps 2 through six with Fielding taking two, Halksworth, Clarke and Bromiley taking one each.
The organising club would like to thank their sponsor for the event Benchmark Kitchens for their generous support of the event and area manager Paul Giles was on hand at the finish to hand over the prizes to the winners.
Provisional Result
1. Jack Billyard RP Racing Team 2hrs 31mins 52secs
2. Callum Clarke Kingston Wheelers @4secs
3. Liam Bromiley University of Bath CC @st
4. Daniel Halksworth Velo Sport Jersey @st
5. Liam Walsh VC St Raphael @st
6. Albert Ellison TBW Bottecchia Wigmore RT @58secs
7. George Stainton-Ellis ASL Projects Racing Team
8. Luke Nolan Live 2 Ride Sunwise
9. Ian Taylor Leicester Forest CC
10. Harry Veale Cycleworks.co.uk
Send your results as well as club, team & event news here
---
Other Results on VeloUK (including reports containing results)

---
Other News on VeloUK