With millions watching around the globe, Sir Bradley Wiggins has broken the Hour record formerly held by Alex Dowsett.
News: Wiggins makes it His Hour
With millions watching around the globe, Sir Bradley Wiggins has broken the Hour record formerly held by Alex Dowsett.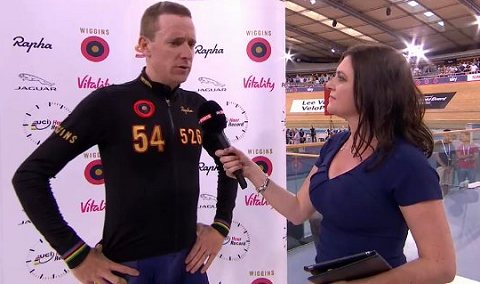 The Tour de France winner and multi Olympic and World Champion completed a distance of 54.526km (33.88 miles). The 35-year-old smashed the record previously held by fellow Briton Alex Dowsett of 52.937km (32.89 miles), which was set in May.
With a sell out crowd roaring him on at London's Olymnpic Indoor velodrome, Wiggins became the sixth rider to claim a Tour de France title and the hour record.
"I'm just glad it's done. That's the closest I'll ever come to knowing what it's like to have a baby. It was tortuous. You are constantly looking at the clock, counting down the minutes, and I'm just relieved its done now."
"It's been such a long build up since Paris-Roubaix. We have been through a lot my team. My wife and children know more about air pressure than anyone. When you're out there, you think it's never going to come to an end".
On the time he did, short of the mark he was looking for, he says "I always compare myself to the greats and I'm just glad to be in the company of those guys. Miguel, Rominger, and Chris; just to get up there and do that and put yourself on the line, takes a lot of courage. It's a mental game more than physical and it's tough".
"This tops off my achievements in my career. If this was the only thing I did in my career, perhaps I'd have gone a little unnoticed but to do everything and come here still, as an old man, and do it…. Where we are, the old home straight at Eastway used to be about here, and I have such great memories of racing round here as a kid so to come back and do this here, is fantastic."
"I wouldn't say it was the hardest thing I've ever done. You try leading the Tour for two weeks, looking over your shoulder every day. But it's a quantifiable record, which is what draws me to it. It will never surpass the Tour in intensity or difficulty but it's such a pure thing. There are no ifs or buts."
"Compared to any ride I have done, this was more emotional because a lot of my friends were staying in the same hotel as me and they were all getting wasted yesterday and nursing hangovers this morning at breakfast. I had to get my haircut and have a shave and I went to the hairdressers and the bloke said 'what are you up to today' and I replied "not much really".
Heiko Salzwedel, the person by the side of the track feeding him information, said after Brad broke the record, "that was one of the biggest highlights of my career and of Bradley's career".
"We will share this memory for a long time. It was nerve wrecking out there, I could see Bradley was running out of gas and fighting, fighting, and I have never seen him fighting so hard before."
"It went well the ride. He had good preparation and we learnt here and there, and working with Bradley, it's a different level to that I have experienced before."
Were they disappointed at not getting 55.2 for the hour? "Absolutely not. We had incredibly high atmosphere pressure here, it was very sticky and it makes a hell of a difference. Everyone in London has been waiting for the sun, we were waiting for the rain!"
Finally, has Brad put the record beyond the reach of others? Heiko replied "he has pushed the boundaries very far but not far enough …"
Send your results as well as club, team & event news here
---
Other Results on VeloUK (including reports containing results)

---
Other News on VeloUK