Dan McLay, Thomas Pidcock and Annasley Park were the big winners at the Otley Town Centre Circuit Races on Wednesday night
Report – Otley Town Centre Crits
One of the biggest circuit races in the British calendar outside of the Pearl Izumi Tour Series, the Otley Town Centre Crits, did not fail to deliver yet again on Wednesday night with action packed races.
In a thrilling finale, Dan Mclay from French pro team Bretagne Seche Environnement won an awesome sprint to beat Chris Latham (GB Academy) and Jon Mould (One Pro Cycling) to the line whilst in the Women's National Series race, Sarah Storey (Pearl Izumi Sports Tours) and Annasley Park (Giordana Triton) dominated the event with a two up break with Park winning the sprint and her series leader teammate Nikki Juniper winning the sprint for third in the peloton.
Just to top things off, youth rider Thomas Pidcock (Speedflex) won the 2/3/4 race shortly after being second in the Youth event!
The Men's Elite race had stars of the Pro Peloton such as British Champion Adam Blythe (Orica GreenEdge), Scott Thwaites (Bora), Alistair Slater (An Post) in among the 90 odd starters. As ever, the race did not take long to get started with moves firing off the front and an early one, with Adam Blythe in his champions skinsuit in the mix of it getting a twenty second gap. Others included Pete Williams (One Pro Cycling), George Pym (Raleigh GAC), Ryan Davis (SportGrub KUOTA), Alex Minting (Neon Velo) and Alistair Slater (An Post).
Early move with British champion Adam Blythe
Scotland's Mark Stewart (GB Academy) bridged across and just when the group looked dangerous, it was brought back. More moves came and went until a small group got away and slowly got bigger and bigger as riders in groups of two or three raced across to it.
Raleigh-GAC, JLT Condor and NFTO had numbers in it but in there were McLay, Thwaites and plenty of other possibles winners from domestic teams. First JLT Condor got their train going only for the GB Academy riders to replace them at the front at the bell for Chris Latham. But in the mix in black, holding steady was Dan Mclay who had ridden the race twice before and knew how important that last corner was.
Second corner to go he was in sixth or seventh and then sprinted up to lead into the final corner before pacing his sprint all the way to the line for a impressive victory in a race he admitted later he really enjoys.
Mark Stewart of the GB Academy bridging to an early move
Scott Thwaites after a good spring classics campaign was very active in Otley creating breaks and bridging across to others
World Madison Champion Morgan Kniesky of Raleigh GAC leading a move off the  front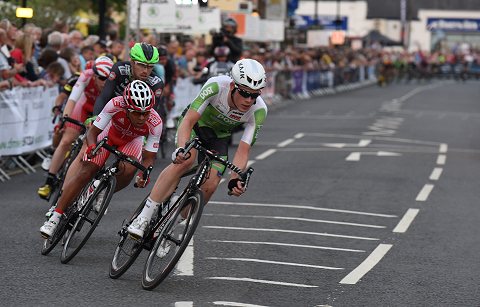 Ali Slater of An Post leads Germaine Burton (GB Academy) and Dan McLay in the start of the winning break
Richard Handley leads a JLT Condor train with Mike Cuming, Graham Briggs and Felix English
GB Academy then took over working for Chris Latham with a Raleigh GAC rider in their train staying near the front.
Results (provisional!)
1 Daniel McClay, (Bretagne Seche Environnement)
2 Chris Latham (100 Per Cent ME)
3 Jonathan Mould   (One Pro Cycling)
4 Morgan Kneiskey  (Raleigh GAC
5 Scott Thwaites (Bora)
6 David McGowan (Pedal Heaven)
7 Felix English (JLT Condor)
8 George Atkins (One Pro Cycling)
9 Dale Appleby  (NFTO)
10 Liam Stones (Raleigh GAC)
11 Alistair Slater (An Post))
12 Mark Stewart  (100 Per Cent ME)
13 Graham Briggs (JLT Condor)
14 Evan Oliphant (Raleigh GAC)
15 Alex Minting (Neon)
16 Tom Barras (NFTO
17 Mathew Holmes (Madison Genesis)
18 Germain Burton (100% ME)
19 Gabriel Cullaigh (100% ME)
20Â Alex Paton, Pedal Heaven
21 Andrew Hawdon Raleigh GAC
22 Matthew Gibson 100% ME
23 Harry Tanfield JLT Condor
24 Samuel Williams One Pro Cycling
25 Jacob Tipper Neon-Velo Cycling Team
26 Richard Hepworth SportGrub KUOTA Cycling Team
27 Alastair Hepworth Team Envelopemaster/Bikeboxalan
28 William Bjergfelt SportGrub KUOTA Cycling Team
29 Ryan Davis SportGrub KUOTA Cycling Team
30 Matt Cronshaw Madison Genesis
31 Jake Tanner Team 3M
32 Tom Neale Catford CC Equipe/Banks
33 Joshua Hunt One Pro Cycling
34 Jake Kelly 100% ME
35 Tom Mazzone Polypipe Cycling Team
36 Jacob Scott ILLI-Bikes Cycling Team
37 Oliver Maxwell SportGrub KUOTA Cycling Team
38 Scott Davies 100% ME
39 Martin Woffindin Cycle Sport Pendle
40 Ian Bibby NFTO
41 Connor Swift Polypipe Cycling Team
42 Sam Harrison NFTO
43 Edward McParland All Terrain Cycles
44 Ian Field Hargroves Cycles – Ridley RT
45 Sam Boast Wheelbase Altura MGD
46 Thomas Moses JLT Condor
47 Alastair Kay York Cycleworks
48 Dominic Smith Polypipe Cycling Team
49 Joseph Wiltshire NFTO
50 Matthew Williams Chevin Cycles.com Trek
51 Mitchell Webber Pedal Heaven RT
52 Max Stedman Pedal Heaven RT
53 George Pym Raleigh GAC
54 Jake Hales Spirit Bikes Racing Team
55 Oliver Moors Project 51
56 Ben Davis Wheelbase Altura MGD
57 Ian Wilkinson Raleigh GAC
58 Richard Handley JLT Condor
59 Steve Lampier Raleigh GAC
60 Jake Womersley ILLI-Bikes Cycling Team
61 Hamish Graham Green Jersey RT
62 Cedric Sache
63 Joseph Moses JLT Condor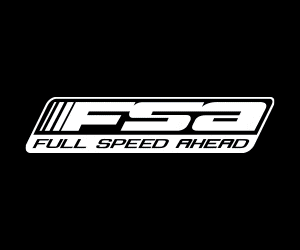 WOMENS RACE
The first race on the night saw Annasley Park (Giordana Triton) win a two up sprint against Sarah Storey after the two had sprint the race off the front. Behind them, Nikki Juniper won the bunch kick for third.
Annasley Park (Giordana Triton) celebrates a great sprint win over Sarah Storey (Pearl Izumi Sports Tour)
Park revealed afterwards to British Cycling "We had to protect Nikki today, so she told me my job was to get on Sarah's wheel as soon as it went, I thought I'd missed it but was able to get across. I know she's a really strong time triallist and I was afraid she could go at any time, but my job was just to sit on her wheel and to be honest I could have done a lot more work."
Storey meanwhile said of the race "I wanted to see what I had for the sprint finish. I think I could have attacked again and tried to win solo but I do that a lot, so I wanted to try something else. I've just been announced on the Paracycling World Championships road team, so I need to do some different stuff to make sure all my bases are covered in preparation for that."
Park and Storey start their drag race to the finish line
Storey using her abundant amounts of watts to drive the break clear of the peloton
With two of the main teams out front, the chase wasn't organised enough to bring the two leaders back
Nikki Juniper (Giordana Triton) wins the bunch sprint for third.
Women's Provisional
1 Annasley Park Team Giordana- Triton
2 Dame Sarah Storey Pearl Izumi Sports Tours Intl
3 Nicola Juniper Team Giordana- Triton
4 Rebecca Nixon Fusion RT Gearclub Bike Science
5 Abby-Mae Parkinson Team Giordana- Triton
6 Brit Tate Team WNT
7 Amira Mellor Paul Milnes – Bradford Olympic
8 Elizabeth-Jane Harris Army Cycling Union
9 Bethany Hayward Pearl Izumi Sports Tours Intl
10 Elizabeth Stedman University of Sheffield CC
11 Bethany Taylor Bonito Squadra Corse
12 Gabriella Shaw Pearl Izumi Sports Tours Intl
13 Annabel Simpson Hope Factory Racing
14 Hannah Payton Corley Cycles – Drops RT
15 Henrietta Colborne Team Jadan
16 Rebecca Rimmington
17 Karen Poole Team WattCycle
18 Rebecca Womersley Corley Cycles – Drops RT
19 Amy Gornall Aprire Bicycles/HSS Hire
20 Alison Kinloch PH-MAS VCUK Womens Cycling Team
21 Katy Simcock Corley Cycles – Drops RT
22 Rose Osborne Team WNT
23 Nicola Soden Carnac-Planet X
24 Sam Burman Team WNT
25 Keira McVitty Team Giordana- Triton
26 Ellie Russell Sportcity Velo
27 Helen Tickner Crosstrax
28 Hayley Edwards Team Velosport
29 Rosa Martin PH-MAS VCUK Womens Cycling Team
30 Hannah Walker Team WNT
31 Jayati Hine RST Racing
32 Rebecca Carter Team WNT
33 Lauren OBrien Team Giordana- Triton
34 Lucy Harper Aprire Bicycles/HSS Hire
2/3/4 Provisional
1 Tom Pidcock Speedflex Race Team
2 Lee Brown Holmfirth Cycling Club
3 Ellis Kirkbride North City Velo Cycling Team
4 Harry Hardcastle Speedflex Race Team
5 Mark Davies Team Cystic Fibrosis
6 Andrew Disley Harry Middleton Cycling Club
7
8 Richard Kelt Ilkley Cycling Club
9 Tim Gill Ilkley Cycling Club
10 Jamie Ridehalgh Speedflex Race Team
11 Nathan Wilson Wilsons Wheels Race Team
12 Christopher Hoole Albarosa Cycling Club
13 Josh Gardner Chevin Cycles.com Trek
14 Fabian Brennan North City Velo Cycling Team
15 Nicholas Armitstead Chevin Cycles.com Trek
16 Billy Robinson Squadra RT
17 Cameron Austin Look Mum No Hands!
18 Glen Turnbull Patron
19 Ben Harrison Groundwater Engineering Race Te
20
21 Jonathan Harvey Dinnington Racing Club
22 Dylan Yates Kuota – Spinergy – GSG
23 Mike Moss Clifton CC
24 Matthew Mannakee Prologue Racing Team
25 William Lewis High Peak Cycles RT
26 Benjamin Last Carnac-Planet X
27 Liam Gilpin NFTO Race Club
28 Rob Carter TS Racing Team – OTR
29 Dan Stephenson Out Of The Saddle
30 Simon Mayfield Sowerby Brothers CRT
31 David Morris Harrogate Nova CC
32 Jonathan Wong Salt Ayre Cog Set
33 Louis Sargent
34 Matthew kellett 3RT
35 David Micklethwaite 3RT
36 Bob Hewitt Yh Training Scarborough RC
37 Jonathan Farnaby Ingear Coaching Biemme
38 James Dalton Pedalsport Cycling Club
39 Joshua Ruddiman HD Revolutions (HDR)
40 Philip Gray Kuota – Spinergy – GSG
41 Richard Benson NFTO Race Club
42 Matthew Hoyle Wheelbase Altura MGD
43 David Henson Ellis Briggs RT
44 Alistair Rees Holmfirth Cycling Club
45 Marcus Smith Cleveland Wheelers CC
46 Ivan Boyes Team Cystic Fibrosis
47 Thomas Hebditch PH-MAS Cycling
48 Craig Jarratt Harrogate Nova CC
49 Frank Montague TS Racing Team – OTR
50 Mike Firth Ilkley Cycling Club
51 Ian Cliffe Ilkley Cycling Club
52 Stephen Henson Ellis Briggs RT
53 George Fox Paul Milnes – Bradford Olympic
54 Matthew Bulmer All Terrain Cycles
55 Joseph White G4 Acre RT
56 Jack Clarkson Hope Factory Racing
57 Thomas Jones G4 Acre RT
58 Charles Warren
59 Andrew Markham Lune RCC
60 Jack Stephenson Out Of The Saddle
61 Arthur Wilson Ilkley Cycling Club
62 Kenny Gray Kuota – Spinergy – GSG
63
64 Bailey Payne Cycle Sport Pendle
65 Christopher Mellor Ilkley Cycling Club
66 Paul Molyneux North Cheshire Clarion
67 Matthew Gott West Pennine RC
68 Edward Jackson Islington Cycling Club
69 Ben Howe Cycle Sport Pendle
70 Conor Palliser East Bradford CC
71 Joseph Davison Achieve Northside Skinnergate
1 lap Robert Bagot Warrington RC
1 lap John Hind Bolsover & District Cycling Clu
1 lap Mark Stickland Settle World Wide Wheelers
1 lap Thomas McRoyall North Cheshire Clarion
Send your results as well as club, team & event news here
---
Other Results on VeloUK (including reports containing results)

---
Other News on VeloUK