A new comer to racing, Ryan Perry has taken the time trial world by storm winning the 25 champs and says there's more to come
Rider Chat – 25 Champion Ryan Perry
Whilst riding a bike is something that he has done for a long time, Ryan Perry explained to VeloUK that he started racing in 2013, upped it again to do it properly in 2014 and 2015 has been the first year doing Prems and National A racing with Sportgrub Kuota.
The podium for a Blue Ribbon time trial event, the 25. L-R: Matt Bottrill, Ryan Perry and Kieron Davies
It is in time trialling with Langdale Lightweights that the 28 year old Army captain has really made his mark though. A bronze medal in the British Time Trial Championships (for Sportgrub Kuota) at Cadwell Park and now a win in time trial's blue ribbon event has certainly elevated his status as a rider up the ladder to the top.
After his fourth ever 25, Ryan said after getting the 'champion's cap' "I can't believe it! I went out easy because I knew Matt would be time checking me and would know he's up on me. It's a bit of a mind game so I thought he'll think he's up on me and maybe ease up on the way back which is when I really drilled it. I thought there was no way I was going to have it though."
"Afterwards, I nipped back to the hotel and the result came up on your feed and I thought 'is that right, I'm not sure here!' So I am a well happy. Because Matt's retiring, I'd never have had a chance to beat him so I would never know how we compared so I am well chuffed".
Ryan explained that the week before the event, he had loads of travelling and he had food poisoning on Wednesday and so was thinking he may not be able to ride properly. "I rode the course on Saturday and the power was well down and starting today, I knew I had to knock it down on the outward leg so went out 20 watts less".
"At the turn, I was feeling pretty good, so upped it a lot on the way back but I knew I'd under cooked it because I did the last two miles at about 430 watts or so but I'm happy!"
The 25 champs was a very different course to the Cadwell Park one which was on closed roads. The 25 meanwhile was on open roads, dual carriageway a lot of it and had countless roundabouts. Asked how they compared, Ryan replied "The time trial at Lincoln (British Championship, 3rd) suited me because I am more of a roadman and there were loads of corners and hills so I quite liked it".
"Today, it was a bit of a nightmare with the traffic and I kept getting cars dive bombing me before a roundabout and then anchoring on so I had to scrub a lot of speed off. That along with a steamed up visor and I started to panic a little!"
"It were alright in the end. I got held up a few times but nothing too dramatic".
"I am pretty new to time trialling. I enjoy it but I am still learning all the time and I made a few mistakes today. I think tens suit me better but hey, I still enjoy it. I just need to pace the 25 better and go out harder next time."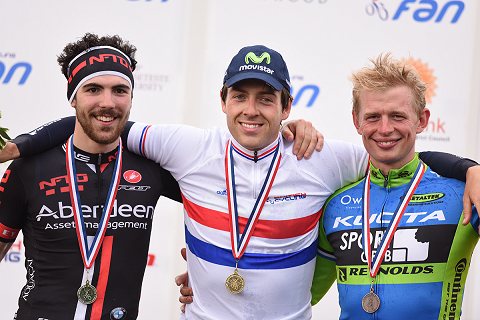 Talking about the sport he's making a name in, Ryan says "I am loving the sport. I grew up on a mountain bike and been from that to BMX to cross country and when I joined the Army, I did Nordic skiing and started riding the bike. The Army is really driving cycling at the minute so they support us loads and you need that to compete at this level."
"There is plenty more to come. I don't think I am anywhere near my potential. I think in a year or two, I'll be able to up it a bit. I enjoy both the road racing and the time trialling although the latter seems to attract similar characters to me".
"I am a bit of a geek with the technology and the numbers and stuff and I quite like that. There is a lot of ego on the road. As much as I like the tactics of the racing, there are a lot of egos about and they are a bit more difficult to deal with."
"I think I will stick with both for next year certainly but I will probably focus more on the time trialling as that is probably what I will be good at. Doing the Prems this year has been an eye opener but been good. If I get a good winter in, I can't wait for next year."
Ryan tomorrow (Tuesday) is heading off on a well earned holiday explaining he feels a bit burnt out and needs a break. He'll then return and give the ten champs a real good go. "I think that is more my distance" he says.
As for the future, he admits it's all too new to really know but riding for a UCI team in the future would be awesome.
We look forward to seeing Ryan race the ten champs at the end of the month.
Send your results as well as club, team & event news here
---
Other Results on VeloUK (including reports containing results)

---
Other News on VeloUK