Cavendish determined to reach Rio but doesn't have an easy ride at Derby Revolution in action packed day of racing
News – Cavendish Determined to Reach Rio
Event Press Release
Mark Cavendish is determined to reach Rio 2016, however his qualification is far from being a given with the other GB hopefuls in excellent form. In the Scratch Race, Cavendish finished 11th, his rivals marked his every move and refused to let him get away.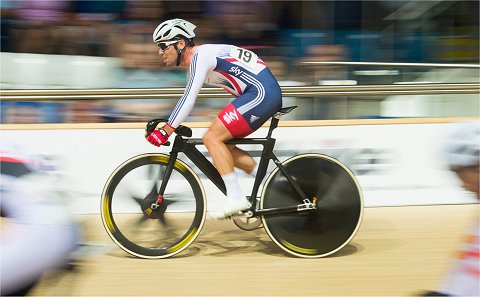 Heiko Salzwedel, the GB endurance coach said to The Guardian "Every other country is racing as a team, for us it's a selection race and he had no support; it was every man for himself. "But that's perfect, in a way. There were 11 current or previous World and Olympic champion sprinters out there and the standard was incredible; I've never seen racing like it."
In the Elimination race Cavendish rode aggressively, never dropping beyond fifth wheel. He was ahead in every sprint, even the one he was eliminated in. He clipped the côte d'azur at the bottom of the track, resulting in a 4th place relegation.
Cavendish will return on Sunday, to race the Madison with Sir Bradley Wiggins and to finish the Omnium. The Manx Missile is currently in 3rd place, 16 points behind leader, Ed Clancy.
Laura Trott won the Elimination race, jumping Jolien D'Hoore with 200 metres to go. Earlier in the day, Trott also won the Scratch race, but couldn't best D'Hoore's 3km Individual Pursuit time of 3:36:13.
Jess Varnish was relegated in the first sprint final heat against Katy Marchant for crossing Marchant's line. Katy won the second heat convincingly and the all GB final shows the team will have a tough choice when considering Olympic prospects.
Current Olympic sprint champion Jason Kenny missed out on the Sprint finals, Lewis Oliva and Callum Skinner went head to head in a rematch of the 2012 British National Sprint Championships. Oliva finished first this time, giving a clear message ahead of Team GB's Rio Olympic selection.
Oliva says "There isn't a hair between us all, it's so positive for the team. It's almost certain Phil and Jason will be in the team sprint for Rio and then it's up to two or three of us to get our bums on the plane."
Team Wiggins' Owain Doull and Steven Burke won the Madison Time Trial comfortably, giving Ed Clancy a moment of worry as his Revolution record looked to be under threat. Matt Gibson won the Revolution Longest Lap, coming round Morgan Kneisky on the back straight, clocking an average speed of 47.65 kmh from a standing start. The 18 year old also won the Individual Pursuit, overtaking Doull in the process.
Results
Individual Pursuit – Men
Distance: 4000m / 16 Laps
Qualifying
1. GIBSON, Matthew 04:23.212
2. DOULL, Owain 04:25.420
3. BURTON, Germain 04:25.664
4. BEUKEBOOM, Dion 04:26.345
5. TENNANT, Andrew 04:28.841
6. MORICE , Julien 04:29.653
7. LISOUSKI, Aleksandr 04:32.144
8. VAN SCHIP, Jan-Willem 04:33.110
9.KELLY, Jake 04:35.193
10. BURKE, Steven 04:36.610
11. RYAN, Fintan 04:44.052
12. WAUCH, Dennis 04:44.679
13. KOVALEV, Ivan 04:45.562
14. DOWNEY, Mark 04:46.751
15. PIETERS, Roy 04:51.377
Finals
1. GIBSON, Matthew 04:21.295
2. DOULL, Owain OVL @ 03:58.008
3. BURTON, Germain 04:27.047
4. BEUKEBOOM, Dion 04:27.119
Mens Sprint
Qualifying
1 OLIVA, Lewis 10.067
2 SKINNER, Callum 10.088
3 LAFARGUE , Quentin 10.108
4 KENNY, Jason 10.109
5 PERVIS, Francois 10.188
6 HAAK , Hugo 10.327
7 HINDES, Philip 10.343
8 VOLIKAKIS , Christos 10.345
9 CRAMPTON, Matthew 10.419
10 MULLEN, Eoin 10.423
11 VOLIKAKIS, Zafeirios 10.508
12 ROTHERHAM, Matthew 10.530
13 MORENO SANCHEZ, Jose 10.633
Mens Sprint
1/8 Finals – First Round
1. OLIVA, Lewis
2. ROTHERHAM, Matthew
1. SKINNER, Callum
2. VOLIKAKIS, Zafeirios
1. LAFARGUE , Quentin
2. MULLEN, Eoin
1. KENNY, Jason
2. CRAMPTON, Matthew
1. VOLIKAKIS , Christos
2. PERVIS, Francois
1. HINDES, Philip
2. HAAK , Hugo
First Round Repechage
1. PERVIS, Francois
2. VOLIKAKIS, Zafeirios
3 MULLEN, Eoin
1. HAAK , Hugo
2. CRAMPTON, Matthew
3. ROTHERHAM, Matthew
1/4 Finals
1 OLIVA, Lewis GBR
2 PERVIS, Francois FRA
1 SKINNER, Callum GBR
2 HAAK , Hugo NED
1 VOLIKAKIS , Christos GRE
2 HINDES, Philip GBR
1 LAFARGUE , Quentin FRA
2 KENNY, Jason GBR
Race for 5th-8th Places
5. VOLIKAKIS , Christos
6. HAAK , Hugo
7. LAFARGUE , Quentin
8. PERVIS, Francois
Semi Finals
1. OLIVA, Lewis GBR 2:0
2. KENNY, Jason GBR
1. SKINNER, Callum GBR 2:1
2. HINDES, Philip GBR
Finals
1. Lewis Oliva 2:0
2. Callum Skinner
3. Jason Jenny 2:0
4. Philip Hindes
Womens Sprint
Qualifying
1. MARCHANT, Katy 11.163
2. VARNISH, Jessica 11.276
3. KHAN, Dannielle 11.286
4. WILLIAMSON, Victoria 11.333
5. CALVO , Tania 11.465
6. JAMES, Rebecca 11.617
7. RIJKHOFF, Yesna 11.644
8. MONTAUBAN, Olivia 11.662
9. CLAIR, Sandie 11.744
10. VAN RIESSEN, Laurine 11.831
11. DEGRENDELE, Nicky 11.942
12. READE, Shanaze 12.043
1/8 Finals – First Round
1 MARCHANT, Katy GBR
2 READE, Shanaze GBR
1 VARNISH, Jessica GBR
2 DEGRENDELE, Nicky BEL
1 KHAN, Dannielle GBR
2 VAN RIESSEN, Laurine NED
1 WILLIAMSON, Victoria GBR
2 CLAIR, Sandie FRA
1 CALVO , Tania ESP
2 MONTAUBAN, Olivia FRA
1 RIJKHOFF, Yesna NED
2 JAMES, Rebecca GBR
First Round Repechage
1. CLAIR, Sandie FRA
2. READE, Shanaze GBR
3. JAMES, Rebecca GBR
1. MONTAUBAN, Olivia FRA
2. VAN RIESSEN, Laurine NED
3. DEGRENDELE, Nicky BEL
1/4 Finals
1 MARCHANT, Katy GBR
2 MONTAUBAN, Olivia FRA
1 VARNISH, Jessica GBR
2 CLAIR, Sandie FRA
1 RIJKHOFF, Yesna NED
2 KHAN, Dannielle GBR
1 CALVO , Tania ESP
2 WILLIAMSON, Victoria GBR
5-8
5 WILLIAMSON, Victoria
6 KHAN, Dannielle
7 CLAIR, Sandie
8 MONTAUBAN, Olivia
Semi Finals
1 MARCHANT, Katy GBR 2:0
2 CALVO , Tania ESP
1 VARNISH, Jessica GBR 2:0
2 RIJKHOFF, Yesna NED
Finals
1. Katy Marchant 2:0
2. Jessica Varnish
3. Tania Calvo 2:1
4. Yesna Rukhoff
Womens Omnium
Scratch Race
1. TROTT, Laura GBR
2. D'HOORE, Jolien BEL
3. BERTHON, Laurie FRA
4. JEULAND, Pascale FRA
5. KAY, Emily GBR
6. WOJTYRA, Malgorzata POL
7. OLABERRIA, Leire ESP
8. ARCHIBALD, Katie GBR
9. NELSON, Emily GBR
10. STEEL, Elizabeth NZL
11. BOYLAN, Lydia IRL
12. HORNE, Ciara GBR
13. REYBOULD, Rebecca GBR
14. LLOYD, Manon GBR
Individual Pursuit
1. D'HOORE, Jolien 0 3:36.130
2. TROTT, Laura 03:38.769
3. ARCHIBALD, Katie 03:41.177
4. JEULAND, Pascale 03:44.607
5. HORNE, Ciara 03:44.628
6. KAY, Emily 03:45.217
7. OLABERRIA, Leire 03:47.647
8. BOYLAN, Lydia 03:48.749
9. NELSON, Emily 03:48.935
10. LLOYD, Manon 03:49.707
11. BERTHON, Laurie 03:50.325
12. WOJTYRA, Malgorzata 03:51.420
13. STEEL, Elizabeth 3:57.303
14. REYBOULD, Rebecca 03:59.550
Elimination Race
1. TROTT, Laura GBR
2. D'HOORE, Jolien BEL
3. ARCHIBALD, Katie GBR
4. JEULAND, Pascale FRA
5. KAY, Emily GBR
6. NELSON, Emily GBR
7. OLABERRIA, Leire ESP
8. BERTHON, Laurie FRA
9. WOJTYRA, Malgorzata POL
10. STEEL, Elizabeth NZL
11. BOYLAN, Lydia IRL
12. REYBOULD, Rebecca GBR
13. LLOYD, Manon GBR
14. HORNE, Ciara GBR
Overall with two events to go
1. Laura Trott
2. Jolien D'Hoore
3. Pascale Jueland
4. Katie Archibald
Mens Omnium
Scratch Race
1. DE KETELE, Kenny BEL
2. LISOUSKI, Aleksandr BLR
3. DIBBEN, Jonathan GBR
4. CLANCY , Ed GBR
5. STEWART, Mark GBR
6. ELLORIAGA, Unai ESP
7. THOMAS, Benjamin FRA
8. EEFTING, Roy NED
9. WOOD, Oliver GBR
10. RODRIGUES, Gideoni BRA
11. CAVENDISH, Mark GBR
12. KNEISKY, Morgan FRA
13. DE PAUW, Moreno BEL
14. VELDT, Tim NED
15. KOVALEV, Ivan RUS
16. RYAN, Fintan IRL
17. WAUCH, Tobias AUT
18. DOWNEY, Mark IRL
19. MATZNER, Stefan AUT
20. LATHAM, Christopher GBR
21. MASTALLER, Stefan AUT
Individual Pursuit
1 LATHAM, Christopher 04:26.073
2 CAVENDISH, Mark 04:26.822
3 DIBBEN, Jonathan 04:27.335
4 CLANCY , Ed 04:29.208
5 STEWART, Mark 04:29.502
6 DE KETELE, Kenny 04:30.886
7 RODRIGUES, Gideoni 04:32.437
8 LISOUSKI, Aleksandr 04:34.138
9 ELLORIAGA, Unai 04:34.258
10 WOOD, Oliver 04:35.182
11 THOMAS, Benjamin 04:35.755
12 VELDT, Tim 04:35.971
13 KNEISKY, Morgan 04:36.161
14 DE PAUW, Moreno 04:40.976
15 EEFTING, Roy 04:41.085
16 KOVALEV, Ivan 04:41.916
17 DOWNEY, Mark 04:45.464
18 RYAN, Fintan 04:49.266
19 WAUCH, Tobias 04:49.724
20 MATZNER, Stefan 04:54.146
21 MASTALLER, Stefan 05:03.785
Elimination Race
1. CLANCY , Ed GBR
2. LATHAM, Christopher GBR
3. THOMAS, Benjamin FRA
4. CAVENDISH, Mark GBR
5. ELLORIAGA, Unai ESP
6. STEWART, Mark GBR
7. KNEISKY, Morgan FRA
8. VELDT, Tim NED
9. LISOUSKI, Aleksandr BLR
10. RYAN, Fintan IRL
11. WAUCH, Tobias AUT
12. DE KETELE, Kenny BEL
13. DOWNEY, Mark IRL
14. DIBBEN, Jonathan GBR
15. EEFTING, Roy NED
16. MATZNER, Stefan AUT
17. RODRIGUES, Gideoni BRA
18. WOOD, Oliver GBR
19. DE PAUW, Moreno BEL
20. MASTALLER, Stefan AUT
21. KOVALEV, Ivan RUS
Overall with two events to go
1. Ed Clancy
2. Mark Stewart
3. Mark Cavendish
4. Aleksandr Lisouski
Madison Time Trial
1. Burke/Doull 55.240
2. Burton/Gibson 56.774
3. Mastaller/Rotherham 58.514
4. Kniesky/Benjamin 59.434
5. Lisouski/Kovalev 1.00.315
6. Downey/Ryan 1.02.181
7. De Ketele/De Pauw 1.21.760
Longest Lap
1. GIBSON, Matthew 100% Me
2. KNEISKY, Morgan France
3. THOMAS, Benjamin France
4. LISOUSKI, Aleksandr Belarus
5. KOVALEV, Ivan Russia
6. EEFTING, Roy Netherlands
2015-16 season dates:
Round 1: 14/15/16 August 2015 – Derby
Round 2: 24 October 2015 – Manchester
Round 3: 14 November 2015 – London
Round 4: 28 November 2015 – Glasgow
Round 5: 02 January 2016 – Manchester
Round 6: 23 January 2016 – Manchester
Tickets 0844 854 2016 – www.cyclingrevolution.com
Send your results as well as club, team & event news here
---
Other Results on VeloUK (including reports containing results)

---
Other News on VeloUK