VeloUK talks to a manager who has been in the sport since the 70's, John Herety, about the transfer season here in the UK
Feature – Transfer Season in UK
Its's that time of the year when riders, or their agents, start to look for new contracts and who better to talk to than some one who has been dealing with this as a rider and manager for a long long time; John Herety.
2005 – John Herety is managing the GB Team at the Tour of Britain with the likes of Geraint Thomas, Ed Clancy, Mark Cavendish and Roger Hammond, all still involved in racing to this day
The JLT Condor manager explained that in the past he's always left that part of the business until September but learnt in latter years doing that he's missed out on riders because they had already signed contracts.
Which is why he admits he's gone quite aggressive this year. "I've gone out and looked at riders very very early on and made offers. Some of have made verbal agreements, some have signed and some have made verbal agreements and then reneged on them."
John explained how he's been doing the job for 25 years and was a rider before that, and so is very aware how it works here and abroad. "Being very close to the British scene, I have seen highs and lows over the years. I am pretty nervous because we are currently enjoying a rich period of sponsors being in the sport and riders getting paid well which is always good to see".
"it's a lot better now than when I was a pro. For the number of races they have to ride, and how difficult those races are compared to those on the WorldTour circuit, I would suggest we are over paying our riders. I'm not against that as long as it's sustainable. I would never begrudge anyone making a living from this racing, it' too hard."
GP Of Wales and pre-race talk with manager and riders
It wasn't that long ago, a leading rider in Britain would be getting £15,000 a season but now some are on 40k, perhaps more because I know some have certainly asked for more and some team owners have the budget to pay it whilst others do not. It's that old pro footballer versus village footballer syndrome where in any give Prem, there will be those on what is big money for British racing whilst others are being paid a fraction of that and others, working full or part time.
What must by frustrating for riders is that those on a fraction of what the top guys are on are showing they are very competitive in a British scene where the depth is the best it's been for a long long time. But then, such wages are also something to aspire to, to help the hunger along, to show they are good enough to command the money that the chosen few are getting.
John then added that riders are not so much paid for what they are doing but what they are missing because they can't get that time back. "Briggsy spoke for example about not being with the family and that highlights that no matter how much money you get, you can't get that time back. My first sponsor told me that at length when I was a rider."
"He also did something interesting and unusual in that he paid every one of his riders before the season had started in one lump sum. He'd asked what a rider's biggest fear was and that was not getting paid so he paid their whole salary but said to them, don't come back and ask for more. The riders had to learn to manage that money over the course of the year."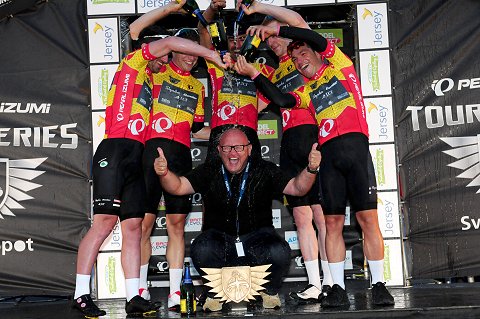 In recent years, the wages have doubled and more for a lot of riders. "If I look at my race budget against my wage bill, in any other industry, we'd look foolish whereby the wage bill percentage wise is disproportionate against the race budget".
"Bearing in mind we race abroad a lot as well, probably more than the other teams, but I'm not being negative about it at all, rather just concerned having seen the bubble burst before."
John then added, "the pro scene is the strongest it has ever been and not just within cycling but also outside it with government policy shifting to a more positive pro cycling stance. There does seem to be a momentum and as long as we can keep it going, everything will be fine."
"At the end of the day, it's about market forces here in the UK and it's not rocket science to work out who the best riders are here in the UK. The trick is to find the ones that are not so good that you think you can make better and give them a chance".
"You put everyone's name in a spreadsheet, look at their performances over the past two seasons and work out which ones you have to go for and are not already signed."
It's why John in the main, sticks to riders from the UK because he knows what they are capable of rather than hearing promises from non UK riders promising things they can't deliver.
"There is also the matter of wanting to improve British riders" adds John. "To give them a platform from which they can move on. It's unfortunate for example, over the last few years I have lost five members of staff to world tour teams when I'd much rather have lost five riders to world tour teams."
John explained how he wants to attract the ambitious rider who sees the attraction of John's race programme against big money to stay here and just race here in the UK. He admits that making the connection with riders to talk contracts is both them coming to him and him actively seeking out specific riders.
"I've always had riders come to me but this time I have actively pursed riders and that's a first for me. It is quite interesting in the way people have reacted to that."
John then talked through signing and talking to riders early does have its pitfalls, for the rider, because there are still many opportunities for a rider to make a breakthrough, such as a good performance in a major race like the Tour of Britain.
That highlights the tight rope that a rider will walk when after a new contract because a win in a race like the Tour of Britain will likely attract foreign teams to the table as well. What the chat with John did highlight though is the men in black's team will see changes in 2016, as will all the British teams and the merry–go-round will continue as it has done with their being winners and losers a long way from a ribbon of tarmac.
We look forward to hearing about the changes to the team line ups in the months to come.
Send your results as well as club, team & event news here
---
Other Results on VeloUK (including reports containing results)

---
Other News on VeloUK