Wireless shifting comes to SRAM with SRAM Red eTAP after being tested by the pros for the last few years
News – Introducing SRAM eTAP
SRAM PRESS RELEASE
SRAM's first electronic shifting system called SRAM RED eTap
Featuring SRAM's advanced shift logic (right lever makes it harder, left lever makes it easier, both levers to change the front ring) with SRAM RED eTap you'll shift more, with less effort and spend less time doing it.
SRAM RED eTap has been rigorously and successfully tested for years at the professional and WorldTour level and now, it's ready for the rest of the world.
SRAM RED eTap Shift Levers
Our revised ERGOFIT controls seamlessly connect rider and machine with REACHADJUST™ to fit any hand. Carbon ERGOBLADE levers and large SRAM eTap© paddles provide positive controls for rider input that make it virtually impossible to mistake an upshift for a downshift.
Weight: 260g per pair
SRAM RED eTap Rear Derailleur

The SRAM RED eTap rear derailleur executes shifts the moment you demand it, with military precision. Wirelessly. It's easy to set up, clean in appearance and delightfully uncomplicated. Mechanical necessities such as a carbon pulley cage, ceramic pulley bearings, and high polished alloy artfully blend with proprietary electronic advancements to deliver a 239g* shifting wonder. *including battery
Maximum 28t cassette capacity
SRAM RED eTap Front Derailleur
SRAM YAW™ technology changed front shifting forever, eliminating the need for trim. The SRAM RED eTap Front Derailleur makes a good thing better by executing front shifts confidently and quickly over our proprietary wireless communication protocol. At 187g including battery, the SRAM RED eTap front derailleur maintains SRAM's best-in-class weight title.
SRAM RED eTap Blips
SRAM RED eTap Blip satellite shifters allow you to shift when you want, where you want. Run up to two remote positions per side with limitless placement options. When mated with the aero bike specifi c BlipBox control module, your aero machine's gearing is as forward leaning as the rest of bike.
* wires not shown
SRAM RED eTap Blipboxâ"¢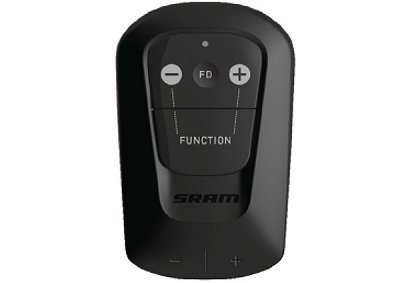 Aero riders can place Blips on both aero extensions and base bars for shifting in any position. This added capability saves precious seconds and off ers a true competitive advantage. For this type of handlebar setup SRAM developed the BlipBox to tie all of the Blips together and serve as a control module and wireless signal sending unit.
THE TECHNOLOGY and MORE
AIREAâ"¢ (Area)
Utilizing 128-bit encryption, eTap shift signals are transmitted and received in accordance with SRAM's proprietary wireless protocol known as AIREA. Each time an eTap groupset is paired, a new encryption code is generated and assigned to the components in this group to ensure complete shifting security.
eTAP®
All of the underlying tech in our new SRAM RED eTap groupset such as wireless shifting, advanced battery power management and mechatronic technologies are all meant to serve one ultimate purpose, to facilitate the most intuitive and consistent shifting available. This shift logic is called eTap. Right lever makes it harder, left lever makes it easier, both levers shift the front derailleur. Simple, unmistakable, and intuitive.
BLIPSâ"¢
Drop bars exist to give riders multiple hand positions. SRAM RED eTap Blips turn each of those positions into a location that can be shifted from. With two Blip ports available on each drop bar shifter, multiple positions can be connected without any additional hardware. Easily placed underneath bar tape with no need to cut the tape to expose the switch, Blips maintain the beautiful lines of your cherished ride.
Blips are available in lengths of 150mm: 6g, 230mm: 7g, 450mm: 8g, 650mm: 9g
COMPATIBILITY
SRAM RED eTap brake levers and derailleurs are compatible will all SRAM 22 cranksets, chainrings, chains, mechanical brakes, and cassettes with a max cog size of 28-teeth.
POWER MANAGEMENT
SRAM engineered intelligent, energy efficient wireless components. In addition to providing easy to understand LED power indication, sensors within each wireless component power up the component automatically when your ride starts, and enter sleep mode automatically at the end of your ride to extend available riding time between charges. Every component features LED power indication.
YAWâ"¢
SRAM's proprietary Yaw front derailleur cage rotates to maintain a consistent angular relationship with the chain for ideal shifting performance in every gear combination.
EASE OF CHARGING
eTap batteries are literally a snap to remove and charge. Just flip the tool-free battery latch up and slide the battery up and out of the derailleur. Then snap the battery into the USB powered charger and connect the charger to any USB power source or A/C USB adaptor. A full charge takes only 45 minutes to complete.
DEVICES (PC, Mac, Garmin)Whether you are a Mac or PC user, SRAM RED eTap can communicate with your computer. Firmware updates are handled quickly and wirelessly using the USB stick included with complete aftermarket groupsets. We worked with Garmin throughout the development process to develop communication capability between eTap and Garmin GPS devices. Please contact Garmin for GPS model compatibility information.
AVAILABILITY: SPRING 2016
PRICING
MSRP FOR THE COMPLETE ROAD GROUPSET: £2,059*
Includes pair of Shift/Brake Levers, Front Derailleur with battery, Rear Derailleur with battery, GXP Crankset, GXP Team English Bottom Bracket, XG-1190 Cassette, RED 22 Chain, Brakeset, Battery Charger, USB Stick.
MSRP FOR THE COMPLETE AERO GROUPSET: £2,140*
Inlcudes Blips x4, BlipBox, Front Derailleur with battery, Rear Derailleur with battery, GXP Crankset, GXP Team English Bottom Bracket, XG-1190 Cassette, RED 22 Chain, Brakeset, Battery Charger, USB Stick
* VAT Included
Send your results as well as club, team & event news here
---
Other Results on VeloUK (including reports containing results)

---
Other News on VeloUK