Talking to a multiple stage winner of the Tour of Britain, Roger Hammond, manager of Madison Genesis and KoM winner from 2014 Mark McNally
Roger Hammond & Mark McNally talking Tour of Britain
Talking to a multiple stage winner of the Tour of Britain, Roger Hammond, manager of Madison Genesis and KoM winner from 2014 Mark McNally
I started by chatting to Roger Hammond and asking what the goals of the team were in 2015? "That's the million dollar question" he replied. "Two weeks ago we had a very different agenda. It's no secret we'll sadly miss Erick (Rowsell) here because he would have been a GC contender."
"The route was perfect for him and it was something we pin pointed at the end of last year when we were talking about signing him. The thing is though, we're not here with our heads low because we've come here with a team that is still very strong"
"In a way it's changed what we will do but that makes us stronger in what we will do now. We want to be part of the race and we're not going out without a fight."
"The thing with the Tour of Britain is working out where that fight is and using it to our advantage. If you fight for fighting sake, you get nothing out of it. So we have an idea of what we want to do but that plan will evolve on the road like it did last year."
"I am being evasive but that's how the race is. We're not a world tour team coming here that is going to dominate how the race is ridden. We're here to race it but in a way that suits us."
The team have just returned from a trip to Europe where they raced a series of events and had success too with top tens and a victory. Talking about that preparation, Roger says "everyone has worked very hard to get the preparation right. The riders, the staff and me too. I have been away now since RideLondon but it's been about giving these guys the best preparation so when they line up on stage 1, they have confidence in they have done everything right".
"Yes, there was the negative of Erick crashing in Belgium but you can't take riders out of races and he doesn't regret doing them. You look at Mark (McNally) who has put himself up there in the international eye from those races and that is what we do it for."
"It's a testament to how strong the squad is that even after Erik had broken his arm, I had still had a very difficult choice to choose six riders. It was a real nasty thing to have to do and I still have sleepless nights making those phone calls to the riders who miss out because I know it's their career and dreams that are at stake."
Roger has won stages of the Tour of Britain as a rider so knows the race very well so when asked how the Tour of Britain has changed over the years, he replied "it's grown and always was going to do that".
"The timing is right for the Tour of Britain. There is this battle of the Grand Tours to make their race the hardest, most memorable, most ridiculously tough race on the calendar but all it has done is make the Vuelta too hard. Meanwhile, the great thing is the Tour of Britain has grown in stature, got the extra race days, got the organisation sorted out so it's well organised and the riders enjoy racing it."
Twice a British road race champion
Will the race be controlled by the sprinter's teams I asked? "I don't think so. It's not just about looking at the startlist and saying it's going to be more controlled or not because these sprinters are here. It's about where does this race fit into the calendar, what are the riders doing here, why are they here. What are their objectives, how hard is this race with six riders and when you add it all up, you get the sum of what that the team is trying to achieve."
"I don't think it's going to be about sitting on the front for eight days controlling it in September with a team. If you want to come out of this race well, you can't do that every day, it's too hard. There are too many big teams and they race it bloody hard. This race is race flat out from kilometre zero day in, day out. So there is an uncontrollable element to this race which is the beauty of it for us".
Mark McNally
Winning the KoM award in the Tour of Britain 2014, is says Mark, something that is right up there in his palmeres. "I'd say that it is one of the greatest things I have done in my career and fingers crossed I can top that this year and go one better, be that a stage result or jersey."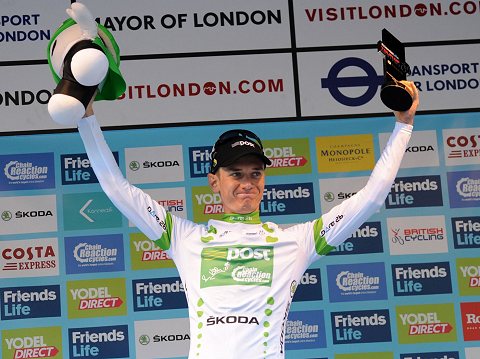 "It's nice to be back and I'm looking forward to the race again. Everyone seems to be going well and there is a good atmosphere in the team so it should be a good week. Same as last year, go for the breaks and try and get something from it."
"I think my condition is as good as last year so we'll see what happens. We have had a good build up and decent result so I'm happy to be back on a bigger stage and the opportunity to perform well against the bigger teams."
Talking about stage 1, Mark explained there will be an element of control and a break will be let go and the big teams will settle the race down. "I am pretty sure it will come down to a sprint finish but there is always something that could change that."
"When everyone has fresh legs, there will be a lot of keen riders ready to do something". Asked what the approach is before the start of stage 1, Mark replied "you need to make sure you are warmed up ready to go. If it's a short neutral for example, we'll probably jump on the rollers. It will be the same as most races in we'll be at the front trying to stay out of trouble."
"Riders don't ride away from the peloton, it's the peloton that lets you go. I don't think it's about who is in the break but more they want a break to go because the sooner that happens, the sooner the race settles down and they have control of it then."
For Mark McNally and the riders in Madison Genesis, getting in a break is sure to be a goal just like it is for other British teams but how long it takes for that to happen is anyone's guess. Based on previous races, the colours of Madison Genesis are sure to be present at the front of the race at some stage and we wish them lots of luck on the road.
Send your results as well as club, team & event news here
---
Other Results on VeloUK (including reports containing results)

---
Other News on VeloUK