World Omnium Champion Fernando Gaviria beats the best in the business sprinting to victory in Blyth, on stage 4 of the Tour of Britain
Feature Report: Tour of Britain Stage 4
Stage 4 Edinburgh to Blyth | Wednesday 9 September
Photo album from the day 
World Omnium Champion Fernando Gaviria claimed one of the best wins of his career to date, sprinting to victory in Blyth, Northumberland, showing an extraordinary turn of speed to beat Andre Greipel and Edvald Boasson Hagen at the end of a long, 217-kilometre stage from Edinburgh.
Gaviria (above), just 21, was expertly guided into pole position by the Etixx Quick-Step team with Zdenek Stybar acting as pilot and Mark Cavendish as sweeper before he moved decisively to the right of the road and taking off with a blistering turn of speed reminiscent of Cavendish at his best, offering up a low crouching profile to reduce the drag.
It was a classy and comprehensive win in Northumberland, earning a congratulatory handshake from Greipel and a raised fist of triumph from teammate Cavendish as he crossed the line.
The victory was Etixx Quick-Step's second so far of the Aviva Tour of Britain, and came on the day that their Stage Two winner Petr Vakoc retired from the race as a result of the crash that cost him the Aviva Yellow Jersey at Floors Castle.
It was a textbook ride by the Etixx Quick-Step team who rode aggressively to put the dangerous Matteo Trentin in the break for them, which meant that the team could then rely on the Movistar Team and Team Sky to make most of the going chasing before coming to the fore at the end. Trentin's reward was the Crockwell Bishop cheese from Rouleur as Combativity Award winner for Stage Four from Edinburgh to Blyth.
"It was a victory for the team, Mark put me in a very good position and I just went for it," said Gaviria from Le Ceja near Medellin. "My mentality is always to go for the win.
"I have been very surprised by the crowds, they have been very big, back on Colombia these days you don't get such big crowds as this anymore for cycling so it was great to race in front of so many fans. The countryside was good but it was the first time I have seen a windfarm, I did wonder what that was when we rode past one."
Gaviria's stage win was the first for a Colombian rider since Mauricio Ardila's victory at Celtic Manor in the inaugural edition of the modern Tour of Britain in 2004.
A considerable career awaits for a rider that his DS Brian Holm described yesterday as a cross between Peter Sagan and Mark Cavendish.
The riders roll out of Edinburgh with the longest stage ahead of them over some pretty tough terrain
High praise indeed for Gaviria who looked pleased at the compliment. "They are great riders and champions and I have always dreamed to be a rider like hem so I am very happy to be compared with them."
At the top of the Aviva General Classification Movistar's Juan Jose Lobato stayed in the Aviva Yellow Jersey, although with a lead trimmed to six seconds thanks to the bonus seconds for Boasson Hagen's third place.
The Spaniard did though lose the Chain Reaction Cycles Points Jersey, which switches to the shoulders of Team WIGGINS' Owain Doull, also the Premier Inn Best British Rider.
Owain Doull (team Wiggins), Points leader
After a spectacular opening few kilometres through the heart of Edinburgh, including the Royal Mile, a strong six rider break including Alan Marangoni, Danilo Wyss, Michael Svendgaard, Rob Partridge and Reinardt Janse Van Rensburg, plus Trentin, who started the day just 18-seconds back from Lobato, resulting in the Movistar Team led by former World Hour record holder Alex Dowsett to be pressed into immediate service to ride hard in the service of their Aviva Yellow Jersey.
With the Movistar Team keeping the break pegged at four minutes, the sprint trains of Sky and Lotto Soudal took over responsibility for the chase, working hard to reduce the deficit as they passed through thousands of spectators in the towns of Coldstream, Wooler and Alnwick among others.
Tom Stewart of Madison Genesis leads the KoM competition
In the SKODA King of the Mountains competition there was no change with Tom Stewart of Madison Genesis still leading on 25 points, two ahead of Ian Bibby of NFTO and Kristian House of JLT Condor presented by Mavic. Nor was there any change in the YodelDirect Sprints with Peter Williams of ONE Pro Cycling still one point ahead of Pim Ligthart of Lotto Soudal and Aidis Kruopis of An Post Chain Reaction.
The race resumes in Northumberland tomorrow, Thursday 10 September, with Stage Five starting from Prudhoe at 11:15 and taking in Hadrian's Wall, before crossing into Cumbria and skirting Ullswater in the Lake District National Park. The stage concludes with the summit finish of Hartside, an eight-kilometre climb above Penrith, averaging just over 5%.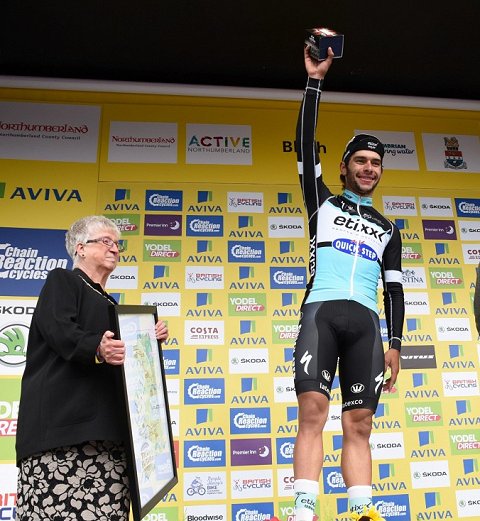 Gaviria celebrates on the podium
Lobato remains in Yellow
The break with NFTO's Rob Partridge on the hills in the Borders of Scotland
Great to see Pete Williams of One Pro Cycling keeping his jersey after the fall yesterday
As they came past me on the hills outside Gifford, the peloton was split showing how tough it was after only 30 miles
Stage 4 – Edinburgh to Blythe
1 GAVIRIA RENDON Fernando EQS 05:13:08
2 GREIPEL André LTS ST
3 BOASSON HAGEN Edvald MTN ST
4 DOULL Owain WGN ST
5 DEBUSSCHERE Jens LTS ST
6 VANGENECHTEN Jonas IAM ST
7 VIVIANI Elia SKY ST
8 CIOLEK Gerald MTN ST
9 GERTS Floris BMC ST
10 BRIGGS Graham JLT ST
11 OPIE Chris ONE ST
12 BETTIOL Alberto TCG ST
13 CAVENDISH Mark EQS ST
14 MORKOV Michael TCS ST
15 LOBATO DEL VALLE Juan Jose MOV ST
16 SWIFT Ben SKY ST
17 GULDHAMMER Rasmus CLT ST
18 PERON Andrea TNN ST
19 POELS Wouter SKY ST
20 TEUNS Dylan BMC ST
21 KRUOPIS Aidis SKT ST
22 MCNALLY Mark MGT ST
23 VAN BAARLE Dylan TCG ST
24 TANKINK Bram TLJ ST
25 QUAADE Rasmus Christian CLT ST
26 PAUWELS Serge MTN ST
27 HART Tao Geoghegan GBR ST
28 WILLIAMS Peter ONE ST
29 LANGEVELD Sebastian TCG ST
30 SAGAN Juraj TCS ST
31 PETERS Alex GBR ST
32 STYBAR Zdenek EQS ST
33 KISERLOVSKI Robert TCS ST
34 KENNAUGH Peter SKY ST
35 KRUIJSWIJK Steven TLJ ST
36 SIEBERG Marcel LTS ST
37 ZEPUNTKE Ruben TCG ST
38 MEURISSE Xandro SKT ST
39 WOOD Oliver GBR ST
40 SÖRENSEN Chris Anker TCS ST
41 CULLAIGH Gabriel GBR ST
42 INTXAUSTI ELORRIAGA Benat MOV ST
43 PHINNEY Taylor BMC ST
44 TRENTIN Matteo EQS ST
45 KUENG Stefan BMC ST
46 APPLEBY Dale NPC ST
47 HUNT Joshua ONE ST
48 FERNANDEZ Ruben MOV ST
49 BIBBY Ian NPC ST
50 DOWNING Russell CLT ST
51 ENGER Sondre Holst IAM ST
52 TOLHOEK Antwan TCS ST
53 IZAGIRRE INSAUSTI Gorka MOV ST
54 RENSHAW Mark EQS ST
55 BOUWMAN Koen TLJ ST
56 CLEMENT Stef IAM ST
57 MOSES Thomas JLT ST
58 HANDLEY Richard JLT ST
59 PLANET Charles TNN ST
60 CRONSHAW Mathew MGT ST
61 MULLEN Ryan TCG ST
62 KNEISKY Morgan RAL ST
63 LOZANO RIBA David TNN ST
64 TRUSOV Nikolay TCS ST
65 WEGMANN Fabian CLT ST
66 DENIFL Stefan IAM ST
67 MEGIAS LEAL Javier TNN ST
68 HARPER George ONE ST
69 HAWDON Andrew RAL 16
70 OLIPHANT Evan RAL ST
71 DE BIE Sean LTS 19
72 LOWSLEY WILLIAMS James NPC 30
73 SLATER Alistair SKT 38
74 HENTTALA Joonas TNN ST
75 TEKLEHAIMANOT Daniel MTN 46
76 DUNBAR Eddie NPC ST
77 DAVIES Scott GBR ST
78 DOMAGALSKI Karol RAL 51
79 KLUGE Roger IAM 53
80 LIGTHART Pim LTS 55
81 CHEVRIER Clement IAM ST
82 SISKEVICIUS Paulius SKT ST
83 BIALOBLOCKI Marcin ONE ST
84 HOUSE Kristian JLT 58
85 DUNNE Conor SKT 01:27
86 TENNANT Andrew WGN 01:34
87 MORTENSEN Martin CLT 01:40
88 STEWART Thomas MGT ST
89 WYSS Danilo BMC ST
90 STANNARD Ian SKY 02:07
91 PYM George RAL ST
92 LAMPIER Steven RAL 02:49
93 WILSON Jack SKT ST
94 FRISON Frederik LTS ST
95 FARRAR Tyler MTN ST
96 CARTHY Hugh GBR ST
97 SCULLY Thomas MGT ST
98 MARANGONI Alan TCG ST
99 MCEVOY Jonathan NPC ST
100 HOLMES Matthew MGT ST
101 WIGGINS Bradley WGN ST
102 ANTON HERNANDEZ Igor MOV 04:41
103 FENN Andrew SKY ST
104 THOMPSON Michael WGN 05:40
105 DIBBEN Jonathan WGN ST
106 CLANCY Edward JLT 08:57
107 PARTRIDGE Robert NPC ST
108 SVENDGAARD Michael Carbel CLT ST
109 JANSE VAN RENSBURG Reinardt MTN ST
110 BARKER Yanto ONE ST
111 DE MESMAEKER Kevin TNN 09:22
112 DOWSETT Alex MOV 15:35
113 CUMING Michael JLT 20:48
OVERALL
1 LOBATO DEL VALLE Juan Jose MOV 18:50:12
2 BOASSON HAGEN Edvald MTN 6
3 GERTS Floris BMC 12
4 POELS Wouter SKY 13
5 VAN BAARLE Dylan TCG ST
6 DOULL Owain WGN 14
7 BRIGGS Graham JLT ST
8 GULDHAMMER Rasmus CLT ST
9 TRENTIN Matteo EQS ST
10 PAUWELS Serge MTN 20
11 TEUNS Dylan BMC 22
12 DEBUSSCHERE Jens LTS ST
13 STYBAR Zdenek EQS ST
14 FERNANDEZ Ruben MOV ST
15 HART Tao Geoghegan GBR ST
16 KISERLOVSKI Robert TCS ST
17 ZEPUNTKE Ruben TCG ST
18 KRUIJSWIJK Steven TLJ ST
19 INTXAUSTI ELORRIAGA Benat MOV ST
20 IZAGIRRE INSAUSTI Gorka MOV ST
21 SÖRENSEN Chris Anker TCS ST
22 QUAADE Rasmus Christian CLT ST
23 MEURISSE Xandro SKT ST
24 LOZANO RIBA David TNN ST
25 MEGIAS LEAL Javier TNN ST
26 BIBBY Ian NPC ST
27 MORKOV Michael TCS 26
28 SWIFT Ben SKY ST
29 KENNAUGH Peter SKY 34
30 PHINNEY Taylor BMC ST
31 TANKINK Bram TLJ 35
32 PETERS Alex GBR 43
33 LANGEVELD Sebastian TCG ST
34 KUENG Stefan BMC 45
35 DENIFL Stefan IAM 47
36 MOSES Thomas JLT 01:01
37 HANDLEY Richard JLT ST
38 BETTIOL Alberto TCG 01:13
39 BOUWMAN Koen TLJ ST
40 DE BIE Sean LTS 01:19
41 SLATER Alistair SKT 01:51
42 GREIPEL André LTS 01:59
43 CLEMENT Stef IAM 02:13
44 WYSS Danilo BMC 02:22
45 SIEBERG Marcel LTS 02:53
46 LIGTHART Pim LTS 04:59
47 ENGER Sondre Holst IAM 05:00
48 DAVIES Scott GBR ST
49 ANTON HERNANDEZ Igor MOV 05:03
50 MARANGONI Alan TCG 06:34
51 HUNT Joshua ONE 07:17
52 MCNALLY Mark MGT 07:43
53 TOLHOEK Antwan TCS 08:18
54 GAVIRIA RENDON Fernando EQS 10:11
55 APPLEBY Dale NPC 10:29
56 CHEVRIER Clement IAM 13:21
57 FRISON Frederik LTS 14:14
58 MCEVOY Jonathan NPC 14:26
59 CARTHY Hugh GBR 14:47
60 HARPER George ONE 17:09
61 DOMAGALSKI Karol RAL 21:01
62 VIVIANI Elia SKY 21:38
63 CAVENDISH Mark EQS 21:52
64 CULLAIGH Gabriel GBR 22:06
65 CIOLEK Gerald MTN ST
66 PLANET Charles TNN ST
67 MULLEN Ryan TCG 22:19
68 WEGMANN Fabian CLT 22:22
69 VANGENECHTEN Jonas IAM 22:30
70 OLIPHANT Evan RAL 22:35
71 SAGAN Juraj TCS 22:43
72 TRUSOV Nikolay TCS ST
73 LOWSLEY WILLIAMS James NPC 22:47
74 BIALOBLOCKI Marcin ONE 23:07
75 TEKLEHAIMANOT Daniel MTN 23:08
76 RENSHAW Mark EQS 23:18
77 TENNANT Andrew WGN 23:40
78 MORTENSEN Martin CLT 23:59
79 DUNBAR Eddie NPC 24:36:00
80 STANNARD Ian SKY 24:39:00
81 HOUSE Kristian JLT 24:40:00
82 WILLIAMS Peter ONE 25:03:00
83 CRONSHAW Mathew MGT 25:31:00
84 FARRAR Tyler MTN 26:23:00
85 LAMPIER Steven RAL 26:25:00
86 SCULLY Thomas MGT ST
87 STEWART Thomas MGT 26:35:00
88 WIGGINS Bradley WGN 26:36:00
89 HOLMES Matthew MGT 27:46:00
90 DIBBEN Jonathan WGN 28:10:00
91 THOMPSON Michael WGN 28:29:00
92 PERON Andrea TNN 29:16:00
93 WOOD Oliver GBR 29:24:00
94 KNEISKY Morgan RAL 29:39:00
95 FENN Andrew SKY ST
96 HAWDON Andrew RAL 29:52:00
97 SISKEVICIUS Paulius SKT 30:19:00
98 SVENDGAARD Michael Carbel CLT 30:52:00
99 JANSE VAN RENSBURG Reinardt MTN 30:53:00
100 BARKER Yanto ONE 30:55:00
101 DUNNE Conor SKT 30:59:00
102 HENTTALA Joonas TNN 31:33:00
103 PYM George RAL 31:45:00
104 OPIE Chris ONE 32:20:00
105 DOWNING Russell CLT 32:25:00
106 KRUOPIS Aidis SKT 32:39:00
107 PARTRIDGE Robert NPC 33:04:00
108 CUMING Michael JLT 33:42:00
109 KLUGE Roger IAM 34:53:00
110 WILSON Jack SKT 37:01:00
111 DOWSETT Alex MOV 39:01:00
112 DE MESMAEKER Kevin TNN 41:16:00
113 CLANCY Edward JLT 43:55:00
King of the Mountains Overall
1 STEWART Thomas MGT 25
2 BIBBY Ian NPC 23
3 HOUSE Kristian JLT 20
4 FARRAR Tyler MTN 18
5 WILLIAMS Peter ONE 17
6 WYSS Danilo BMC 15
7 CRONSHAW Mathew MGT 14
8 DUNNE Conor SKT 14
9 PARTRIDGE Robert NPC 13
10 KENNAUGH Peter SKY 13
11 BIALOBLOCKI Marcin ONE 13
12 MCNALLY Mark MGT 11
Points
1 DOULL Owain WGN 44
2 LOBATO DEL VALLE Juan Jose MOV 40
3 VIVIANI Elia SKY 39
4 DEBUSSCHERE Jens LTS 31
5 GREIPEL André LTS 27
6 BOASSON HAGEN Edvald MTN 26
7 TRENTIN Matteo EQS 24
8 BRIGGS Graham JLT 23
9 BETTIOL Alberto TCG 20
10 GERTS Floris BMC 17
Sprints
1 WILLIAMS Peter ONE 9
2 LIGTHART Pim LTS 8
3 KRUOPIS Aidis SKT 8
4 WYSS Danilo BMC 7
5 DUNNE Conor SKT 7
6 TRENTIN Matteo EQS 4
7 BIALOBLOCKI Marcin ONE 4
8 HOUSE Kristian JLT 3
9 FARRAR Tyler MTN 3
10 SVENDGAARD Michael Carbel CLT 3
11 DOWNING Russell CLT 3
STAGES
Stage 1 | Sunday 6 September Beaumaris, Anglesey to Wrexham, 177.7km
Stage 2 | Monday 7 September Clitheroe to Colne, 159.3km
Stage 3 | Tuesday 8 September Cockermouth to Floors Castle, Kelso, 216km
Stage 4 | Wednesday 9 September Edinburgh to Blyth, 217.4km
Stage 5 | Thursday 10 September Prudhoe to Hartside, 166.2km
Stage 6 | Friday 11 September Stoke-on-Trent to Nottingham, 192.8km
Stage 7 | Saturday 12 September Fakenham to Ipswich, 227.4km
Stage 8 | Sunday 13 September London stage presented by TfL, 86.8km
TEAMS
UCI WorldTeams
BMC Racing (USA)
Etixx Quick-Step (Belgium)
IAM Cycling (Switzerland)
Lotto Soudal (Belgium)
Movistar Team (Spain)
Team Cannondale – Garmin (USA)
Team Lotto NL Jumbo (Netherlands)
Team Sky (Great Britain)
Tinkoff – Saxo (Russia)
UCI Pro Continental teams
Cult Energy Pro Cycling (Denmark)
MTN Qhubeka (South Africa)
Team Novo Nordisk (USA)
UCI Continental teams
An Post Chain Reaction (Ireland)
JLT Condor presented by Mavic (Great Britain)
Madison Genesis (Great Britain)
NFTO (Great Britain)
ONE Pro Cycling (Great Britain)
Team Raleigh GAC (Great Britain)
Team WIGGINS (Great Britain)
National Teams
Great Britain Cycling Team
Send your results as well as club, team & event news here
---
Other Results on VeloUK (including reports containing results)

---
Other News on VeloUK