Jonny McEvoy of NFTO won the final pro race of the season sprinting clear of Mike Cumming (JLT Condor) at the end of a tough 90 mile Hitter Road Race race in Herefordshire
Report & Result – Hitter Road Race
The BIG photo album is here on VeloUK's Facebook Page
Jonny McEvoy of NFTO gave his team the much wanted victory in the NFTO Hitter Road Race in Herefordshire. The North West rider outsprinted Mike Cuming (JLT Condor) who was having his last race in Britain to go and live in Australia with his girlfriend. Graham Briggs (JLT Condor) won the sprint for third.
Organised by NFTO Race Club, the event had closed roads including the finish area, crowds in the villages cheering the riders on, probably one of the best police/NEG escorts I've had in a race outside of the Tour of Britain and a hill that was hard with a capital H!
On a closed road, Jonny McEvoy was a popular winner, outsprinting Mike Cuming.
Afterwards Jonny said "I'm made up to get the win" he said moments after crossing the line.
"I jumped away with Mike Cuming and no one chased" he explained after winning the sprint to the line. "Everyone who did the Tour of Britain was going quite fast but struggling with sore legs. I was worried about the climb but it was okay".
"We'd done the climb in training so I knew what it was like and the finish is where we'd done out lead out training so I knew the finish really well."
"With quite a small field (lots of non starters for some reason), I think everyone knew once a break had gone, it was never coming back. It was a fantastic race and I loved it especially with that climb because not many races go up such a hard climb."
"It was a good crack before and after the race as well and thanks to John Wood and all the sponsors for putting it on. It was my first win this year so that felt great. I've had a lot of seconds and thirds so I'm chuffed to win it. We rode well together in the break."
All the lads in NFTO are spot on and we have a really good laugh off the bike and that makes everything easier. The staff are brilliant too. As a cyclist you spend so much time away, if you can have a laugh after you train and race, that's half the battle".
"I am ready for a rest now though" said the rider who's getting married in the winter.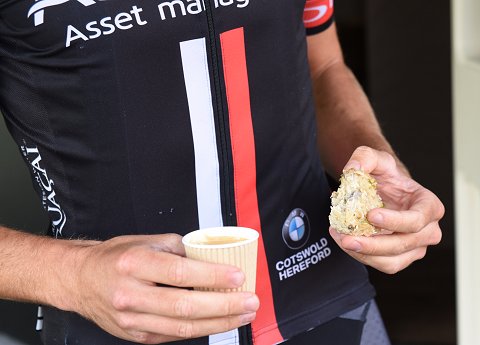 Before the race, coffee and cake of course …
James 'tank' Lewis has a word with the lead
The atmosphere of the race was a mini Tour of Britain!
James 'Tank' Lewis makes the first move
And is the then followed up by James 'Hank' Lowsley Williams and Edmund 'Cambridge' Bradbury (both NFTO)
But things got real serious when Graham 'Brigga' Briggs (JLT Condor) made several moves
With a dangerous group away, several riders started counter attacks including Dale Appleby (NFTO)
Soon a nine strong group was away with Ian Bibby (NFTO), Jon Mould (One Pro Cycling), Stevie Williams (Pedal Heaven), Graham Briggs (JLT Condor), Dale Appleby (NFTO), Richard Handley (JLT Condor), Lawrence Capenter (Catfordd CC/Banks), Tom Stewart (Madison Genesis) and Mike Cuming.
The bunch didn't however just sit up and for the next 50 miles kept the gap pegged at two minutes
On the 25% slopes of the one and only big climb, Richard Handley went chasing his weight in beer but Ian Bibby came out of the trees just ahead to nick the prize from him
Afterwards, the peloton was split as was the break for the 20k run into the finish
The break post climb saw three men in black against two of the red and black army
Graham Briggs wins the sprint for third
The Podium- boozer Ian Bibby (KoM) with his weight in beer and both bottles of champagne, Mike Cumming (2nd), Jonny McEvoy (1st) and Graham Briggs (3rd)
RESULT
1 Johnny McEvoy NFTO 03:13:50
2 Michael Cuming JLT Condor
3 Graham Briggs JLT Condor 00:19
4 Ian Bibby NFTO
5 Richard Handley JLT Condor 00:21
6 Dale Appleby NFTO 02:35
7 Tom Stewart Madison Genesis 02:37
8 Rhys Lloyd NFTO 05:43
9 Edward Laverack JLT Condor
10 Tom Barras NFTO 06:10
11 James Lowsley-Williams NFTO
12 Joshua Burns Velosure Starley Primal
13 Joe Evans Madison Genesis
14 Joseph Wiltshire NFTO
15 James Notley Mammoth Lifestyle Racing Team
16 Ioan Smallwood Cardiff Ajax CC
17 David Clarke Giordana-Mitsubishi Electric RT
18 Martin Smith Bikechain – Ricci
19 Scott Probert Stourbridge Velo
20 Lawrence Carpenter Catford CC Equipe/Banks
21 Edmund Bradbury NFTO
22 Liam Bromiley University of Bath Cycling Club
23 Rhys Phillips NFTO Race Club
24 David Bates Giordana-Mitsubishi Electric RT
25 Ceri Middleton Climb On Bikes CC
26 Steven Roach Cycle-Tec
27 Kinsey McIlquham Cardiff JIF
28 James Eldridge NFTO Race Club
29 Edward Roberts Team Elite
30 Harry Thomas Worcester Cycle Centre 06:13
31 Tobyn Horton Madison Genesis 06:26
32 Rob Partridge NFTO 06:33
33 Jon Mould One Pro Cycling 08:23
34 Stephen Williams Pedal Heaven RT
35 Jack Rebours Caesarean CC Jersey 11:22
36 Samuel Utting Cardiff Ajax CC 11:23
37 Morris Bacon Strada-Sport 12:02
38 James Lewis NFTO 13:47
39 Jonathan Harris PMR @ Toachim House
40 Alex Harvey NFTO Race Club
41 Justin Hoy NFTO
42 Sam Harrison NFTO
43 Joe Higginson BC Private Member
44 Andrew Williams Cwmcarn Paragon Cycle Club
45 Thomas Bowering Ride 24/7
46 Luke Grivell-Mellor JLT Condor 03:27:37
KoM 1, Dorstone Hill @ 98km
1 Ian Bibby
Send your results as well as club, team & event news here
---
Other Results on VeloUK (including reports containing results)

---
Other News on VeloUK