Prolific winner in 2014, Frenchman Matthieu Boulo set to return to Raleigh-GAC for 2016
Team News – Matthieu Boulo returns to Raleigh-GAC
With the 2015 road season nearing an end, the picture of who will be riding for whom in 2016 is starting to take shape and a coup for Raleigh GAC is the return of 26 year old Matthieu Boulo.
Boulo, from Saint Guyomard (Bretagne) is riding this season for his local team, UCI Pro Continental squad, Bretagne-Séché and will bring his experience of riding in Europe back to Raleigh GAC where seven or eight of the riders will be Under 23.
Matthieu told BeCelt.com "Yes, I'm back in Raleigh for 2 years. "I have good memories of Bretagne Séché. There was a good atmosphere in the team and I have done Paris-Roubaix and Tour of Catalyuna. Great races and great memories."
Matthieu though admits he's looking forward to the racing calendar in Britain with the 'crazy' atmosphere at the Pearl Izumi Tour Series and the big UCI races like the Tour of Yorkshire and Tour of Britain where he wants to help show that Raleigh GAC can do stuff against the Worlds best.
The Frenchman adds that whilst a passion is cyclo-cross, he will be focusing on the road and preparing for his goals in 2016. Matthieu will join the longest serving Raleigh – GAC rider, Scotland's Evan Oliphant as well as one of their key riders the past two seasons, World Madison Champion Morgan Kniesky, who won the Points jersey in the Pearl Izumi Tour Series in 2015.
Team owner Cherie Pridham explained "it's going to be nice to have Matthieu return and bring even more experience back with him." Boulo finished the 2014 Tour of Britain in 19th place and had a best stage placing of 11th. This on top of wins in the Tour Series Hill Climb on Jersey and the solo win at Redditch, also in the Tour Series. As well as those victories, there was another prestigious one in the Newport Nocturne at the back end of the season.
Matthieu started his season in 2014 with Raleigh GAC with 4th overall in the Tour of Normandy, and then kept that form all year which for British teams is great with a shorter but more packed season of racing.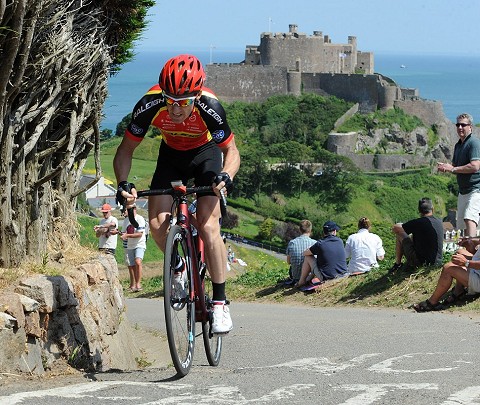 Mattieu had intended on staying with Raleigh after 2014 but as his team boss told him at the time, when an opportunity for a young rider to sign with a ProConti team comes up, he'll only regret it if he doesn't and so the Raleigh team stepped aside to give him that opportunity.
"The way Matthieu adapted to the British scene where it generally takes foreign riders a season to find their legs, was pretty phenomenal" says Cherie. "He could throw his hand at the crits as well as Prems like the Tour of Reservoir or stage races like the Tour of Normandy where he was 4th overall."
Having a rider such as Matthieu returning will certainly help Raleigh GAC continue their consistent run of great results in the domestic scene where the level continues to rise. This year, for the third time running, they have won the Star Trophy (Steve Lampier) as well as getting riders onto the podium on a regular basis.
"We have had another good season and with the strength in depth in British racing these days, whilst before it was a disaster to come away not winning a Premier Calendar event, now, it's all about getting on the podium with so many teams making such great racing".
After a season in Europe and a lot of stage racing, combined with the experience of having already raced here, having Boulo return to Britain should certainly be a great boost for Cherie's team and their aim to continue to be one of the leading squads in the country which they were in 2016 with second in the team competition for the British Cycling Elite road series.
Winner of the Newport Nocturne in 2014, Matthieu samples a small portion of the beer he won!
Send your results as well as club, team & event news here
---
Other Results on VeloUK (including reports containing results)

---
Other News on VeloUK