Colston Crawford talks to the 2015 King of Monsal, Joe Clark of Bike Box Alan/Envelopemaster
Feature: Joe Clark – King of Monsal 2015
By Colston Crawford of the Derby Telegraph
It is still less than two years since Joe Clark switched from rowing to cycling but after his win at Monsal Head on Sunday, he will go into the National Hill Climb Championships in a fortnight among the favourites.
Monsal Head is one of the shortest climbs on the circuit but also one of the steepest, a lung-bursting 675 yards with a one in six gradient from the bottom of the valley up to the hotel at the top and a large and noisy crowd watched 150 riders take it on.
Clark, who rides for Bike Box Alan/Envelopemaster, got to the top just two tenths of a second faster than his training partner, Adam Kenway (Sportgrub Kuota), from Heage. Jack Pullar (Velosure Primal Starley) was four seconds back in third place, with road race professional on a fixed wheel, Russell Downing, in fourth.
Kenway was third at the national championships last year, while Clark, in his first attempt, came fifth – the other four ahead of him, apart from Kenway, were professionals. It is startling progress for sports scientist Clark, who was also sixth at Monsal last year and went up four seconds quicker to win this time.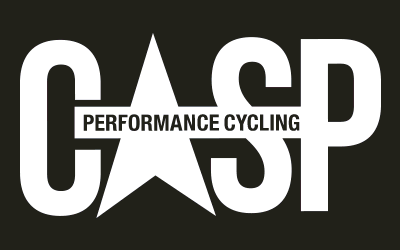 "Previously, I was a rower at Derby Rowing Club but I switched to cycling and started on the local training rides with people from Derby Mercury and Heanor Clarion and on my own a lot in the Peak District, challenging myself on the many hills," he said.
"My main discipline is road racing and, as a climber, I prefer long and hard races that are hilly." Clark went into the Monsal event thinking he had a good chance – even though he feels longer courses will suit him better. "I certainly thought I was in contention this year," he said.
"I rode it last year for the first time in 1.24 to finish sixth and that was my first season doing hill climbs. "I have improved a lot in 2015, so I knew I was going to be quicker this year.
Adam Kenway (2nd), Joe Clark (1st), Jack Pullar (3rd) and Malcolm Elliott (former winner, record holder and legend)
"I think Russell or Jack were probably favourites, though, as both have won it more than once previously." Kenway, a seasoned hill climber now at 28, attracted plenty of publicity for a ruthlessly stripped-down bike weighing 5.5 kilos – but he admitted he made a mistake marrying new gears to a four-month-old chain: "The race had a worthy winner in Joe, though," he conceded.
Both men will hope to challenge defending champion Dan Evans at the national event, at Jackson Bridge, near Huddersfield, which is almost a mile long, with varying gradients, and will take the winner a little over four minutes.
"I am aiming to improve on fifth last year in the nationals," added Clark. "I definitely prefer something longer, a hill that takes 10 minutes or more and is really steep, where being both light and powerful is important. Monsal is very short and the bigger guys and sprinters perform very well on it."
Although he does not appear on the official results, Matlock CC's Richard Thoday proved it could be done by getting up to Monsal Head on his penny farthing.
Send your results as well as club, team & event news here
---
Other Results on VeloUK (including reports containing results)

---
Other News on VeloUK