It's been some year for Ian Bibby of NFTO and his racing will start earlier than usual with some cross racing …
Feature – Ian Bibby Cross Training
One of the rider's of the season, Ian Bibby (NFTO) has had a great year with two big wins in Prems and a British title as well in the Circuit Race Championship as well as a stage in the RAS.
He started off well in 2015 with victory in the inaugural Chorley Grand Prix not far from where he lives a week after his first season win in the Capenwray Road Race in the North West. He followed the Chorley GP win by getting on the podium at the Tour of Yorkshire and then started the Tour Series well with second in Ryde on the Isle of Wight.
A win on stage 6 at the RAS in Ireland followed before a great win at the Ryedale Grand Prix ten days before his Circuit Race title win. The Tour of Britain followed with a best placing of 17th on stage 2, his home stage before the final race, the Hitter RR organised by his team where he was 4th.
In racing at that level, to get a single win makes a good season but to get four major victories shows that Ian is back to his best. That form is probably well gone now after a holiday in America and a stag do with his teammate and best friend Jonny McEvoy.
Hence, there is some panic training to be ready for his first cross race which may be at Durham in the North East in the National Trophy Series.
Cyclo-Cross Champion in 2010 with Jody Crawforth and Paul Oldham on the podium
Ian explained his team for this season and next, NFTO, is helping him out with the 'cross where there are some big goals for the former British Cyclo-Cross champion.
"I am going to do a few 'trophies' while the big aim is the nationals" he explained. "When I got the Crit Champs, I thought it would be amazing to get two titles in a year."
Ian explained how he aims to take on the challenge properly and depending on his team's race program in 2016, he may even try and go for a spot in the GB team for the 'cross Worlds. "The first 'cross race I ever went to watch in Belgium was the Zolder World Champs and I remember thinking I would love to ride there so if we're not doing races early season, I definitely want to try and do that".
That however is in the future. With the season over when we spoke, it was time to talk about the final major race of the year, the Aviva Tour of Britain. Ian went into his eighth edition of the race with GC hopes and whilst they faded on stage 5 up Hartside, he did make an impact on the race during the week.
Looking back he explained how he enjoyed seeing family and friends along the route of stage 2 adding "it's been a good week and the staff have been brilliant. There's been a good atmosphere in the team and we got in the break on a few days so we've all enjoyed it."
It was a harder race than usual said the rider who was second on a stage a few years ago. They have been long days and pretty grippy ones too and I've not had the results I wanted. I felt a bit ill midweek and it's one of those races where even if you have good form, you need some luck too."
Winning the Crit champs in 2015
"It's always enjoyable though. The race this year has been more controlled than other years. There have been a lot more bunch sprints than normal for example. None of the breaks have stayed away and there have only been a couple of days when it's really split up."
Ian does admit though that not having a stage race to warm up for the Tour of Britain doesn't help in a month (August) when there is little racing in Britain. "We hadn't raced for five weeks and whilst we had a training camp (Girona), it's a lot different to racing".
"That's not an excuse because I am sure the World Tour guys would be up there without any racing. But, if we were doing another stage race in ten days after the Tour of Britain, we'd be at a different level."
Despite not having a stage race before the Tour of Britain, Ian did have his teammates and his coach to help him prepare for the race after his last race, the GP of Wales on August 9, just under a month before the Tour of Britain.
"My coach Jon Sharples (Trainsharp) set us a plan and we just stuck to that and then came home for ten days" Ian explained. "I started working with Jon this year and pretty much coaching wise, what ever he sets I do and it has worked".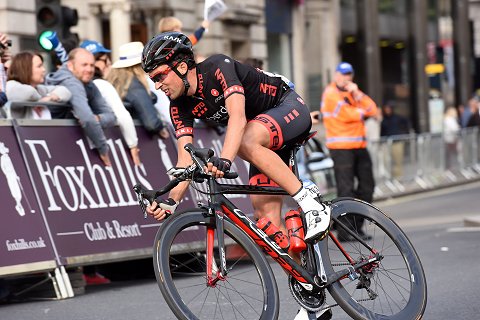 Ian Bibby away in the break in London at the Tour of Britain
"We did a lot of long rides (in Girona) with efforts like we'd ride an hour and half to a climb and then spend an hour and half doing efforts up a mountain and then we'd regroup and ride home. So there were days when we did six or seven hour rides and others doing max efforts".
That training certainly helped keep him in form for a stage he had his eye on, the second one in Lancashire. It was a stage that passed by his parent's house and was on 'grippy' roads he knew very well indeed. "Day 2 was a hard day for me going for KoMs and finishing in the front group (17th) as well".
In the race report from the event organisers (Sweetspot), they say "In the SKODA King of the Mountains classification it was another local rider, Preston's Ian Bibby, who was the star of the day, leading the race over the first two climbs of the day – Nick o'Pendle and Bleara Moor".
Star indeed but it wasn't enough to get him into the KoM jersey and he says of the effort "I remember thinking 'it's only day two, this is going to be horrible'. So on day three I was tired but after that, I kind of came around."
Whilst stage two was a highlight, stage 6 was disappointing "GC had gone for me on stage 5 and I was hoping to get up the road and get the KoM jersey so I spent the first 20 or 30k smashing it off the front in four or five different breaks and I'd attacked on my own when it all kicked off".
"I was pretty close to making the front group and it was frustrating because if I had known it was going to be like that, I could have saved the energy. After that, it was a long long boring day" he said of the stage when a group of 20 or so got away and the rest came in 45 minutes later.
"Mentally, days like that are worse because you slow right down and you're tired and then switch off so you're having to drag yourself along for five and half hours and that was hard. For a long time, no one was riding and then JLT were saying we need to start doing something and then a load of riders started rolling through but by then we were well outside the time limit".
Tour of Yorkshire and Ian made it on the podium with the Combativity jersey
The next stage was a busy one for the British teams battling for the KoM jersey. Ian's teammate Jonny McEvoy went up the road but was brought back by One Pro Cycling and from then the British teams were a pain in the proverbial for the teams wanting to control things.
"It was quite competitive and we definitely had a good go at it and it was like a race within a race. It reminds me of the RAS when the County riders are attacking and we wanted them to stop. We got frustrated. I could see the World Tour guys feeling the same in the Tour of Britain, getting frustrated having seen a break go and we're on the front riding flat stick!"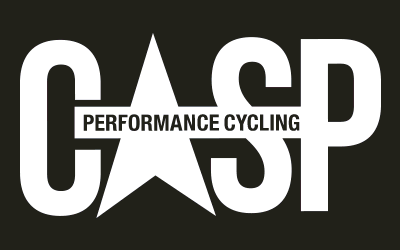 Final Hurrah in London
Whilst the Aviva Tour of Britain had not gone to plan, Ian was not about giving up enjoying the racing and so on stage 8 in London, past many an historic icon, he made sure he was part of the action.
"I was pretty determined to get in the move. We had people from the team watching and that stage was going to be a good one to get away in. Team Wiggins rode at the front until the first sprint and as soon that had been done, I attacked".
"It was a harder course than other final stages in London with all the bends and that and I must have been in three breaks before that one. Every time the group I was in came back, I attacked again and eventually got away by which time I was pretty gassed! I tried to stay away to be last man (and get the Combativity award) but the BMC rider sat on for 2k and jumped us."
"It was a fast stage too. I was thinking about how I was going through pretty hard in the break but then I spoke to those in the bunch and they said it was flat stick in there as well so we never got much of a gap".
He did however get plenty of TV time for his team and in front of a huge crowd at the front of the race and came away happy with the weeks work. He now looks to the next goals which is the cyclo-cross and then the next road season with NFTO where he aims to have a similar season as this year if not better.
"I know what I have got to do in the winter to have a good year and getting a coach (Trainsharp) was the difference this year."
Ian looks back at the year happy with his results and just as happy with the team, both riders and staff. We wish him well in the challenge of doing some cyclo-cross before the road season kicks off again in 2016.
Send your results as well as club, team & event news here
---
Other Results on VeloUK (including reports containing results)

---
Other News on VeloUK