Ian Bibby (NFTO) surprises himself with second at the National Trophy in Ipswich in only his second 'cross race of 2015
News – Ian Bibby Surprises
In 2015, Ian Bibby (NFTO) was the only rider to win two Premier Calendar road races (Chorley GP and Ryedale GP) but during the winter, he has a new challenge, cyclo-cross. Ian of course is a former British champion at the off road discipline and in only his second race of the 'cross season, he finished second to Ian Field (Hargroves Cycles-Ridley).

Bibby (left) on the podium with CX rivals Ian Field (Hargroves Cycles-Ridley), and Paul Oldham
Talking to him after the race, Ian explained "second is a bit of a surprise really. My confidence was pretty low after the last one (Durham) but it's amazing what you can do in few weeks if you put your head down.
At Durham, I had a mechanical issue and had no form after a big holiday (eating burgers, drinking alcohol and driving Mustangs in America) but I have trained pretty good. I was quite lucky out there as it was quite dry. If it had been really muddy, it may have been a different result."
"I feel I am closer to where I need to be than I thought".
"The nationals is my only aim of the 'cross season but these results shows I'm not a million miles off and after a few more weeks training, I should hopefully be where I need to be."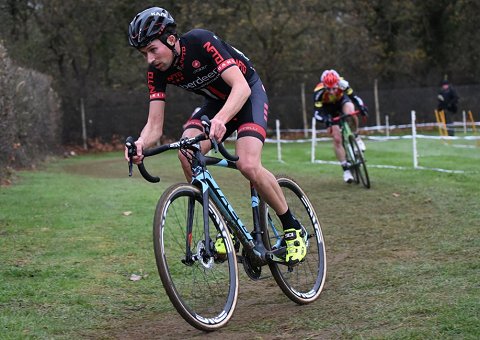 "I was gridded at the back so I had to do a huge sprint up the outside at the start and had to go quite deep to get to the front and after going in the red, I thought I'd try and ride it smart. I was trying to work my way through early on but was losing positions so I took a breather and thought I'll ride it smarter. I was using the various groups and sitting on them in the head wind and jumping them on the flatter power bits which suit me from the road."
"I'd use that power to jump to the next group and then repeat that which worked pretty well."
Asked has his training from coach Jon Sharples at Trainsharp changed for cross, Ian replied, "nothing has changed with my training. I said to coach Sharples, I want to do 'cross this season so I want to start earlier than I have the last five or six years, but I don't want to sacrifice my form for the road."
Ian watches his mechanic Joe prepare three bikes for the race at Ipswich
"So I said I'll do all my road training and at the weekend, I'll do a 'cross race. I'm not doing any specific cross training or resting up for any other them other than towards the nationals where I'll change it a bit."
"At the moment, I'm doing the same as last year for the road with a cross race the weekend. Coming up to Christmas, I'll start doing a few more cross sessions to get the skills back. At the planks today, I was losing two or three seconds each time and was having to chase back and that all adds up."
"I'm doing the North of England champs at Bradford and a load of racing over Xmas and hopefully that should bring my skills up. I used to love the mud but with not having ridden it, I've lost a bit of the feel for it".
Since his championship win in 2010, bikes in cross have change a lot with disc brakes the biggest development. "The disc brakes are amazing in the mud" says Ian. "I can't believe I've never used them before, why wouldn't you want to stop faster?"
Finally, asked about his warm up for races, he says "a few laps practise on the course followed by 15 mins on the turbo, then smash a quick coffee and off I go."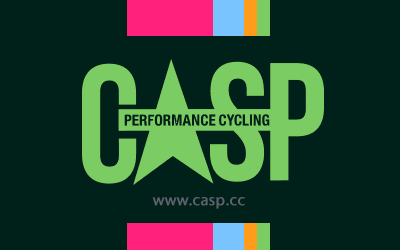 Send your results as well as club, team & event news here
---
Other Results on VeloUK (including reports containing results)

---
Other News on VeloUK