A quickfire Question and Answer with Olympic champion Joanna Rowsell Shand MBE in the seventh of VeloUK's Xmas series of chats with riders
Xmas Feature 7 – Joanna Rowsell Shand
A World Champion in the Team Pursuit four times, Olympic champion in London, an Individual World title in the Pursuit, Commonwealth Games champion, European champion and more is quite a palmeres for Joanna Rowsell Shand MBE.
The London born cyclist has made the most of the Great Britain team's development programmes from a young age, progressing from a medal in the 2005 British Junior champs to being on top of the World in 2015.
Joanna even finds time to get some racing in on the road and won the second stage in the Women's Tour of Reservoir this year. Joanna answers some tough questioning below LoL …
---
1. With the Olympics in 2016, how do you approach the other events you will be doing including the World Championships. Are you just as nervous for them for example and does the training before them vary a lot to that before the Olympics.
Joanna: The Olympics is the big one and everything I do is focused on Rio. This means other events like World Cups and even the World Championships come second to the Olympics. There will still be the usual nerves and a home World Championships is always going to be a big deal, but Rio is the main thing we are all focused on as a team.
2. Is it difficult in day to day life knowing the Olympics is such a huge event for you and the team – do you wrap yourself in cotton wool now or take each day now as you would last year or the year before?
Joanna: In Olympic year, I do adjust my lifestyle. Whilst it is unfortunately impossible to completely wrap myself in cotton wool (!) I will always makes sure I use my antibacterial hand gel to try and minimize getting ill and will do less activities away from training such as appearance days with sponsors and media activities etc. Before Rio, as we did before London, we will go away on a holding camp which is an ideal environment to just focus on training and resting.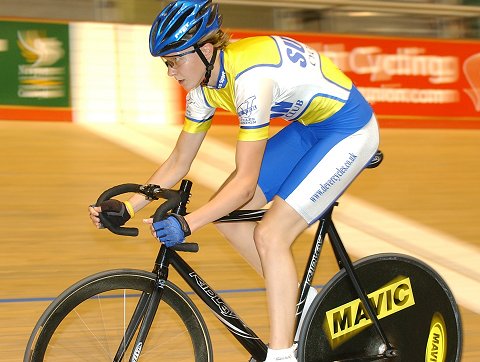 2005 and on her way to winning the British Junior Pursuit title
3. What were your highlights in 2015?
Joanna: Winning the (Women's ) Tour Series overall with my team Pearl Izumi Sports Tours International was a big highlight and also my win at Tour of the Reservoir in April in horrendous weather conditions. As well as of course — getting married!
4. What race was the most fun in 2015 and why?
Joanna: I really enjoyed the National Championships in Lincoln. I thought the course was really interesting and it was great to have so much crowd support up the Michaelgate climb. I am very glad to hear the organisers are going to hold a women's race again on that course.
Joanna (centre) part of the winning team in the Women's Tour Series
5. What's the best piece of cycling related advice you've ever been given and who gave it to you?
Joanna: From Steve Peters (GB's former chief Chimp manager LoL) – On race day don't focus on the result and instead focus on the process. You cannot control how fast your competitors ride, you can only control how fast you ride, so just focus on doing your best and the result will take care of itself.
6. Tell us about your winter training bike, what is different about it compared to your race bike (road)?
Joanna: I ride thicker tyres and don't have electric gears. I also always have lights on my bike throughout the winter.
7. How will you spend December on the bike – training or racing – at home or abroad, long miles now or a mixture of intervals and miles and is it bike only or gym/cross training too?
Joanna: As we are in the middle of the track season, December isn't a traditional month of winter miles for us. We have a training camp in Valencia coming up which will include a mixture of track and road work as we prepare for the January round of the World Cup in Hong Kong.
8. One cheeky Xmas one, if you could have any cycling related Xmas present – what would it be!
Joanna: A Garmin mount for my TT bike!
Winning a freezing cold stage 2 of the Women's Tour of Reservoir
Send your results as well as club, team & event news here
---
Other Results on VeloUK (including reports containing results)

---
Other News on VeloUK