Working full time but still able to compete with the full time pros, Will Bjergfelt of Sportgrub Kuota tackles VeloUK's Question and Answers
Xmas Feature: Will Bjergfelt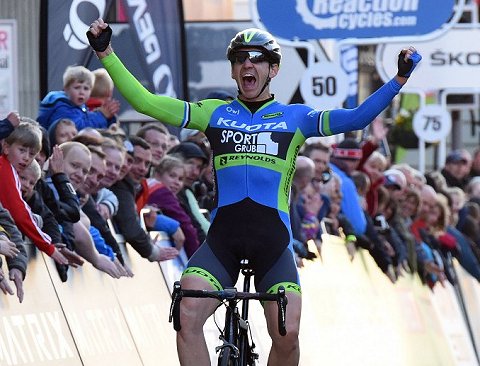 1. With your team all sorted for 2016, what races are you looking forward to most next season?
Will: Chris, our team owner has worked really hard to put together a fantastic mix of lads that will complement what I think is an amazing calendar for us in 2016. Personally, I will be looking forward to the middle of the season onward with races including the Tour Series, An-Post RAS and other UCI events to be confirmed.
2. What were your highlights in 2015?
Will: It's definitely the Tour Series round I had at Barrow but I also had so much consistency. I enjoyed the Rutland (CiCLE Classic), Stockton GP and Wales GP so I think this has been arguably my best season to date.
3. What race was the most fun in 2015 and why?
Will: I really love the Rutland Cicle Classic for the unpredictable nature. The ups and downs I had during the race (two punctures) and still placing highly in the finale. I love the crowd there as well as the parcours which suit my type of riding style. The setup of the team made my result possible I have to add.
4. What's the best piece of advice you have?
Will: Listen to your body. It's easy to get carried away and ruin a season if you don't. For me having Digdeep coaching looking after me is a huge benefit.
5. Tell us about your winter training bike, what is different about it compared to your race bike?
Will: I'm a real bike geek so I have a few! My main winter bike is very similar to my race bike with the main difference being the group set which is a step down from my race bike, race guards and lights come out as and when required.
6. How will you spend December on the bike.
Will, For me it's all about my body healing (post accident, see below). I am confined to the turbo trainer for the moment under doctors and physio's orders but I am allowed to do multiple sessions so I have been building my base so far in the warmth and comfort of my home.
In early September, I was hit head on by a car whilst out training. I have no memory of the accident or the following five days. I had broken my left femur, right side of pelvis, right tibia and fibula as well as needing a muscle transfer from right calf to the front of leg.
Lastly, I had a brain bleed from the head impact and my Lazer Z1 saved my life! I was airlifted to Southmead hospital in Bristol where I then spent four weeks recovering sufficiently to be allowed home.
The road to recovery for me is a long one but I am seemingly exceeding all expectations so far and whilst I'm not allowed to weight bear on my right leg yet, I am hoping this will change after my next check up in early December.
Being confined to a turbo is about it for me at present as well as doing other core and physio set exercises. I hope/plan to ride on my teams training camps in Spain and start building for 2016 then. In theory this will be followed by a solid race program in which I am confident my body will respond well to building good form for the second half of the season.
A huge shout out to the team for sticking with me and supporting me through thick and thin, something maybe not all teams would do.
Thanks Will and get well and good luck for 2016
Send your results as well as club, team & event news here
---
Other Results on VeloUK (including reports containing results)

---
Other News on VeloUK