Q & A Xmas Feature with National Hill Climb champion Maryka Sennema about her season highlights and much more
Xmas Feature: Maryka Sennema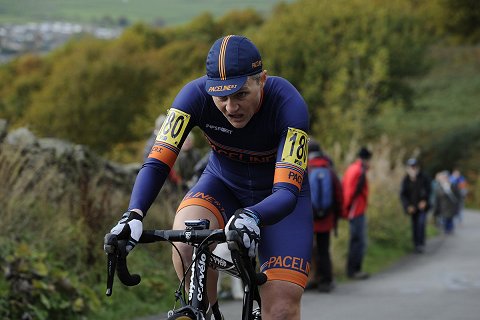 1. What were your highlights in 2015?
Maryka: After coming 2nd last year in my age group at the National Master's road race champs, I was pleased to win this year. It's quite enjoyable racing with riders who are 40+ for a change, and I hope to see this race back in 2016 (it's currently been bumped from the BC calendar as they look for a new organiser).
A few weeks later, I surprised myself to win my age group at the National Master's crit champs too. It seems my long sprint isn't quite so bad when I'm racing against riders my own age instead of half my age!
Later in the season, I finally bagged an E/1/2 road race win (my first in seven seasons of racing) and then topped it off with an unbeaten hill climb season including the National Hill Climb Championship title for the third time in a row.
It was a particular highlight for me — not having grown up in the UK with its gambling culture — to see that Paddy Power had betting odds on me to win the National hill climb. I confess I did not bet on myself but it was pretty funny to see my name bantered about, given that I'm really just an amateur over-the-hill racing mum.
2. What race was the most fun in 2015 and why?
Maryka: Not so much a single race but a series, the Crystal Palace weeknight summer crit races are always the most fun. These days we get around 15 women out each week and it's usually 50 minutes of solid attacking and recovering on the most technical and exciting crit course around.
I'll always lose if it comes down to a sprint with more than three riders so for me the fun lies in figuring out how to win, where and when to attack, how much I can push others to their limit or occasionally push myself beyond the limit. This year I won the series for the first time ever but it came down to the last couple of races which made it quite tactical.
3. What races are you looking forward to most next season and why?
Maryka: I'm most looking forward to the revamped women's National Elite Series, as we have a few new races on the calendar next year and some of the usual ones with new and better courses.
Last year I went up to the Tour of the Reservoir and loved it despite the horrible weather and puncturing on stage 2 and chasing on the bunch forever before I DNFed.
There's something about racing proper hard courses and long distances, on virtually closed roads… it's really the pinnacle of domestic women's racing and I'm hoping to have the same form and fitness in 2016 so I can compete at most of them and go for a few results.
I'm also looking ahead to the National RR and TT championships in June, feeling like I have unfinished business with both and aiming for that elusive timely peak in form that I haven't managed to get in the previous two attempts. I don't see myself racing the National Champs for many more years and I would love to have the result I think I'm capable of in 2016.
4. How do you mix having to work with training to race at a high level? –IE, get the balance right between getting the training in as well as rest, work and all the other things that life throws at us.
Maryka: I'm very fortunate in that our family situation means I'm at home looking after our daughter rather than having to be out working full-time. The past two seasons I've squeezed most of my training into the mornings while she's been at playschool and nursery, but this year she started school full-time so I've been able to ride lots more.
Where it breaks down a bit for me is over school holidays and half-term breaks, as I get a lot less time to ride compared to the school year. So I structure my season around that, loading my race schedule in spring and early summer then taking a break for most of July and August before building up for hill climb season in September and October.
I don't see this situation continuing for years and years though, so I'm making the best of it while it lasts! It helps to have a partner who also rides (and occasionally races) and who thoroughly supports my racing.
5. Is your winter training bike different to that used the rest of the year and if so, how.
Maryka: My "winter bike" is one that 6-7 years ago would be most people's best bike, but since I picked it up for a song secondhand on ebay I don't mind riding it in all weather.
It's the same set-up as my race bike, the only difference is that it's a much more comfortable and less aero frame so it (and I) will happily do miles and miles absorbing all the lumps and bumps that Surrey's best roads have to offer. As I spend most of November to February riding lots of volume with little intensity, it's perfect for me.
6. How will you spend December on the bike – at home or abroad, long miles only or a mixture of intervals and miles?
Maryka: Normally I'd spend it riding miles and miles at home and also down in Devon visiting my in-laws, but in early December this year I was hit by a car while out riding so I've already spent a lot more time in December off the bike than I would have liked.
Thankfully, I had no major injuries and my bike was fine, but my left knee is still sore and shaky so I'm taking it easy getting back to riding. Hopefully an MRI in January will reveal nothing major and I'll be able to build back up to my usual volume in time to start my more intense training again in the spring.
7. A cheeky Xmas one, if you could have any cycling related xmas present – what would it be!
Maryka: I'd love an all-expenses paid training holiday to somewhere warm, complete with live-in nanny for a week!
Send your results as well as club, team & event news here
---
Other Results on VeloUK (including reports containing results)

---
Other News on VeloUK