Matthew Holmes of Madison Genesis takes the VeloUK Question and Answer Xmas feature
Xmas Feature – Matt Holmes (Madison Genesis)
1. With your team all sorted for 2016, what races are you looking forward to most next season?
Matt: I look forward to all the races really, but if I have to pick a few races in particular, I would choose the really big races like Ride London, Tour of Yorkshire or the Tour of Britain. I don't always get to ride these big races but when I do they're pretty good!
2. What were your highlights in 2015?
Matt: This year was the first time I've been able to ride the Tour of Britain and I wasn't disappointed. It was the first race I have ever done with massive crowds at the side of the road. Crowds so big that they got in the way!
I particularly liked the Clitheroe to Colne stage because I had so many people shouting my name at the side of the road. Plus finishing in the centre of London, was a pretty special experience.
3. What race was the most fun in 2015 and why?
Matt: I think that the most fun I had on a race this year was at the Tour des Fjords in Norway. I had an awful start to the season this year as I struggled to get started after a broken elbow. I started at the An Post Rás in May and then went straight to Norway to start the Tour des Fjords and it felt like my own little grand tour.
By the end of two weeks of racing, I was pretty knackered so I just did my best to help Erick (Rowsell) who was hoping to finish in the top ten. We had a lot of fun and I even enjoyed it when we had to race for six and a half hours in the rain and snow.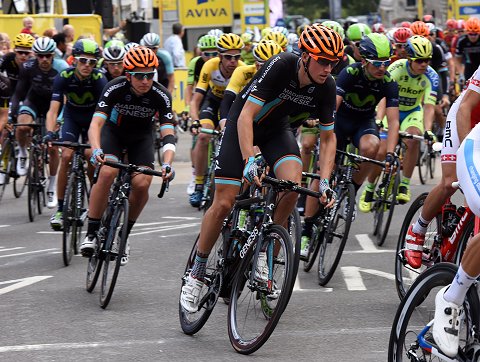 Matt follows teammate Tom Stewart away from the start of the final stage in London in the Tour of Britain
4. What's the best piece of advice you've ever been given and who gave it to you?
Matt: I get given so much advice all the time from people about anything and everything and it would be impossible to pick one piece of advice that is the best. But what I will say is that riding for Madison Genesis and having Roger in charge has been really good, he really does know his stuff!
5. Tell us about your winter training bike, what is different about it compared to your race bike?
Matt: The only difference between my training bike and my race bike is the groupset. All the riders on the team have three bikes each, two race bikes with Dura Ace Di2 and one training bike with Ultegra Di2.
The only other difference is I sometimes stick a mountain bike mud guard on the back to stop me from getting such a wet backside!
6. How will you spend December on the bike – at home or abroad, long miles only or a mixture of intervals and miles and bike only or gym/cross training too?
Matt: I started with a new coach recently and he's had me doing lots of short hard rides and hardly any long steady ones. I've also been doing a lot of core work, which is something I've never done consistently.
I also did a little training camp in Lanzarote with Graham Briggs. Half of the British peloton seemed to be over there trying to avoid the awful weather.
7. One Xmas one… if you could have any cycling related xmas present – what would it be!
Matt: I always used to ask for a pair of cycling socks every christmas and I'd still probably ask for the same. Not that I need any more! I do like a good pair of cycling socks!
Send your results as well as club, team & event news here
---
Other Results on VeloUK (including reports containing results)

---
Other News on VeloUK