Question and Answer with one of the country's leading pros, Tobyn Horton of Madison Genesis, winners of the 2015 Pearl Izumi Tour Series
Xmas Feature – Tobyn Horton (Madison Genesis)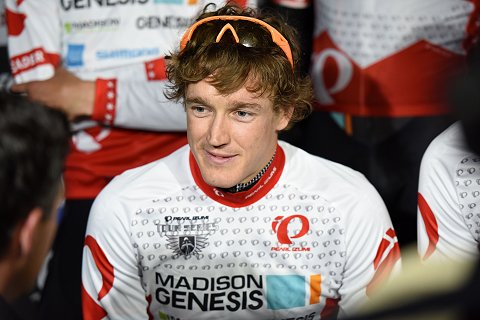 1. What races are you looking forward to most next season and why?
Tobyn: Rutland (CiCLE Classic) is always one that I look forward to and I feel like I have got some unfinished business there and hoping for a bit more luck next year. Hopefully we will be back at the Tour de Yorkshire too as that was an amazing race in 2015.
2. What were your highlights in 2015?
Tobyn: I think winning the Pearl Izumi Tour Series has to be the most memorable. It was a big relief after a pretty busy and stressful few weeks of racing.
3. What race was the most fun in 2015 and why?
Tobyn: Would have to be the Arno Wallaard Memorial in Holland early on in the season. Lots of crosswind and gutter action and I was feeling pretty good that day so enjoyed getting stuck in!
4. What's the best piece of cycling related advice you've ever been given from Roger Hammond that has made a difference?
Tobyn: It's hard to pin point one piece of advice, but one thing Rog has passed on is his ability to really evaluate something in a very rational way. Whether that be tactical, equipment choice or anything else.
He always makes sure that the positives outweigh the negatives and not just making any decision. I think that's one of the many things that made him such a successful bike rider and great manager now With such a wealth of knowledge and experience, you know that what he comes back with will be the right/ best choice or decision.
5. How important is it for a rider for their team to retain a core squad of riders for the following season such as what Madison Genesis have done? What will it mean for you knowing the guys you raced with in 2015 are there again in 2016?
Tobyn: I believe it plays a big part in a team being successful and I'm happy the core of the team has stayed the same. A big change around in riders can be difficult. We get to know each other, on and off the bike and learn how each other race. By keeping the core of the squad the same, you eliminate some potential teething problems you may have with a whole new squad of riders and can hit the season flying with a team working like a well oiled machine.
6. How will you spend December on the bike – at home or abroad, long miles only or a mixture of intervals and miles and bike only or gym/cross training too?
Tobyn: December has been spent at home. I've been mixing it about this year with some 'cross training, mountain biking and obviously the road bike, but I'll likely head away in January to chase some warmer winter miles.
7. A cheeky Xmas one… if you could have any cycling related Xmas present – what would it be!
Tobyn: I've been trying to justify getting a X-bike for a while and do like the look of the new Genesis Datum!
Send your results as well as club, team & event news here
---
Other Results on VeloUK (including reports containing results)

---
Other News on VeloUK