Elia Viviani, Mark Cavendish and Laura Trott headline the rider list for Revolution 56 at Manchester Velodrome on Saturday
This Saturday – Revolution 56
The penultimate round of the Revolution Series will be the first track event of the Olympic year, taking place at the National Cycling Centre on 2 January 2016. Some of Great Britain's key cycling stars including Mark Cavendish and Laura Trott will be in attendance to what is looking to be a sell-out event.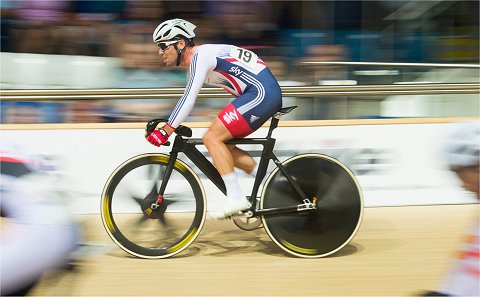 A top class international field will be in force to challenge our GB hopefuls both in the Women's and Male Sprint events. Recently crowned World Omnium Champion, Kirsten Wild from the Netherlands joins the likes of Laura Trott, Elinor Barker and Emily Kay in a 24 strong Elite Women's line-up.
European Team Sprint Champion, Robert Forstemann returns to the Revolution Series in Manchester and will take on National Sprint Champion Lewis Oliva, Matt Rotherham and Dominic Suozzi from the USA – click here to see the full rider list.
An action packed race programme will see a Madison included in the Elite Championship as well as Madison races for the HOY Future Stars as part of the afternoon session – click here to see the race programme.
There will also be a special Team Wiggins verses Great Britain race included in the evening programme. Cavendish who will lead the Great Britain quartet said before Christmas "I've been spending a fair bit of time on the track in Manchester, we've been doing squad sessions with the team pursuit boys twice a week." He will be joined by Ollie Wood, Matt Gibson and Chris Latham. The Team Wiggins line-up includes Andy Tennant, Steven Burke, Jon Dibben and Owain Doull.
These riders will also feature in the Revolution Elite Championship where Doull and Dibben will be looking to continue their winning form for Team Wiggins following victory at round 4 in Glasgow. They will come up against a strong Team Sky pairing of Elia Viviani and Pete Kennaugh as well as current Championship leaders, Team Pedalsure, who will be represented by Andy Tennant and Chris Latham.
Grandstand tickets are sold out for the evening session at Round 5 with a limited number of track centre and standing tickets still available. All ticket types are available for the afternoon session and can be purchased online at http://www.cyclingrevolution.com or by calling See Tickets on 0844 854 2016.
The event will be televised live on Eurosport 1 between 20:00 and 22:00 (21:00 to 23:00 CET).
The following start lists are provisional and may be subject to change.
ELITE ENDURANCE (Men)
1 Pete Kennaugh Team Sky
2 Elia Viviani Team Sky
3 Christian Grasmann Maloja Pushbikers
4 David Muntaner Maloja Pushbikers
5 Matt Gibson JLT Condor
6 Ollie Wood JLT Condor
7 Jon Dibben Team Wiggins
8 Owain Doull Team Wiggins
9 Joe Holt Team USN
10 Matt Bostock Team USN
11 Germain Burton ONE Pro Cycling
12 Simone Consonni ONE Pro Cycling
13 TBC Scotland Burness Paull
14 Mark Stewart Scotland Burness Paull
15 Jacob Ragan Nab Racing
16 Reece Wood Nab Racing
17 Joey Walker Orica-GreenEDGE
18 Gabriel Cullaigh Orica-GreenEDGE
19 Mark Cavendish Telegraph All Stars
20 Marc Hester Telegraph All Stars
21 Jake Womersley VCUK
22 Nathan Draper VCUK
23 Andy Tennant Team Pedalsure
24 Chris Latham Team Pedalsure
ELITE ENDURANCE (Women)
1 Laura Trott Matrix Fitness
2 Elinor Barker Matrix Fitness
3 Kirsten Wild Netherlands
4 Leire Olaberria Spain
5 Gosia Wrotya Poland
6 Emily Kay Great Britain
7 Manon Lloyd Great Britain
8 Emily Nelson Great Britain
9 Abbie Dentus 100% Me
10 Megan Barker 100% Me
11 Danielle Kahn 100% Me
12 Annasley Park 100% Me
13 Mellissa Lowther 100% Me
14 Ellie Coster   Team USN
15 Eimear Moran Ireland
16 Lydia Gurley Ireland
17 Sophie Black Elitevelo Kalas Sportswear CRT
18 Ellie Dickinson Team Giordana Triton
19 Rebecca Raybould Poole Wheelers
20 Henrietta Colborne Team Jadan
21 Monica Dew Team Boot Out Breast Cancer CC
22 Charline Joiner Scotland Burness Paull
23 Hetty Niblett Team Footon Velosport
ELITE SPRINT (Men)
1 Robert Forstemann Maloja Pushbikers
2 Dominic Suozzi USA
3 Sam Ligtlee Netherlands
4 Ryan Owens Great Britain
5 Matt Rotherham Maloja Pushbikers
6 Lewis Oliva Team USN
7 Alex Joliffe Team Wattbike
8 Tom Scammell Team USN
FUTURE STARS (Boys)
1 Theo Hartley Team Sky
2 Chris Heaton Team Sky
3 Hamish Turnbull Maloja Pushbikers
4 Matthew Shaw Maloja Pushbikers
5 Ben Hardwick JLT Condor
6 Charlie Cox JLT Condor
7 Jake Stewart Team Wiggins
8 Conor Davies Team Wiggins
9 Sam Tillet Team USN
10 Matthew Bruke Team USN
11 Tim Pidcock ONE Pro cycling
12 Jim Brown ONE Pro Cycling
13 Lewis Stewart Scotland Burness Paull
14 Joe Nally Scotland Burness Paull
15 Alex Ridehalgh Nab Racing
16 Jamie Ridehalgh Nab Racing
17 Alistair Fielding Orica-GreenEDGE
18 Matthew Cox Orica-GreenEDGE
19 Fred Wright Telegraph All Stars
20 Anthony Anderson Telegraph All Stars
21 Jacob Vaughan VCUK
22 Louis Rose-Davies VCUK
23 Oscar Mingay Team Pedalsure
24 Cameron Thomson Team Pedalsure
FUTURE STARS (Girls)
1 Samantha Verrill Team Sky
2 Tara Ferguson Team Sky
3 Anna Docherty Maloja Pushbikers
4 Jayati Hine Maloja Pushbikers
5 Lauren Bate-Lowe JLT Condor
6 Georgia Ashworth JLT Condor
7 Ellie Russell Team Wiggins
8 Georgia Hilliard Team Wiggins
9 Jessica Roberts Team USN
10 Elizabeth Bennett Team USN
11 Lauren Dolan ONE Pro Cycling
12 Savannah Morgan ONE Pro Cycling
13 Jenny Holl Scotland Burness Paull
14 Rhona Callander Scotland Burness Paull
15 Amber King Nab Racing
16 Gemma Penman Nab Racing
17 Sophie Williams Orica-GreenEDGE
18 Emily Tillett Orica-GreenEDGE
19 Rachel Jary Telegraph All Stars
20 Emma Pit Telegraph All Stars
21 Charlotte Cole-Hossain VCUK
22 Esme Niblett VCUK
23 Amber Joseph Team Pedalsure
24 Lucy Horrocks Team Pedalsure
Send your results as well as club, team & event news here
---
Other Results on VeloUK (including reports containing results)

---
Other News on VeloUK