We talk to organiser Dave Mellor about the Lazer/Ridley British Cyclo-Cross Champs which are on next weekend
Feature – Lazer/Ridley British Cyclo-Cross Champs
THE STARTSHEET – click here for the rider list for both days
THE EVENT
Promoted by Mid Shropshire Wheelers with support from the West Midlands Cyclo-cross League
Where: Shrewsbury Sports Village; Sundorne Rd, Shrewsbury SY1 4RQ
Schedule
Saturday 9 January
Race 1: Veteran women 9:30am
Race 2: Veteran men 50+ 11:00am
Race 3: Youth under-16 girls 12:15pm, Youth under-14 girls 12:16pm
Race 4: Youth under-16 boys 1:15pm, Youth under-14 Boys 1:16pm
Race 5: Veteran men 40-49 2:30pm
Sunday 10 January
Race 1: Under-23 men 9:30am
Race 2: Under-23 women 10:45am
Race 3: Junior-men 12:00pm
Race 4: Elite-women 1:15pm
Race 5: Elite-men 2:30pm
FEATURE
Midday Friday sees the 2016 Lazer/Ridley British Cyclo-Cross Championships kick off with official practise at the Shrewsbury Sports Centre. Ahead of the first major event of 2016, VeloUK spoke to the organiser Dave Mellor about the event which has been a long time goal for the local cycle shop owner.
Ever since he finished working for the Great Britain cycling team, Dave has been organising events including regional cyclo-cross championships to national trophy cyclo-cross. Now, he has the big one which will see Shrewsbury the focus of the cycling world on January 9 and 10.
"It's been a couple of years in the planning," said Dave Mellor, event organiser for Mid Shropshire Wheelers. "A national championship has to go onto the international calendar and we were approached well over two years ago".
Dave says his association with cyclo-cross goes back a long time when a member of the local club (Mid Shropshire Wheelers), Brian Morris decided to get involved in the discipline when Dave was in his middle teens.
Favourite for the mens race is four time champion Ian Field of Hargroves Cycles-Ridley
The championship organiser put an old bike together to do some races in the Midlands and found he was better at 'cross than any other form of cycle sport and is rightly proud of a top 10 in the National Trophy one year.
"I think it brings on everyone's skill levels" says the former manager of the Women's GB team who adds that there are massive numbers of people getting involved in cyclo-cross now.
These numbers going through the roof have impacted on the cycle industry with many major brands having 'cross bikes in their range these days.
As example of the numbers is that there are 700 plus riders registered for the Midland league, numbers which bring challenges to organisers, not just in the Midlands league but other leagues well.
These two, nine champion Helen Wyman and Nikki Harris (right) are expected to put on a close battle for the Women's title.
The championship weekend itself will see record level of riders racing the event with 640 or so entered. The action takes place on both Saturday and Sunday at a venue which is well known among the riders after a round of the National Trophy has been held there for a few years now along with the West Midlands league events.
Asked what changes the riders can expect on the flat but very unforgiving three kilometre course, Dave explains "the only change is the steps. We put some steps in which were a little rough and ready but last week, a local firm came in and put some steps in properly. So instead of being four planks there are now eight steps now which helps the spacing."
"Also, on one of the grass banks we did a U turn on in previous events, when it was wet, the ground didn't stand up to that many wheels going over that section so we have put some planks in there too which makes it a dead turn with two steps to climb over and I doubt anyone will ride that one!"
"The finish line will also have a longer run off. Previously, it used to flick right then left after the finish but this is being changed so it will continue on and then go left up the bank. The infamous off camber section hasn't changed and is still part of the course as in previous events."
"It should take around seven to eight minutes a lap for the pros" Dave adds.
Whilst standing water is affecting the venue just like so many parts of the country, the rain is not causing the organisers problems. "The ground is very wet and hence, very muddy" says Dave. "Whilst that causes us problems with the clean up, the course should be fine although one section where the jet washes are, is expected to be the worst part when it comes to mud and water on the course."
Asked whether that means a lot of running on the course, the experienced rider and organiser of 'cross events, replies "there shouldn't be a lot of running on the course but the pits will for sure be very busy! It's going to be a 'low rev event', a proper slog in true cyclo-cross style."
A local favourite, Liam Killeen who has won at Shrewsbury before, has been second in the title race before and will I expect be hungry for that top position.
Close Racing
The championships are expected to be the closest for a few years with both the men's and women's expected to be close battles on the Shrewsbury turf. "There's a lot of talk on social media about both the men's and women's elite races," says Dave.
"Nikki Harris from Derby, who won a World Cup last month and has now put herself as one of the favourites for the World Championships, will be competing and such is the interest in her we've got reporters and photographers coming over from Belgium. It will be two-horse race between Nikki and nine time champion Helen Wyman".
Dave added "The elite men's race has a very strong field too. Liam Killeen, the Commonwealth Games mountain bike champion and Olympic athlete, is an old favourite at the Sports Village. He has recently started to race again and has always liked taking part in our events. Ian Field, who's been British champion for the last four years, is a former Great Britain mountain bike rider and he's world class. He spends most of his time in Belgium and breaks into the top 20 in World Cup races so he's pretty handy".
"We've also got Ian Bibby, a man people will have seen on the Tour of Britain and Tour of Yorkshire podiums so he's another class rider. He's got an off road background but he won the big warm up race for the National Championships at Macclesfield convincingly over Christmas, so it's just going to be a very special race."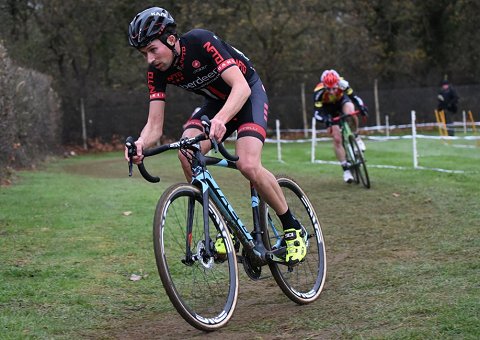 Another favourite, Ian Bibby
Whilst Dave is the organiser, he's also getting massive help from the Mid Shropshire Wheelers. "We've got a vast army of just under 100 volunteers from the club together with other friends of the club who will be marshalling – and I'm really encouraged by the co-operation we've received to make the event a success".
"It's a massive event and it will be a great spectacle. Riders will be changing bikes pretty much every half lap. We have a pit area and a jet wash area and that is a hive of activity. It's good for spectators to go and watch down there as well as enjoying all of the action around the course. The event will see says Dave, the very experienced Matt Payne on the microphone keeping everyone informed.
Bike Spares
Not only is Dave the organiser but he also has a well known bike shop just a mile down the road for anyone looking for spares or even a new special bike for the event.
Asked whether his shop, Dave Mellor Cycles, was ready for last minute requests from those racing the championships, Dave replied "we have everything from bikes down. We have the normal spares including cantilever brakes as well as a good range of tubulars from Dugast, Challenge and FMB."
Thanks to Dave for the interview and good luck with the championships
Form Guide
National Trophy Overall Points table – provides a good idea of who the contenders will be.
2015 British Cyclo-Cross Championships Day 1
2015 British Cyclo-Cross Championships Day 2
Send your results as well as club, team & event news here
---
Other Results on VeloUK (including reports containing results)

---
Other News on VeloUK