Britain's Alex Braybrooke will ride for Lotto Soudal's Under 23 team in 2016 – he takes the VeloUK Q & A
Feature – Alex Braybrooke Q & A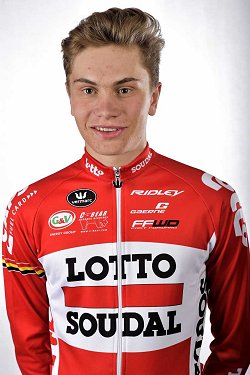 Alex Braybrooke, who was part of the HMT Academy Cycling Team in 2015, will race with the Under 23 division of World Tour team, Lotto Soudal in 2016. Braybrooke will be following in the footsteps of James Shaw, a fellow British rider who signed for Lotto Soudal last year. Dan Mclay also ride for them.
Alex in 2015 had his best season to date, with top five's in nearly every major tour and race across Europe that his 2015 team competed in, with the highlight being second overall at the Junior Tour of the Basque Country.
Here is Alex's question and answer interview for VeloUK
1. When will you start your road season and what will be the first race?
Alex: My new team, Lotto Soudal U23 has its first weekend of racing on 28th February. I haven't been given the specifics of my early season calendar yet, but late February and March will more than likely be made up of one day races in the flat lands of Belgium, Holland and Northern France, such as Ster Van Zwolle. The team have a trip to Italy at the end of March which I hope to be selected for.
2. What races will be your targets for 2016 and why?
Alex: During 2016, I am looking to target Under 23 stage races such as Ronde de I'lsard and Giro d'Aosta, as I hope to get good results in these races later on in my Under 23 career. My main aim for 2016 is too gain experience in as many different styles off racing as I can, and because of the big step up from Junior to Under 23, I am only setting myself performance and process related goals.
However I climbed well in the Mountains of the Junior Tour of the Basque Country during 2015 with HMT academy, so hope I can also give support to the older riders in the team when the road goes up hill.
3. How will you spend the time on the bike between now and your first race in training? Long miles or cutting back to do top end efforts?
Alex: On Monday 4th January, I'm heading to Girona to spend a week training with my teammate James Shaw, who has been living out there since the start of December. We are both coached by Chris McNamara at TrainSharp, so will use the time to do a mixture of endurance miles and leg strength efforts, but will probably also start to increase the intensity of the work on the bike. I am then basing myself in Majorca for the rest of January. After Majorca, I am at the team's training camp in Benicassim for two weeks in February.
4. What was your favourite Xmas present?
Alex: I got a load of cycling books, they keep me entertained!
5. When it rains, which it's doing a lot right now, is it turbo time or wrap up and get wet?
Alex: With the temperatures being pretty high recently, I don't mind going out in the rain. Sometimes in can be pretty refreshing and having a good training group always keeps morale high. However when the conditions are bad, I always avoid going up into the Peak District and stick to the flat roads of Cheshire. Fifty miles from here are some pretty bad floods so I count myself pretty lucky! But if it's really windy or icy out I'll just stick a one day classic on Youtube and sit watching it on the turbo.
6. If you could do any race in the World, what would it be and why?
Alex: The Tour De France was the first bike race I ever watched, so it would have to be the Tour.
7. What piece of food can you not do without where ever you are on the road during the season!
Alex: My homemade rice cakes.
8. What is your favourite music track when warming up for a race or on the turbo?
Alex: Ask Alfie Moses, he has the best selection but Chase & Status always makes me feel Alive.
9. If given the option, would you prefer normal brakes or disc brakes on your road bike?
Alex: I've never ridden disc brakes on a road bike so can't really comment. However, my mum and dad have disc brakes on their Tandem and they seem to work pretty well, so if I had the option, I might give them a go.
10. What's the spec of your race bike for 2016?
Alex: My team bike for 2016 is the Ridley Fenix SL with Fast Forward wheels. My race bike is equipped with Campagnolo Record EPS and my training bike mechanical Record. It will be the first time I've ridden an Electronic groupset so I'm looking forward trying it out. The WorldTour team use this model for Paris-Roubaix so its a really nice robust design.
Follow Alex here with his blog 
Good luck Alex in 2016!
Send your results as well as club, team & event news here
---
Other Results on VeloUK (including reports containing results)

---
Other News on VeloUK