Great to see former GB rider Claire Rose (nee Galloway) who rides for Podium Ambition in 2016 take the VeloUK Q & A
Feature – Claire Rose Q & A
Claire rides for Podium Ambition Pro Cycling p/b Club La Santa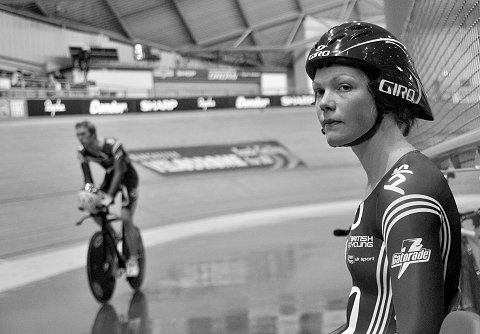 Claire, in 2010, training with the Great Britain Women's team at Manchester
1. When will you start your road season and what will be the first race?
Claire: I'm really looking forward to getting back racing again after a couple of years off. I'm planning on doing a couple of local crits and road races early March but hopefully I will get the chance to race a couple of the classics like Gwent-Wevelgem and Tour of Flanders.
2. What races will be your targets for 2016 and why?
Claire: My main targets will be National Time Trial Champs and Road Race Champs. Alongside that the team is targeting a spot at the World Time Trial Champs in Qatar and I would love to be a part of that. Time trialling has always been one of my strengths so it makes sense to continue building on it.
3. How will you spend the time on the bike between now and your first race in training? 
Claire: Right now it's about the miles and regaining my endurance after a couple of years of just commuting to work and back. My focus at the moment is long rides with long efforts within them, plus some gym and strength work alongside that. As I get closer to racing, the shorter sharper top end efforts will start.
4. What was your favourite Xmas present?
Claire: A woolly hat! And a chocolate based recipe book.
Claire talking with former Team Pursuit champ Paul Manning at Manchester when with the GB team.
5. When it rains, which its doing a lot right now, is it turbo time or wrap up and get wet? 
Claire: Wrap up and get wet! I don't actually own a turbo… The main thing is staying warm and keeping your core warm to help keep your extremities warm too, so lots of layers and a decent waterproof jacket. I use silk sock and glove liners which work a treat under socks and gloves to keep my feet and hands warm. If it's really wet, a pair of latex gloves over the glove liners and freezer bags over my shoes with some decent shoe covers on top! Finally full mudguards and lights to stay visible are a must.
6. If you could do any race in the world including the best ones in the world etc, what would it be and why?
Claire: Tricky one! I would love to say the Tour de France although this is likely to be a while off despite the rate of development and change within women's cycling at the moment. Otherwise the World Championships.
7. What piece of food can you not do without where ever you are on the road during the season!
Claire: Fresh coffee beans and dark chocolate.
8. What is your favourite music track when warming up for a race or on the turbo?
Claire: Nothing! I prefer not to listen to music.
9. If given the option, would you prefer normal brakes or disc brakes on your road bike?
Claire: With all the wet weather I would definitely be keen to try disc brakes on my winter bike.
10. What's the spec of your race bike for 2016 and your favourite bits on it?
Claire: Our team bikes are yet to be officially announced but they are awesome and I can't wait to be riding one!
Send your results as well as club, team & event news here
---
Other Results on VeloUK (including reports containing results)

---
Other News on VeloUK