After his team folded, Will Bjergfelt has landed a great ride with British Elite team Neon Velo
Feature – Will Bjergfelt Q & A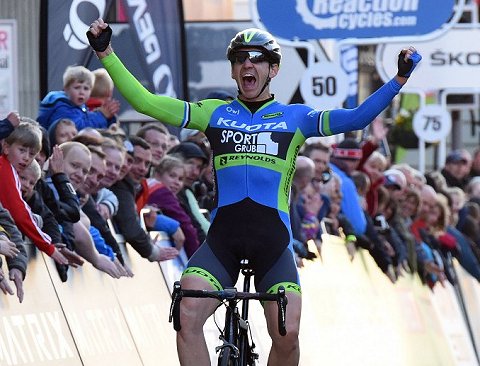 1. How does it feel to have quickly found a team in Neon Velo?
Will: I feel very privileged and grateful to have been given the opportunity to ride on one of British Cycling's top level domestic squads again.
2. Do you know what their race program will be and how you fit into that?
Will: Yes, I've been given a full calendar which starts with a team training camp in Majorca next weekend. I will be working very hard to be in decent nick from about mid to late April so hope to be able to do my job properly from about then. I have all of my data from arguably the best season I've ever had on the road last year and I know how hard I worked to get there so now I'm aloud to press on again, I would envisage it taking a few months to be back to a good level.
3. When were you aware that things were crumbling at the SportGrub team?
Will: Myself and the lads started to worry in late December with inconsistencies that started to creep out and then it was the last week of January though that it really blew up.
4. Working full time, it wasn't your livelihood at stake but your passion – how hard did it hit when you were told the team were no more?
Will: I was surprisingly chilled about it actually as I had open offers from some local squads who both confirmed they could still find a place for me. One of them is a new squad that's looking very pro and all in that squad should feel very privileged to be in it. My aim though is to be racing at the highest level in the UK and so when I knew there was a spot on Neon-Velo it was a no brainier.
5. Where do you feel it all wrong for the team that folded?
Will: I think that the new official manager was just completely out of his depth and didn't know or realise he made promises he could not keep contractually or otherwise and this is the sole reason the team has failed.
6. You have ridden for the team in various guises and managers, what have been the highlights – besides Barrow!
Will: I loved being there in 2014-2015 as both seasons were great fun and everything happened and worked well. Andy Swain, who previously ran it, was amazing as he sacrificed so much for us all as do many racing at this level.
7. You are a rider that is there or thereabouts with the best in the British race programme – what have been your best results in the top events?
Will: I love racing and the people in the industry and the fans. It's hard to pinpoint any single event. The Cicle Classic every year is special as is the Tour Series (Barrow and Durham especially). I've also ridden well in the An-Post RAS in a supporting role in 2011 for Motorpoint Pro Cycling, finishing 15th and winning the team GC at the same time. That was kinda special.
8. How disappointed are you that a UCI team hasn't asked for your signature?
Will: Not at all really. I was very close with one team but my accident put paid to that understandably. It's hard for UCI Conti squads as they have to keep the average age down and I'm an old man on the circuit – a British Jensie!
9. Now you have a team, have your goals changed and what are they for 2016
Will: my goals haven't changed much really. Number one is get my normal level back and be a productive team mate passing my knowledge on to the younger lads. I might have another goal latter in the season but that's a long way out and way to early to talk about it at this stage.
10. Finally, whats your asssement of the sport in Britain when it comes to riders and teams – how difficult is it to get that big break into a UCI squad?
Will: The level in the UK is very high and that's fuelled by all the success we have on the road here and abroad but I genuinely believe that a rider who works hard enough for it can do it regardless of the situation; you just have to really want it.
Send your results as well as club, team & event news here
---
Other Results on VeloUK (including reports containing results)

---
Other News on VeloUK