Win for Trainsharp coach Chris McNamara in VC ST Raphael 'Hard Riders' time trial
Result: McNamara wins VC ST Raphael Hard Riders
Chris McNamara convincingly won the VC ST Raphael "Hard Riders"16.5 time trial, one week after finishing 10th at the Perfs Pedal race on the same course. The Worthing-based, TrainSharp coach, McNamara, clocked 38 :10 for the two lap test on the Portsdown Hill, giving him 30 second winning margin over Gary Chambers (Fareham Wheelers) with Dean Robson (NOPINZ) a further 35 seconds back in third place.
Chris McNamara told Eamonn Deane afterwards "A fantastic course, obviously I know it well from Perfs and the wind was the biggest factor today. I am so glad I did not use super deep front wheels, it was incredibly sketchy on the main road downhill. You had to come off the tri bars and try and stay upright. I felt pretty confident. The plan was to ride a negative split, I did not quite mange it"
A big field of 88 riders faced the timekeeper in drizzling rain for this early season race, part of the new South District Sporting TT series.
In the preceding "Road Bike" event, Kim Little (Gillingham & Dist Wh) recorded 41:22, to finish over a minute clear of Ross Phelps (Royal Leamington Spa CC) with Sotonia CC rider, James Peckham third in 43:05.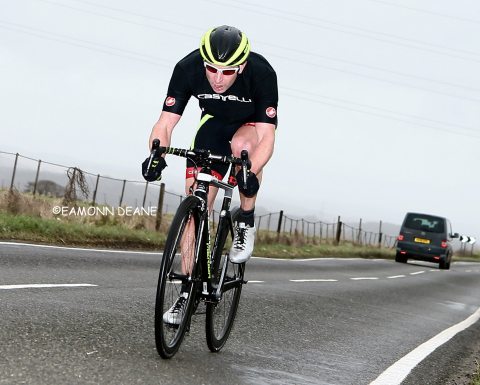 The early starters enjoyed the better conditions before the weather closed in, a stiff westerly wind blowing the riders across Portsdown Hill, the same wind making the descent to Southwick a little "sketchy" Organiser Simon Berogna briefly led the race, his time of 40.10 eventually placing him 5th. Early season racing continues in the south with the A3CRG 10 next Saturday (27th) at Liphook. Another bumper field of 110 riders, twice last year's number, will get to try out the course being used for the National 10 mile championships in August
Kim Little "Good, the hills suited me, I went hard on the first lap, the tail wind on the top section made it fast. I rode with a power meter but it was hard to keep to a number with the hills. I enjoyed it, an excellent event, there should be more hilly time trials"
Brief Results
Time Trial
1 Chris MACNAMARA (NUUN SIGMA LONDON RT) 38.10
2 GARY CHAMBERS (FAREHAM WH) 38.40
3 DEAN ROBSON (NOPINZ) 39.15
4 JAMES COPELAND (FAREHAM WH) 39.29
5 SIMON BEROGNA (VC ST RAPHAEL /WAITES COMNTRACTS) 40.10
6 CHARLES MITCHELL (A3CRG) 40.15
7 DAVE DENT (OFFSHORE RT) 40.46
8 THOMAS KEY (SOUTHAMPTON UNI CC) 40.59
9 WILLIAM FLEMMING (VC VENTA) 41.00
10 SIMON HEALY (ANDOVER WH) 41.01
ROAD BIKES
1 KIM LITTLE (GILLINGHAM & DIST WH) 41.22
2 ROSS PHELPS (ROYAL LEAMINGTON SP CC) 42.25
3 JAMES PECKHAM (SOTONIA CC) 43.05
4 BOB RICHARDSON (BOURNEMOUTH JUBILEE WH) 43.15
5 ANDREW LANGDOWN (BLAZING SADDLES) 43.35
6 PAUL HELYAR (BLAZING SADDLES) 43.53
7 SEBASTIAN ADER (A3CRG) 44.06
8 TIM WALLIS (SOTON UNI CC) 44.23
9 NICK ANDREWS (PORTSMOUTH NORTH END) 44.31
10 ED SLOT (SOTON UNI CC) 44.37
Send your results as well as club, team & event news here
---
Other Results on VeloUK (including reports containing results)

---
Other News on VeloUK