Emma Cockcroft (Bikeshed Bianchi) was the winner of the three stage race held at the Westpoint Centre in Exeter today
Report: South West Women's Race Day
Sunday 21st February  | by Graham Robins
Emma Cockcroft (Bikeshed Bianchi) was the winner of the three stage race held at the Westpoint Centre in Exeter today winning both the points and elimination race and finishing second in the scratch race.
The trio of races got underway with a 40 min points race with Emma collecting points throughout. Team mate Alexandra Sheehan was second and Phoebe Davis (Velo Vitesie) in third.
The riders then went straight into a total elimination race with two riders being withdrawn on each lap after the riders had completed three laps as a bunch.
The final element of the day the scratch race was 40 mins saw the remaining 21 riders take to the course after a 30 mins break to recover from the previous races. As the race approached the last ten minutes a group of five managed to clip of the front and they quickly built a lead of 30 secs. The group contained Nicki Carr (VC Equip-Flix), Emma Cockcroft, Phoebe Davis, Georgina Panchaud (Cycleworks) and Bethan Stubbs (Bikeshed Bianchi). These five managed to hold their lead until the line with Nicki Carr taking the sprint from Emma Cockcroft and Georgina in third.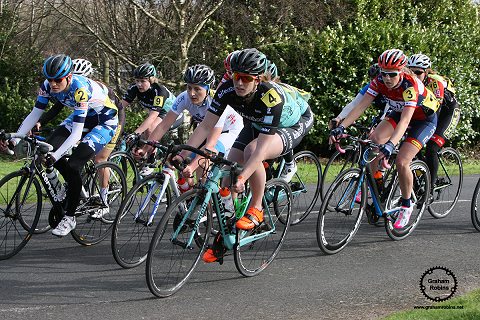 Once the days racing was complete it was down to a tally up of the points and the presentations to be made.
Overall Result
1st Emma Cockcroft Bikeshed Bianchi
2nd Phoebe Davis Velo Vitesie
3rd Nicki Carr VC Equip-Flix
4th Alexandra Sheehan Bikeshed Bianchi
5th Bethan Stubbs Bikeshed Bianchi
6th Georgina Panchaud Cycleworks.co.uk
7th Sarah Hickman 2c Cyclexperience
8th Lucy Gowing Bikeshed Bianchi
9th Zoe Betteridge North Devon CC
10th Poppy Thompson VC Equip-Flix
The morning got underway with a 4th category, this was also a 40mins race and it all stayed together and came down to a big bunch sprint.
Result 4th Cats
1st Jenny Corser MDCC
2nd Lucy Driver Somerset RC
3rd Hannah Hawkins Tiverton BMX
4th Nikki Toomer Exeter Wheelers
5th Sue Williams Revo Racing
Send your results as well as club, team & event news here
---
Other Results on VeloUK (including reports containing results)

---
Other News on VeloUK