The 50th edition of the Clayton Spring Classic, the season opener in the North West, sees some of the pros starting their season
News – Clayton Spring Classic
The North West season gets underway in Clitheroe on Sunday the 28th for the 50th edition of the Clayton Spring Classic. Past winners include Ian Stannard (Team Sky), Chris Newton twice and a dozen years ago Kevin Dawson two years running. Podium positions are pretty impressive too ! Rob Partridge and Alex Dowsett runners up in 2009 and 2007 respectively.
Ian Bibby returns to the Clayton Spring Classic – pictured here back in his Madison Genesis days.
With over 130 entries, race organisers have been hard pressed to select the 80 man field. "We are seeing more and more young riders which is very encouraging and the first group on the road comprises around 25 juniors" including one who made such an impact on the world stage in cycl-cross, Thomas Pidcock. Even if he gets caught, the pros had better watch out for his sprint!
The scratch group will have 58 miles and 15 laps to make up the seven minutes if they are to contest the £100 first place prize. Last year's local winner Pete Williams is a non starter so the pressure for a local win falls on Ian Wilkinson and his new team Pedal Heaven.
Wilko's team mate Dave McGowen has been second on no few than three occasions and has been ever present over the last 10 years so perhaps a win is on the cards. Pedal Heavan have six starters and will have to drive the group to reach the head of the race where in the last 2 years the juniors have almost held them off. Race starts at 10am. Ian Bibby was one of, if not the most successful pro in the British scene in 2015 and kicks off his 2016 road racing at the Clayton Spring Classic.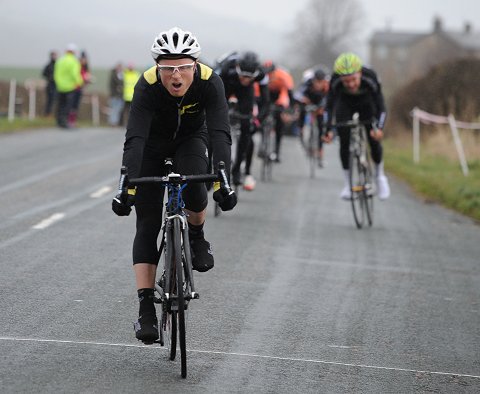 David McGowan will be looking for that top step of the podium for his Pedal Heaven team!
If there's a prize for the first brothers, the race sees at least one pairing, that of Ewan and Luke Grivell-Mellor, one at the front of the race, the other in the scratch group. A specially commissioned 50th year trophy will be presented to the winner courtesy of Mr 'Clayton' Alan Roper who as either officiated or ridden all 50 editions.
The prize list is boosted a further £200 by an anonymous local rider "putting a bit back" for the 20 times or more he has ridden it!
Organisers have announced an increased prize list with £200 to the winner of the 50th edition of the race.
The race will also be filmed and edited into a snap shot of the action and also the preparation and work behind the scenes of the race. The handicap format and lap primes keeps the action going and makes for a great race, and will there won't there be a 'catch'.
Organisers say the scratch group will have to work hard for a share of the spoils as the junior group is looking strong and determined.
1ST £200 Plus 50th edition commemorative sculpture donated by Mr Alan Roper.
2nd £100 3rd £75 4th £50 5th £40 6th £35 7th £30 8th £25 9th £20 10th £20
1st . Junior £40 Plus 50th edition commemorative sculpture / The David Wilkinson memorial trophy
2nd Junior £30 3RD Junior £20 4th Junior £10
LAP PRIMES There will be primes on every lap except the first lap and penultimate lap
At the end of laps 2 to 13 inclusive :
First rider on the road across the line on laps 2,3,4,5 £10
First rider on the road across the line on laps 6.7.8.9 £15
First rider on the road across the line on laps 10,11,12,13 £25
Spring Classic Handicap Road Race
RACE HQ ….. Â Eddisford Junior School, Eddisford Road, Clitheroe, Lancashire BB7 2LN
FORMER WINNERS
2015 1. Peter Williams One Pro 2.Sam Williams One Pro 3.Josh Hunt One Pro
2014: 1. Simon Wilson, 2. David McGowan 3. Richard Handley
2013: 1. Richard Handley 2. Ryan Mullen, 3. James Gullen
2012: 1. Richard Hepworth 2. David McGowan 3. Robert Hassan
2011: 1. Dean Downing, 1. Tom Murray (dead heat) 3. Tom Barras
2010: 1. Dan Craven 2. Peter Williams 3. Chris Newton
2009: 1. Rob Hayles 2. Rob Partridge 3. Mark McNally
2008: 1. Chris Newton 2. Dean Downing 3. Graham Briggs
2007: 1. Ian Stannard 2. Alex Dowsett 3. Mark McNally
2006: 1. Chris Newton 2. Kevin Dawson 3. Graham Briggs
2005: 1. Kevin Dawson 2. David McGowan, 3. Ian Wilkinson
2004: 1. Kevin Dawson 2. Jack Hill 3. Philip West
2003: 1. Gary Adamson 2. Kevin Dawson 3. Ian Wilkinson
2002: 1. Bill Nickson 2. Chris Burrows 3. Hamish Haynes
2001: Cancelled
2000: 1. Robin Sharman 2. Ian Cuthbertson 3. Hamish Haynes
1999: 1. Mark Lovatt 2. Alistair Kay 3. Neil Swithenbank
2016 Rider list
Group 1 Juniors 16-18
1 Jamie Ridehalgh Speedflex RT
2 Elliot Reed Identity Race Team
3 George Greenhalgh Identity Race Team
4 Michael Hall Identity Race Team
5 Jake Wright Identity Race Team
6 Sam Iddon Identity Race Team
7 Toby Carway Groundwater Eng
8 Ethan Davies W'hampton Whls
9 Jonathan Wong Salt Ayre Cog Set
10 George Wharton Salt Ayre Cog Set
11 Alex Chesters Salt Ayre Cog Set
12 Samuel Monkhouse Salt Ayre Cog Set
13 Ewan Grivell-Mellor Mid Shropshire Wh
14 Owen Line Pro Vision
15 Ryan Coulton Pro Vision
16 Morgan Hughes Pro Vision
17 Tomos Owens Pro Vision
18 Ewan Mathieson Glasgow RT
19 Robert Scott VCUK PH-MAS
20 Harry Hardcastle VCUK PH-MAS
21 Adam Hartley VCUK PH-MAS
22 Thomas Pidcock VCUK PH-MAS
Group 2 Cat 2/3/4 At 3 mins
23 Ryan Ashcroft Champion Systems
24 Brian Rigby Champion System
25 Wayne Greenhalgh Champion System
26 Â Darran Acton Champion Systems
27 Martin Lonie Thomsons Cycles
28 Ben Howe Team CSP
29 Alex Auty Team CSP
30 Joe Autey Team CSP
31 Shaun Pearson THR Racing
32 Richard Haughton THR Racing
33 Samuel Pickering THR Racing
34 Giles Pidcock Chevin Cycles
35 Andy Brown Glasgow CT
36 Lewis Mulholland Glasgow
37 Angus Claxton Glasgow Cycle
38 Matthew Bulmer All Terrain
39 Joe Higginson Equipe/Banks
40 Jay McCarthy Green Jersey RT
41 James Claydon The Nab Racing
42 Jake Cowen The Nab Racing
43 Chris Southworth The Nab Racing
44 Keith Jones Birkenhead
45 Karl Freeman Team Wheelguru
46 William Lewis High Peaks RT
47 Â Karl Smith Bott Cycle Team
48 Richard Bott Team Aspire
49 Craig Battersby Team Chronomaster
50 Stephen Feeney Team Chronomaster
51 Declan Hudson Liverpool Century
52 Â Sam Dobson Fiftyfour Eleven RT
53 Ben McIntosh Royal Antwerp
54 Â David Parrington Ribble Valley CRC
55 James Wilkinson Audlem Cycling Club
56 Julian Varley Bikehaus by Ridley
57 Â Richard Taylor Harry Middleton
58 Ben Trippier East Lancs RC
Scratch Group Pro / Elite team/ Cat 1 At 6 Mins
59 Â Ian Wilkinson Pedal Heaven
60 David McGowan Pedal Heaven
61 Jack Pullar Pedal Heaven
62 Jacob Tipper Pedal Heaven
63 James Gullen Pedal Heaven
64 Jake Womersley Pedal Heaven
65 Luke Mullen The Nab Racing
66 Adam Duggleby The Nab Racing
67 Jacob Ragan The Nab Racing
68 Alistair Rutherford The Nab Racing
69 Jonathan Gildea The Nab Racing
70 Stephen Abbott THR Racing
71 Ian Bibby NFTO
72 Michael Ashurst Champion System
73 Jonathan Fowles Champion System
74 Will Corden Mammoth Lifestyle
75 Luke Grivell-Mellor JLT Condor
76 Matthew Nowell Wheelbase Altura
77 Ben Harrison Prima Team Racing
78 Martin Woffindin Bikehaus by Ridley
79 Philip Trodden Bikehaus by Ridley
80 Jack Barrett Bikehaus by Ridley
RESERVES
Hamish Graham DNS Green Jersey RT
Gareth Wiseman Gp 2 Team CSP
Harry Paine Gp 1 VCUK PH-MAS
Guy Jones Gp 1 Salt Ayre Cog Set
Josh Peet Gp 1 Identity Race Team
Ralf Hodgson Gp 2 Champion System
Jimmy Smith Gp2 Team Aspire
Alex Foster Gp 2 Bikehaus by Ridley
Mansfield-Yorke Gp2 The Nab Racing
Andrew Webster Gp 2 Bikehaus by Ridley
Aaron Tonks Gp 2 THR Racing
Send your results as well as club, team & event news here
---
Other Results on VeloUK (including reports containing results)

---
Other News on VeloUK