Second place for Mark McNally in Ronde van Drenthe was the best result of the season so far Wanty-Groupe Gobert
Report: McNally second in Ronde van Drenthe
Wanty-Groupe Gobert travelled to the Netherlands this Saturday for the Ronde van Drenthe. With Kenny Dehaes sports director Steven De Neef had a former winner of this race on the team. The other seven riders were: Dimitri Claeys, Antoine Demoitié, Tom Devriendt, Danilo Napolitano, Mark McNally, Lander Seynaeve and Robin Stenuit.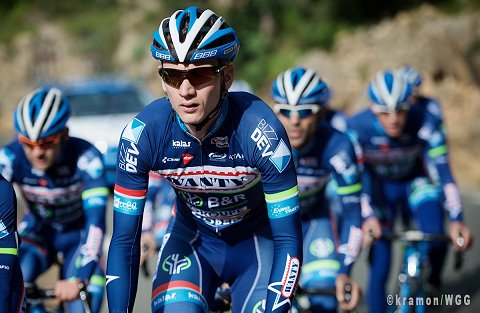 The second place for Mark McNally was the best result of the season so far. Kenny Dehaes was the second Wanty-Groupe Gobert rider in the top ten. The winner of the Ronde van Drenthe 2014 came in 7th today.
"This is a fantastic result for me and for the team. It's a reward for what we did together today since the start of the race. We led the race on the cobbles and in the final we still were with two up front," McNally said.
Soon a breakaway of eventually eight riders was formed, There was no Wanty-Groupe Gobert representation in this group which was caught after crossing the finish line for the first time.
"It wasn't our goal today to put a rider in the breakaway," sports director Steven De Neef explains. "We knew the decision in the race would come much later."
On the penultimate ascent of the VAM-berg, a prominent feature in this race, the peloton broke to pieces. Mark McNally found himself in the first group of eight riders. On the last climb of the VAM-berg a group with Kenny Dehaes bridged to the leaders. This group of 18 riders would ride for victory. Roompot-Oranje peloton had strength in numbers and Berden de Vries was the first to try. His attempt was fruitless but under the arch of the final kilometre his teammate Jesper Asselman attacked. Mark McNally was the only one to react.
"I tried to get to his wheel. When I saw I had a little gap on the bunch I continued at the same speed. Eventually I come in second but I have no regrets. If I would have done it differently, I wouldn't have won either."
Steven De Neef praised the entire team.
"It was really a team effort. Everyone finished the race. In the final Roompot-Oranje Peloton had too many riders and they played the game perfectly. I have respect for what Mark McNally showed her during the entire race."
Send your results as well as club, team & event news here
---
Other Results on VeloUK (including reports containing results)

---
Other News on VeloUK