British rider Charlie Quarterman is joining Luxembourg-based conti team: Leopard Pro Cycling
News: Quarterman signs for Leopard Pro Cycling
British rider Charlie Quarterman is joining Luxembourg-based conti team: Leopard Pro Cycling.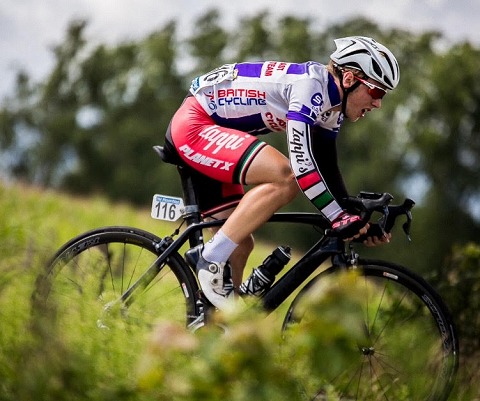 Charlie is from Oxford and was previously with Zappi Junior Racing Team. He has been nurtured by Flavio Zappi from the age of 15 and is one of those riders that has stayed focused on road and never done much track or cross – other than for a bit of varied winter training.
In 2016, he focused on trying to make an impact in Europe by riding in Belgium with John Barclay's South East region team as well as racing in Spain, Belgium and Italy with Zappi Juniors. He got good development through the year, and achieved consistently good results in National and UCI races. ... continued after advert
Leopard have a broad view and saw the potential. They have a great calendar, management set-up and have a strong approach to rider development – which is just what he needs as he enter the U23 ranks.
Inspired by the road race of the 2012 Olympic Games in London, Charlie only started cycling only four years ago and has had some promising results such as a third place in the Giro di Basilicata (2.1) and strong performances at the Omloop der Vlaamse Gewesten (1.1) and the GP Bati-Metallo (both 1.1).
The 18-year old is yet to find his speciality. Charlie Quarterman said of the opportunity "I am very excited about joining Leopard Pro Cycling. It's a well-known team with a diverse calendar in which I can find out which races suit me best. There is a very good support team and a good atmosphere with the mix of older and younger riders. I'm just looking forward to being in a solid team. In 2017 I want to learn how to race in the U23 races, but I also will try to finish on a podium place.
Charlie's best results in 2016 were:
September 2016 Giro di Basilicata, Italy (UCI 2.1) 3rd in GC
August 2016 Junior Tour of Wales (UK NAT) 1st in KOM, 2nd in Sprints class, Most combative rider
August 2016 Omloop der Vlaamse Gewesten (UCI 1.1) 5th
August 2016 Aubel-Thimister-La Gleize (UCI 2.1) 2nd in KOM
July 2016 Bath Road Race (GB National) 2nd
April 2016 Grand Prix Bati Metallo, Mons, Belgium (UCI 1.1) 6th
April 2016 Junior Tour of the Mendips (GB National), 2nd in GC
March 2016 Durango (Pays Basque Regional) 2nd
March 2016 Zepperen – Zepperen, (Belgian National) 2nd
February 2016 Junior Kuurne-Brussels-Kuurne (UCI 1.1) 11th
February 2016 Circuito del Guadiana (Copa des España, Round 1) 1st Overall, 1st KOM, 1st in Sprint, Most Combative Rider prize.
Send your results as well as club, team & event news here
---
Other Results on VeloUK (including reports containing results)

---
Other News on VeloUK