VeloUK's Q & A travels to France to former British Junior RR champion Abby-Mae Parkinson who is joining Drops Cycling for the 2017 season
Q & A: Abby-Mae Parkinson (Drops Cycling 2017)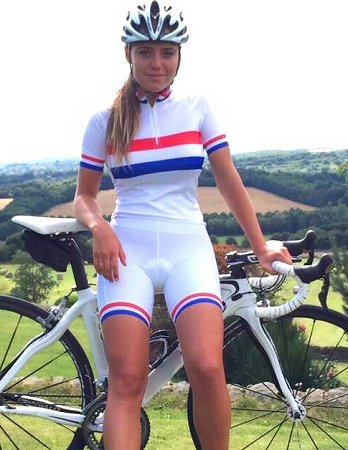 One of the new signings for Drops Cycling's 2017 squad is Abby Mae Parkinson, a former British Junior Road Race championship who in 2016, rode for Great Britain at the World Championships.
Abby-Mae says of her new team, "in 2016 Drops made a massive impact both in the UK and abroad. Their professional approach has gained a lot of respect in the international scene and to be a part of such a well organised set up is a fantastic and exciting opportunity".
1. What was the highlight of 2016 for you?
Abby-Mae: Without a doubt, selection to ride the World Road Championships in Doha.
2. A fond memory of 2016
Abby-Mae: The Queen stage in the Giro Rosa which went up the Mortirolo was actually a good day. I had been dreading it but it actually turned out to be my best day. I would have done even better too had I not bottled the descent. When I finished, I was proud of myself.
3. What was the toughest race of 2016 for you?
Abby-Mae: The toughest for sure was the Giro Rosa. 10 days in Italy in July with 30+ degrees on some of the world's hardest climbs was a killer. The last two days took every drop of mental and physical strength to complete.
4. If there was one thing you learned most in 2016 to help you go faster/better, what was that?
Abby-Mae: This year has been a year of learning. I have learnt to try to switch off what is going on around me and to focus on getting myself ready. It's useless and energy sapping to panic about things which are out of your control. It is, however, something I am still practicing! Also…Porridge Pots are a stage race essential (had a brilliant sponsor this year, Rick from Alupro who actually brought me some from the UK mid Giro Rosa.. life saver). Always invest in nice toiletries because no matter how bad the bathroom is, a lovely shower gel makes all the difference!
5. What is the best piece of equipment (clothing/bike/gadget) to do with racing you are proud of most?
Abby-Mae: Definitely my new Trek bike. I have tried one out and I couldn't believe how light it was.
6. What is your warm up routine for races – rollers or turbo? Music or no music?
Abby-Mae: A lot of races this year a turbo or rollers weren't an option so warm up was old school riding up and down the road before a race. Generally, not bothered however, turbo or rollers but always with music.
7. What's your favourite discipline on the road; road racing/crits/time trials and why!
Abby-Mae: Stage races with long hills and a good length time trial.
8. When will you start training for 2017 and what comes first – long steady miles or a mix of miles and efforts?
Abby-Mae: I had four weeks off after the worlds and I have just started again. I will be doing a mix of miles and efforts.
---
9. What are the goals for 2017?
Abby-Mae: To build on what I've learnt this year and prove my worth in further developing the Drops team on the international scene.
10. Does winter training consist only of riding the bike or running/swimming/gym work (cross training)
Abby-Mae: The past two years I've just rode my bike but previously I've ran having done cyclocross. This year I will be running again as well as riding!
11. Will you stay in the UK to prepare for next season during the winter or get in a training camp or two abroad to get in some serious miles?
Abby-Mae: The winter months are best dealt with by going somewhere warm!
12. Finally, having a famous mum (Lisa Brambani) who raced, what gems of info has she given you about cycling that stand out?
Abby-Mae: DNF should never be considered as an option unless absolutely essential or forced upon you. She has always said, the minute you climb off you start to regret having done so.
Send your results as well as club, team & event news here
---
Other Results on VeloUK (including reports containing results)

---
Other News on VeloUK