Eighth behind Tom Boonen in a HC ranked event, the RideLondon Classic, Tobyn Horton (Madison Genesis) had an up and down year. We talk to him!
Feature: Tobyn Horton (Madison Genesis)
Into his fourth year at Madison Genesis, Tobyn Horton says he's "super stoked" to be staying on with a team he has had a lot of success with.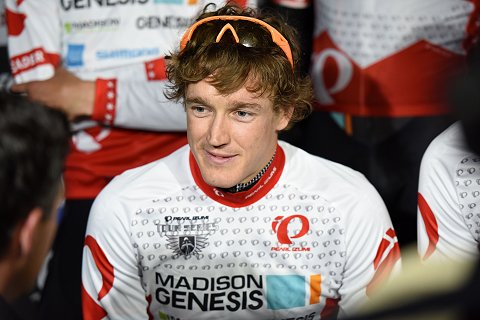 "I wouldn't want to be with any other team and am so happy to be staying with a great bunch of lads and staff" he explained to VeloUK. "It wasn't my best season and I was out for a lot of the early races and then didn't have a great Tour Series but things did pick up at the end of the season, albeit a bit too late and then I crashed and missed some training and the Tour of Britain. So it's been a roller coaster of a year".
It has however, just made Tobyn even more motivated for next year which he admits is good. Every year, Madison Genesis have a strong team with lots of depth and winners among its roster and 2017 is no different. Tobyn says of being asked back "I am so grateful they have supported me throughout the year and again when it was time to renew contracts".
"It shows the mutual respect we have for each other and they realise that things don't always go right. Everyone, riders and staff, have been so supportive."
Asked about that RideLondon result, Tobyn says it was a shock one for him too. "I didn't expect to get a result there. We went there to support Alex Blain and I was pretty happy that the lads helped me out on the day when Alex gave the nod saying it wasn't happening that day for him".
To get that result though, Tobyn had to make sure he was in the mix at the end. "We were there for Alex as I said and Alex punctured, and Tom Stewart too punctured and we had Matt Holmes up the road. Then it split on a climb and I was nearly across to it but not quite and ended up in the group behind."
"At that time I was thinking 'that's it , race over' and then looking round, I could see Michael Matthews, Tom Boonen, Mark Renshaw, and thought,well  I'm not climbing that bad, and thinking about it, there is still a long way to go and a lot of guys here who have a lot to gain from riding. They did start riding and over the top of Box Hill, I don't think I have gone that deep in a bike race and then the rest of it to the finish was just insane"
"Tom (Stewart) took me to the front with two k to go and then Erick led it out and it was a bit surreal when I was brushing shoulders with Boonen who I watched win the world champs in Belgium when I was an amateur at 18 or 19. It was pretty mega. It would have been nice to have been closer to the podium but I can't complain."
For every high like that, as every pro knows, there will be other days which don't go to plan. "The Crit nationals was disappointing. I went there to win and came fourth and did everything to get the win but unfortunately was overpowered by a JLT squad that had strength in numbers."
Tobyn's toughest race he says was Velothon Wales, won by his Madison Genesis teammate Tom Stewart. "It was my first proper road race since the Chorley GP and I still wasn't feeling great on the bike but I ended up in the break with Tom. There were eight or nine of us and it was a brutal day out there."
"I was suffering like a dog on the Tumble and eventually got spat the second time up. I got caught on the Tumble and lost contact but just got back on on the descent and somehow managed to get round, albeit 20 minutes down on the rest of the bunch! I think the last 20k was the longest amount of suffering I've had to endure."
Tobyn, without a doubt, is one of the most under rated riders because when the stats are looked at, he's consistently in the mix at the sharp end. In crits, he's very prominent but when asked what his favourite discipline is on the road, his reply is I do like crits but if you asked me this at the end of the Tour Series, I'd say road racing"
"I do love road racing. Crits are great fun with the crowds and so on but if you said to me to choose between racing crits or road racing for the rest of my career, I'd choose road racing."
Tobyn is based in Yorkshire and is probably by now in Lanzarote with his family for his warm weather training. "What I do during the winter depends on the weather. If it's going to snow for a week, then I'll try and sneak off to Lanzarote for a week and get some warmer miles. As long as it's not snowy and icy, then I'm happy training at home although getting away now and then does break the winter up".
Asked what that training consists of, Tobyn says "I am not a big mile rider and prefer to start straight away doing efforts and stuff. Not max stuff but tempo or threshold stuff to mix training up because when it is cold and nasty, you can go out and do a five hour ride or three with some efforts and you get the same sort of benefit and save the longer miles for when the sun is shining and you can enjoy it. I also prefer the structured training as it keeps the mind occupied".
… continued after advert
Looking ahead to the 2017 season, Tobyn admits for the UK racing, you have to be going well all season but there are some races he's looking forward to. "I do want to go back to the Tour de Yorkshire and was really gutted I missed the Tour of Britain this year after crashing in Belgium and being put on antibiotics which meant I missed the crucial training in the Pyrenees".
"Then there's the Tour Series but also hopefully, the Tour of Normandie before that as I like the European stuff. It's like going back home to where I grew up racing in Belgium and Holland. So I always look forward to that".
A rider's goals however have to fit in with the team's goals and at Madison Genesis with so many strong riders, that means some days even the stars have to be domestiques. "This is where the team is so good in that are honest and open with each other" he says.
"We'll put our hands up if we are going well and want to have a good crack at a race and you know your teammates will put 100 per cent in working for you going for the win and that is the key. It is why we work so well as a team as everyone is open and honest and is ready to put their neck on the line and it's good for Mike (Northey) who can then delegate the jobs".
"Then we can make decisions on the road. It's hard to predict British racing. It's not like a pan flat Dutch race say where you know it will either split in the cross wind or if there is no wind, it's going to be a bunch kick and you can ride for one rider."
"Here, things change on the road so more often than not, we'll be looking after one or two guys and it works. That is the good thing with Blain who is respected and has ridden at the top level (Cofidis) and he's a good guy to lead on the road".
Finally, asked what his favourite piece of Madison clothing is, he replies the Optimus. "We go to cold wet and even cold dry races and it is such a great piece of kit that does everything. It's like a wet suit in keeping you warm but doesnt hold the water. I use it a lot on those days when there are going to be showers. It's the perfect jacket to put on. It's not water proof so you don't roast in it and it's breathable. It's brilliant at the Tour of Reservoir!"
Thanks to Tobyn for the chat and good luck for the rest of the winter and 2017
Send your results as well as club, team & event news here
---
Other Results on VeloUK (including reports containing results)

---
Other News on VeloUK