European Junior Cyclo-Cross Champion Tom Pidcock (Oldfield/Paul Milnes) added a British title to his palmeres. We chat to him about his race …
Interview: New British Junior Men's CX Champion Tom Pidcock
The winter has seen Tom winning in Europe and in Britain and at the national championships near his home at Otley, Tom solo'd to yet another victory, racing faster than anyone around a course he admits is his favourite!
1. How was the course at Bradford compared to the others you have ridden this season here and abroad?
Tom: I think its one of my favourite venues in the world because it's a great course and I had so many friends and family there watching with the home crowds and that made it pretty special.
2. It was a home course – did you feel extra pressure or is that par for the course now racing at your level?
Tom: No I don't think so. It made me more excited I think. I wasn't under that much pressure I don't think or maybe I just didn't show it. I have strange ways of dealing with pressure.
3. What was your strategy for the race?
Tom: Same as every race really. Get a good safe start. Then ride hard.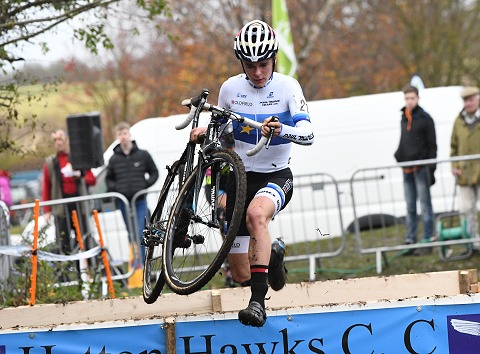 4. How it did it feel to add the British title to the European one?
Tom: I think it's just as special. Now, thinking about it, those bands have so much history. A lot more than the Euro ones. And your first national bands are always going to be special and it's good to get them on my shoulders after not being able to compete for them last year.
5. The superman celebration LoL – was that a spur of the moment idea of planned before the race?
Tom: Ha ha. Well I was thinking the night before, like last year, I did a star fish thing so this year I can't just do something boring so I came up with that!
6. It's reported you had two of the fastest laps – you were leading alone but did you still have to push on hard to keep that lead?
Tom: Not really. I was sort of just riding my own race, enjoying and entertaining the crowds, because it can be quite boring for them when one rider rides off. I thought the race was hard because the form wasn't quite there rather than because it was a race because I have been a bit ill in the week.
7. Did the race go smoothly?
Tom: Yep didn't fall off this year!
8. Was the mud causing you to have bike changes and if so, how often did you have to change?
Tom: It wasn't that bad the mud, but I changed every lap 1/2 because the fresh tread (tyres) made a big difference to the grip I had.
9. Who did you have in the pits looking after today?
Tom: I had Andy and Sarah Naylor who actually are in the Fossa race team, but they help Seth and the team out sometimes because there's three of us in the junior race. And they did a fantastic job!
10. How was your special bike? What was the set up?
Tom: It's a 'special' Ridley/Paul Milnes bike with custom Euro paint job on it. With Dura Ace and Forza components, Challenge tyres. I've never ridden a cross bike that feels as fast as my road bike.
11. Finally, post Worlds, what will you be doing and where will you be racing?
Tom: Just Hoogerheide the weekend before. I've not managed to get away anywhere warm because I haven't got organised so hopefully it doesn't get too cold.
Send your results as well as club, team & event news here
---
Other Results on VeloUK (including reports containing results)

---
Other News on VeloUK