Another top 10 for Alice Barnes on stage 3 of the Women's Tour Down Under, Drops Cycling second team on stage
Womens Tour Down Under Stage 3
(Santos Women's Tour / Chameleon Photography)
Santos Women's Tour / Chameleon Photography
Chloe Hosking from Ale Cipollini has won the third stage of the Santos Women's Tour, with ORICA-Scott's Amanda Spratt retaining the Santos Leader's Jersey heading into the final day. Hosking edged out stage two winner Kirsten Wild of Cylance in a gripping final sprint down the main street of Lyndoch, completing the stage in 2.21 hours.
"To beat Wild in what was a flat-out drag race is not easy, so to cut around her quite convincingly gives me a lot of confidence going forward," Hosking said. The Australian hasn't made a mistake in her sprints thus far in the Santos Women's Tour, and stage three was no different. She took the 67-kilometre intermediate sprint before winning the one that mattered most to claim Ale Cippolini's first stage victory of 2017.
Stage three was a 92.4-kilometre road race which travelled through Tanunda twice and included two laps of the Lyndoch to Williamstown circuit. The riders left the 33-degree heat of Tanunda at 11am, passing vineyards, wineries and trademark Seppeltsfield palm trees as they made their way through Barossa towns to Lyndoch. An early breakaway from Holden Cycling's Erin Kinnealy created a 22-second buffer at the 12-kilometre mark.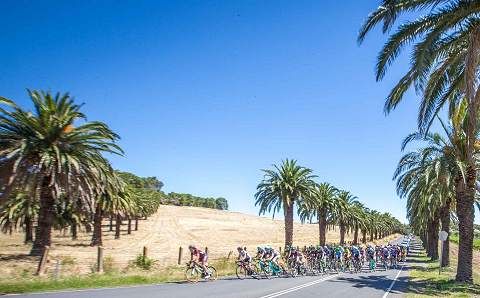 Santos Women's Tour / Chameleon Photography
Kennealy's lead stretched to 1.35 minutes at the 35-kilometre mark, which came during the second pass through Tanunda. She took the points in the day's first intermediate sprint. The peloton slowly made inroads on Kinnealy's lead before eventually catching her just before the Subaru Queen of the Mountain ascent up Whispering Wall at Williamstown.
The first QOM honours went to Ale Cipollini's Janneke Ensing, but the climb wasn't without drama as a multi-bike crash split the peloton. The last 50 kilometres was an arm wrestle. ORICA-Scott controlled the peloton, chasing any breakaways that formed in a team tactic seen since the 2017 Santos Women's Tour began. In the closing 10 kilometres of the race a breakaway group of about 30 riders picked up the intensity, with ORICA-Scott and Ale Cipollini among the leaders.
As the leading group approached the final sprint down Lyndoch's main street Wild was no match for Hosking's sensational sprinting form. Alexis Ryan (Canyon-SRAM) and Peta Mullens (Hagens Berman Supermint) rounded out the top four. Race leader Amanda Spratt finished in the peloton and holds a 19-second lead heading into the final stage. "I'm not celebrating yet – there is still another day – but this was the big one to get through so we are happy to keep the (Santos Leader's) Jersey and very hopeful to keep it tomorrow," the Australian said.
Santos Women's Tour / Chameleon Photography
Santos Women's Tour / Chameleon Photography
Santos Women's Tour / Chameleon Photography
Santos Women's Tour / Chameleon Photography
… continued after advert
Stage 3 Result
1 Chloe HOSKING (ALE) 2h21:56
2 Kirsten WILD (CPC) 0
3 Alexis RYAN (LPR) 0
4 Peta MULLENS (HBS) 0
5 Rebecca WIASAK (HFD) 0
6 Tiffany CROMWELL (LPR) 0
7 Chloe DYGERT (T20) 0
8 Susanna ZORZI (DRP) 0
9 Alice BARNES (DRP) 0
10 Julie LETH (WHT) 0
11 Ruth WINDER (UHC) 0
12 Annie FOREMAN-MACKEY (T20) 0
13 Kate MCILROY (SPW) 0
14 Rushlee BUCHANAN (UHC) 0
15 Lauren KITCHEN (SNS) 0
16 Leah THOMAS (T20) 0
17 Amanda JAMIESON (CCN) 0
18 Justine BARROW (RSH) 0
19 Danielle KING (CPC) 0
20 Georgia WILLIAMS (NZL) 0
21 Nina LAUGHLIN (T20) 0
22 Ann-Sophie DUYCK (DRP) 0
23 Amanda SPRATT (ORS) 0
24 Mikayla HARVEY (NZL) 0
25 Katrin GARFOOT (ORS) 0
26 Janneke ENSING (ALE) 0
27 Tayler WILES (UHC) 0
28 Katharine HALL (UHC) 0
29 Ruth CORSETT (RSH) 0
30 Annemiek VAN VLEUTEN (ORS) 0
31 Madeline WRIGHT (SPW) 0
32 Malgorzata JASINSKA (CPC) 0
33 Carlee TAYLOR (ALE) 0
34 Lucy KENNEDY (HFD) 0
35 Shannon MALSEED (HWC) 0
36 Janelle CROOKS (ORS) 0
37 Emma POOLEY (HWC) 0
38 Kristy GLOVER (RSH) +1:26
39 Romy KASPER (ALE) +1:26
40 Kirsten HOWARD (SNS) +1:26
41 Lucy BECHTEL (SPW) +1:26
42 Jaime GUNNING (HWC) +1:26
43 Abigail VAN TWISK (DRP) +1:26
44 Georgia CATTERICK (NZL) +1:26
45 Emily ROPER (HFD) +1:26
46 Davia TUSLAITE (ALE) +1:26
47 Mayuko HAGIWARI (WHT) +1:26
48 Rossella RATTO (CPC) +1:26
49 Verena EBERHARDT (CCN) +1:36
50 Starla TEDDERGREEN (HBS) +1:36
51 Ashlee ANKUDINOFF (SNS) +1:36
52 Gretchen STUMHOFER (T20) +1:36
53 Desiree EHRLER (CCN) +1:36
54 Kylie WATERREUS (CCN) +1:36
55 Liza RACHETTO (HBS) +1:36
56 Bryony BOTHA (NZL) +1:36
57 Narelle HARDS (MBB) +1:36
58 Tsubasa MAKISE (CCN) +1:36
59 Racquel SHEATH (NZL) +1:36
60 Marta TAGLIAFERRO (CPC) +1:36
61 Mieki KROGER (LPR) +1:36
62 Rachele BARBIERI (CPC) +1:36
63 Amy CURE (WHT) +1:36
64 Amy ROBERTS (WHT) +1:36
65 Victoria VEITCH (MBB) +1:36
66 Barbara GUARISCHI (LPR) +1:36
67 Alexandra MANLY (ORS) +1:36
68 Grace BROWN (HWC) +1:36
69 Grace GARNER (WHT) +1:36
70 Anna CHRISTIAN (DRP) +1:36
71 Lauren HALL (UHC) +1:36
72 Annette EDMONDSON (WHT) +1:36
73 Ella BLOOR (SPW) +1:36
74 Ellen SKERRIT (RSH) +1:36
75 Lauretta HANSEN (UHC) +4:54
76 Rebecca WOMERSLEY (DRP) +4:54
77 Lisa BRENNAUER (LPR) +4:54
78 Jessica ALLEN (ORS) +4:54
79 Kate PERRY (SPW) +9:24
80 Verita STEWART (SPW) +9:58
81 Kristina CLONAN (HFD) +9:58
82 Gina RICARDO (SNS) +9:58
83 Rebecca CARTER (MBB) +9:58
84 Chloe MORAN (HFD) +9:58
85 Hayley JONES (MBB) +9:58
86 Ivy AUDRAIN (HBS) +9:58
87 Erin KINNEALY (HWC) +9:58
88 Sofia ARREOLA-NAVARRO (T20) +9:58
89 Beth-Ann ORTON (HBS) +9:58
90 Bridie O'DONNELL (RSH) +9:58
91 Winanda SPOOR (RSH) +9:58
92 Emma ROBERTS (SNS) +9:58
93 Nicola MACDONALD (SNS) +9:58
94 Holly RANSON (MBB) +9:58
95 Carley MCKAY (CCN) +9:59
96 Anna TREVISI (ALE) +11:49
General Classification
1 Amanda SPRATT (ORS)
2 Janneke ENSING (ALE)
3 Kirsten WILD (CPC)
4 Lauren KITCHEN (SNS)
5 Ruth WINDER (UHC)
6 Katrin GARFOOT (ORS)
7 Katharine HALL (UHC)
8 Peta MULLENS (HBS)
9 Danielle KING (CPC)
10 Alice BARNES (DRP)
26 Emma POOLEY (HWC)
39 Anna CHRISTIAN (DRP)
49 Grace GARNER (WHT)
54 Abigail VAN TWISK (DRP)
63 Amy ROBERTS (WHT)
73 Rebecca WOMERSLEY (DRP)
79 Hayley JONES (MBB)
84 Rebecca CARTER (MBB)
Young Rider Classification After Stage 3
1 Ruth WINDER (UHC)
2 Alice BARNES (DRP)
3 Susanna ZORZI (DRP)
Teams Stage Result
1 SHO-AIR TWENTY20 (55, 54, 52)
2 DROPS CYCLING (86, 81, 83)
3 UNITEDHEALTHCARE PRO CYCLING TEAM (65, 61, 64)
4 CYLANCE PRO CYCLING (41, 42, 45)
5 ALE CIPOLLINI (31, 36, 32)
6 ORICA-SCOTT (3, 1, 2)
7 HIGH5 DREAM TEAM (101, 102, 105)
8 SPECIALIZED (136, 131, 134)
9 RUSH (124, 123, 126)
10 NZ NATIONAL TEAM (151, 154, 156)
11 HOLDEN (112, 116, 115)
12 CANYON SRAM RACING (26, 24, 25)
13 NSWIS SYDNEY UNI (161, 162, 163)
14 WIGGLE HIGH5 (15, 16, 12)
15 HAGENS BERMAN / SUPERMINT (73, 76, 75)
16 MAASLANDSTER VERIS CCN (95, 94, 93)
17 MERCEDES ADELAIDE BLACKCHROME (145, 144, 142)
Teams General Classification After Stage 3
1 ORICA-SCOTT
2 UNITEDHEALTHCARE PRO CYCLING TEAM
3 DROPS CYCLING
4 CYLANCE PRO CYCLING
5 ALE CIPOLLINI
6 RUSH
7 HOLDEN
8 SHO-AIR TWENTY20
9 CANYON SRAM RACING
10 NZ NATIONAL TEAM
11 HIGH5 DREAM TEAM
12 SPECIALIZED
13 NSWIS SYDNEY UNI
14 WIGGLE HIGH5
15 HAGENS BERMAN / SUPERMINT
16 MAASLANDSTER VERIS CCN
17 MERCEDES ADELAIDE BLACKCHROME
Send your results as well as club, team & event news here
---
Other Results on VeloUK (including reports containing results)

---
Other News on VeloUK