Tour of Ayrshire and Cambridgeshire cycling festivals announce 50 mile RR for riders on pre-1987 road bikes
News: Road Race for pre-1987 Bikes
Peterborough – Wednesday 1st February 2017 – Golazo Cycling, the organisers of the Tour of Ayrshire and Tour of Cambridgeshire cycling festivals, announce a new and unique event at their festivals; Tour Classic – a 50 miles timed road race for riders on pre-1987 road bikes.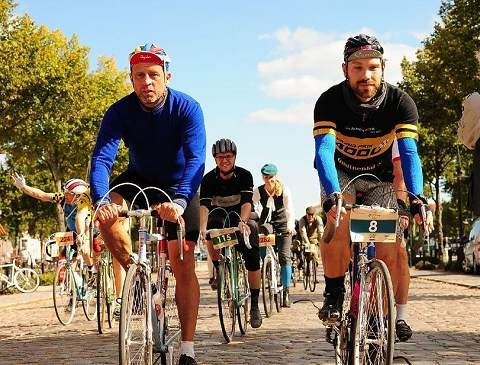 The Tour Classic in Ayrshire will take place on Sunday 30th April and the Tour Classic in Cambridgeshire on Sunday 4th June. Golazo Cycling believe that these events are unique on the global calendar for the classic racing bike community in that they are a proper timed road race on fully closed roads for riders on pre-1987 bikes.
Tom Caldwell, CEO of Golazo Cycling Limited, explains how the events have come about; "the festivals which Golazo Cycling promote are wholly inclusive and that the Tour Classic is another manifestation of this. We already have a highly credible racing element in the Gran Fondos and Chronos with many entrants wanting to qualify for the UCI Gran Fondo World Championships.
In addition to this community of riders we have a substantial Sport element to the festivals where riders participate in the Gran Fondos but choose instead to ride with others at speeds with which they are more comfortable. We have a Medio Fondo for families and beginners as well. The Tour Classic merely extends this philosophy. "
The Tour Classic will debut in Ayrshire in late April with the Tour Classic in Ayrshire and riders will have another opportunity to dust off those classic machines again on closed roads in June at the 'Tour Classic in Cambridgeshire.
When asked about the Tour Classic becoming a national series for pre-1987 bikes Tom Caldwell says; "the DNA of the Golazo Cycling Festivals is about sports cycling and delivering a total quality, premium, rider experience. If there is a demand for a series then we will look carefully at what this might be, engage with the classic bike community and see where it takes us."
Steve Clarke of The Light Blue cycles company, believes the Tour Classics will be superb events for the classic sports bike community. "I don't believe there's a closed road, timed, race for pre-1987 bikes, anywhere in the world. I know many riders travel overseas to find classic bike events and in 2017 we will have two great events on our doorstep, here in the UK." Steve added, "I'm sure the Tour Classic races will become some of the most desirable events of their kind in the world. I believe the organisers have got the balance of distance and concept just right and I'm really hoping I can take part myself."
David Smith of REW Reynolds, the longest established British-made cycling shoe manufacturer, commented; "It's great to see an event with it heart in the golden age of cycling. There are plenty of events which offer a classic theme but none, to my knowledge, which offer the opportunity to race as we did before indexed gears and composite frames. I'm very excited about both events and see their huge appeal to the classic sports bike community." www.reynolds-england.com
The Tour Classic races will have their own self-contained and produced start within the Gran Fondo at the Golazo Cycling festivals. The bike regulations are set out in the Disciplines section of the Golazo Cycling website. Unlike other open road events for the classic bikes community, the organisers have to insist on the use of modern helmets as the Tour Classic is a timed ride and full on race for those who want to be more competitive.
For more details please visit the Golazo Cycling website www.golazocycling.com
Send your results as well as club, team & event news here
---
Other Results on VeloUK (including reports containing results)

---
Other News on VeloUK