We quiz the organiser of the Cleethorpes Super Prix Richard Stoodley about the race being held on September 17
Q & A: Cleethorpes Super Prix Organiser Richard Stoodley
We quiz the organiser of the Cleethorpes Super Prix Richard Stoodley about the race being held on September 17
1. Tell us about Cleethorpes and how far round will the circuit be there?
Richard: Cleethorpes has hosted Crit Racing before but not for about 25 years. Our 1.05 mile (1.67km) circuit is compact for spectators and utilises the Central Promenade as the main Start/Finish area. It's a great town with fantastic beach, loads of Hotels/B&Bs and plenty of Fish & Chips. The best thing though is the local Council are putting everything into this to make it a great event for years to come. Cleethorpes wants cycling and it is a breath of fresh air to work with such a forward thinking group.
2. What type of course have you planned for the riders? – Lumpy, technical, flat …
Richard: I am sure the riders will just love the circuit which seems to have everything; two good long straights, a couple of slight inclines that could be just enough for stronger riders to make the break, and a couple of really technical sections including our unique split where riders will be able to decide which route to take – each with its own advantages. It's a great circuit and we aim to have it fully barriered with about 10,000 fans cheering the riders on. This will be the Monaco Grand Prix of Crits !
3. How long have you been planning this event?
Richard: Amazingly, the very first phone call to North East Lincs Council was on the 5th January this year and in that time we've already established a 14 hour Road closure, built a great website, organised the nine races on-line with British Cycling, linked with a Go-Ride and done a full new Risk Assessment of the area as well as securing a TV proposal, Big Screens and organised close event parking for the riders. If you put the effort in, it is amazing what you can achieve in such a short time.
4. What is the first thing an organiser has to do when putting an event of this size on?
Richard: It's funny, when you put on an event of this magnitude, the very first thing you need to do is dream – think big and I always say you can always shave a bit off! But there are many considerations. One of the crucial ones is 'when' in the calendar – we positioned the Cleethorpes Super Prix just after the Tour of Britain and other Championships so we could attract top level riders who were interested in a relaxed event but with a big pay day.
The circuit was the other consideration, not just safe, exciting and enjoyable for good racing, but how it fits in with the town itself. Other considerations are which races to include and how far do we go regarding Prize Money and promotions like Big Screens / TV coverage etc. As well as transport, accommodation, parking, safety, the whole thing only comes into place by working everything together.
5. Are there any key sponsors so far for the event?
Richard: Our funding model comes from a major Title Sponsor supplemented by individual Race Sponsors and other partners including Merchandise / Food sales area & Programme/Website Advertising. We are already in advance talks with two major contributors to the event. The beauty of the Cleethorpes Super Prix and this model is that we can offer far higher promotion for all our supporters as each subsidise each other with funding for the overall event. The other important thing for me is bringing new sponsors into cycling.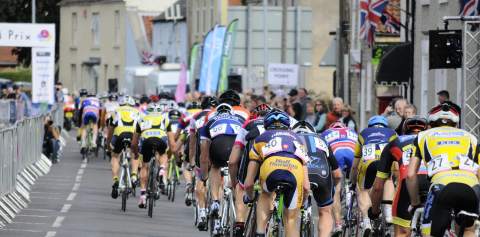 6. How much time per week does organising an event like this take?
Richard: Luckily, my day job (in the evenings) is a Car Auctioneer so I am free to invest all my time during the day in making sure this event is simply 'Top Notch' … you just cannot turn off and without exaggeration, I have been doing 60 / 70 hours per week! Hard work is the key, simple as that. Its up at 6.00 am and often still working at way gone midnight! The bad news is it has seriously affected MY time on the bike! The thing is, you have these hare-brained ideas with not one penny in the Bank, promise the earth to riders and sponsors and it is that commitment and dream that drives me to make this event special.
7. What prompts you to organise circuit races rather than road races – previous history in doing them perhaps?
Richard: My background is Motorsport and other events. Although I don't rule out planning any Road Races in the future, I think the Criterium format allows more control of the 'show' element of the event. To me, bringing a lot of racers and different races to the public is what it is all about.
I did it at the Tickhill Grand Prix and Cleethorpes just allows a bigger and better 'arena' for the riders to showcase themselves and our sport. We expect about 10,000 spectators and this rubs off on the sponsors, merchandise stalls, the Council and creates a great atmosphere that simply cannot be recreated on a smaller road race. If I look at a road race in the future, it will be of a Kermesse style as that opens up more promotional opportunities.
… continued after advert
8. In an ideal world, what type of entry for the race would make you happy?
Richard: We took a lot of effort in making the circuit suitable and it has been approved for 100 Riders per race. In theory, over the nine races we can therefore accommodate 900 riders, but realistically and with historically smaller fields for Youth and Women's Races, I have worked my figures out on about 600! This really is going to be some event and that makes it all the more prestigious. We again have championed Women's Cycling with their own races and we hope they will use this event to show just how popular and competitive women's cycling has become with full fields.
9. There's a big prize list planned and mens and women's racing – will all categories be catered for?
Richard: Our target Prize Fund is an amazing £20,000 – a huge amount and although the highlights of the day will be the Men and Women's E/1/2 Races which will take up a big share of the Prize fund, we offer great prizes money for all races.
To me, putting something back into the sport also means trying to raise its profile in the eyes of the public and commercial sponsors and it seems so unfair that some bloke with a Snooker Cue can win £120,000 whereas these talented, committed athletes get next to nothing for winning fairly big Races. Things are starting to move on the bigger Races like Tour of Britain and Tour de Yorkshire, but we feel that other event organisers should raise their game and try and promote higher Prize Funds for our Sport – after all, they deserve it.
Our other ethos is offering equal Prize money (and status) for Women's Cycling and although we can't offer Women 'National A Points' in the E/1/2, we will endeavour to offer Prize Money to 20th place to match the Men, obviously subject to entry numbers.
10. Finally, What do you enjoy most about organising a big event like this?
Richard: That is a hard one, because many mornings I think 'God, what have I taken on', but the real enjoyment comes in selling the event, believing in your dreams and eventually being able to deliver an event that gets people smiling and talking about.
It may sound a bit clichéd, but I really do this 'For The Riders' and one thing sticks in my mind from the last big event I organised and that was a young lady, Imani Pereira-James, coming all the way from Glasgow to win a 15 minute Under 12 Youth C Race ! … I love giving the Youth the same great arena and atmosphere to Race as the Elites, I love giving something back to the Sport and I just want the Riders and Teams to support this Event so we can sustain it year upon year. What I enjoy most is pulling it off !
Send your results as well as club, team & event news here
---
Other Results on VeloUK (including reports containing results)

---
Other News on VeloUK