Startsheet for Round 3 of the British RR Series, the Chorley Grand Prix on Saturday, 15th April
News: 3rd Chorley Grand Prix
The third Prem of the season is the 3rd Edition of the Chorley Grand Prix on Saturday, 15th April.
On a hilly circuit based around the town of Chorley, the race has been won by Ian Bibby and Edmund Bradbury, who both ride for JLT Condor now and are 1 and 2 on the startsheet.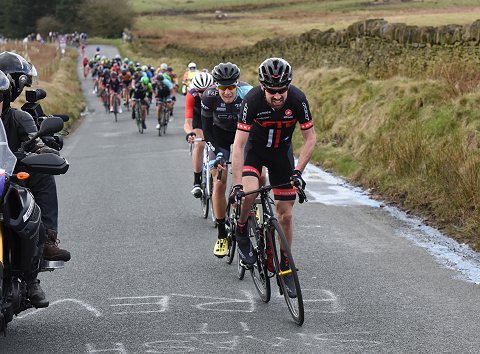 The first round of the national series is this weekend and from that, we should see who the players are going to be but for sure, all the top teams have potential winners which will make the main climb on the 23 mile course a very competitive part of the race, a climb to be ridden five times in a race over 116 miles.
The race will be the longest so far with the first national road race series events being 92 and 102 miles respectively. Which means that final lap of the course will be the telling one as the distance hits home for many of the riders not used to racing that distance.
More on this race to come….
Startsheet
1 Edmund Bradbury JLT Condor
2 Ian Bibby JLT Condor
3 Graham Briggs JLT Condor
4 James Gullen JLT Condor
5 Steve Lampier JLT Condor
6 Edward Laverack JLT Condor
7 Thomas Moses JLT Condor
8 Jonathan Mould JLT Condor
9 George Atkins BIKE Channel Canyon
10 Dexter Gardias BIKE Channel Canyon
11 James Lowsley-Williams BIKE Channel Canyon
12 Matthew Nowell BIKE Channel Canyon
13 Chris Opie BIKE Channel Canyon
14 Robert Partridge BIKE Channel Canyon
15 Jack Pullar BIKE Channel Canyon
16 Max Stedman BIKE Channel Canyon
17 Lloyd Chapman Catford CC Equipe/Banks
18 Matthew Clements Catford CC Equipe/Banks
19 Alex Dalton Catford CC Equipe/Banks
20 George Fowler Catford CC Equipe/Banks
21 Will Fox Catford CC Equipe/Banks
22 Joshua Haasz Catford CC Equipe/Banks
23 James Jobber Catford CC Equipe/Banks
24 Joshua Lawless Catford CC Equipe/Banks
25 Richard Handley Madison Genesis
26 Matthew Holmes Madison Genesis
27 Tobyn Horton Madison Genesis
28 Gruffudd Lewis Madison Genesis
29 Jonathan McEvoy Madison Genesis
30 Alex Paton Madison Genesis
31 Erick Rowsell Madison Genesis
32 Connor Swift Madison Genesis
33 Karol Domagalski One Pro Cycling
34 George Harper One Pro Cycling
35 William Harper One Pro Cycling
36 Kristian House One Pro Cycling
37 Joshua Hunt One Pro Cycling
38 James Oram One Pro Cycling
39 Thomas Stewart One Pro Cycling
40 Peter Williams One Pro Cycling
41 Jack Escritt Raleigh GAC
42 Adam Kenway Raleigh GAC
43 Fraser Martin Raleigh GAC
44 Grant Martin Raleigh GAC
45 Adrià Moreno Sala Raleigh GAC
46 Ryan Perry Raleigh GAC
47 Tristan Robbins Raleigh GAC
48 Enrique Sanz Raleigh GAC
49 Steven Burke MBE Team Wiggins
50 Etienne Georgi Team Wiggins
51 Samuel Harrison Team Wiggins
52 Rhys Howells Team Wiggins
53 Dylan Kerfoot-Robson Team Wiggins
54 Christopher Latham Team Wiggins
55 Michael Thompson Team Wiggins
56 Oliver Wood Team Wiggins
57 Jordan Doig Wheelbase Altura MGD
58 Andrew Hawdon Wheelbase Altura MGD
59 David Lines Wheelbase Altura MGD
60 Levi Moody Wheelbase Altura MGD
61 Alfie Moses Wheelbase Altura MGD
62 Evan Oliphant Wheelbase Altura MGD
63 Alex Orrell-Turner Wheelbase Altura MGD
64 Stuart Reid Wheelbase Altura MGD
65 Ryan Ashcroft 365 4 Bikes Academy
66 Morgan Hughes 365 4 Bikes Academy
67 Tim James 365 4 Bikes Academy
68 Alex Littlewood 365 4 Bikes Academy
69 Oliver Peckover 365 4 Bikes Academy
70 Daniel Bigham Brother NRG Driverplan
71 Richard Haughton Brother NRG Driverplan
72 Alex Luhrs Brother NRG Driverplan
73 Robert Orr Brother NRG Driverplan
74 Steven Roach Brother NRG Driverplan
75 Charlie Tanfield Brother NRG Driverplan
76 Jacob Tipper Brother NRG Driverplan
77 Liam Bromiley Cycling Sheffield Giant Sheffield
78 Joseph Clark Cycling Sheffield Giant Sheffield
79 Timothy Home Cycling Sheffield Giant Sheffield
80 Charlie Renshaw Cycling Sheffield Giant Sheffield
81 Jake Tanner Cycling Sheffield Giant Sheffield
82 Karl Baillie Giant Store Rutland / Wattbike
83 Paul Cox Giant Store Rutland / Wattbike
84 Elliot Harrison Leisure Lakes
85 Jonathan Hornblow Leisure Lakes
86 Dan Fleeman Metaltek Kuota Racing Team
87 Liam Holohan Metaltek Kuota Racing Team
88 Steven Lawley Metaltek Kuota Racing Team
89 Rhys Lloyd Metaltek Kuota Racing Team
90 Zachery May Metaltek Kuota Racing Team
91 Tom Mazzone Metaltek Kuota Racing Team
92 Tom Neale Metaltek Kuota Racing Team
93 George Pym Metaltek Kuota Racing Team
94 William Bjergfelt Neon-Velo Cycling Team
95 David Bolland Neon-Velo Cycling Team
96 Michael Cuming Neon-Velo Cycling Team
97 Jeremy Durrin Neon-Velo Cycling Team
98 Elliott Porter Neon-Velo Cycling Team
99 Marc Potts Neon-Velo Cycling Team
100 Tom Yiangou Neon-Velo Cycling Team
101 Kieran Brady Richardsons-Trek RT
102 Luke Hattersley Richardsons-Trek RT
103 Samuel Henning Richardsons-Trek RT
104 Oliver Maxwell Richardsons-Trek RT
105 Jez McCann Richardsons-Trek RT
106 Joshua Outram Richardsons-Trek RT
107 Luke Ryan Richardsons-Trek RT
108 George Wood Richardsons-Trek RT
109 Oliver Barbieri Spirit Tifosi Racing Team
110 Douglas Coleman Spirit Tifosi Racing Team
111 Christopher Dredge Spirit Tifosi Racing Team
112 Tom Fitzpatrick Spirit Tifosi Racing Team
113 Charlie Passfield Spirit Tifosi Racing Team
114 Thomas Scott-Collins Spirit Tifosi Racing Team
115 Patrick Clark Team B38 / Underpin Racing
116 Archie Cross Team B38 / Underpin Racing
117 Andrew Nichols Team B38 / Underpin Racing
118 Kieran Savage Team B38 / Underpin Racing
119 Jude Taylor Team B38 / Underpin Racing
120 Alex Auty Team KTM
121 Peter Barusevicus Team KTM
122 Eugene Cross Team KTM
123 Andrew Disley Team KTM
124 Fraser Rounds Team KTM
125 Julian Varley Team KTM
126 Oscar Hutchings VC Equipe – Flix
127 Andrew Turner VC Equipe – Flix
128 David Clarke Velo Schils – Interbike RT
129 Wilson Renwick Velo Schils – Interbike RT
130 Bradley Stokes Velo Schils – Interbike RT
131 Oliver W Bates Wellingborough Cycles Race Team
132 Jordan Peacock Wellingborough Cycles Race Team
133 Ed Porteus Wellingborough Cycles Race Team
134 Matthew Clarke Canyon UK
135 Charlie Quarterman Leopard Pro Cycling
136 Edward Roberts Team Elite
137 James Rix Loughborough Students CC
138 Chris Sleath MTS-Rapid Engineering NE
139 Ryan Pike Onimpex Bio Racer RT
140 Ruari Grant Pro Vision Cycle Clothing
Reserves
141 Joshua Burns Alé DMT Cipollini UK
142 Cameron Jeffers Bill Nickson Cycles RT
143 Matthew Atkinson Cycleways-SG Petch
144 Owen Lake Newdales Cycles RT
145 Benjamin Heywood Clay Cross Road Team
146 Declan Hudson Clay Cross Road Team
147 Fergus Robinson Clay Cross Road Team
148 Dean Watson Clay Cross Road Team
149 Josh Housley GodfreyBikewear-VisionExpress RT
150 David Ogg GodfreyBikewear-VisionExpress RT
151 George Sewell GodfreyBikewear-VisionExpress RT
152 Sam Smith GodfreyBikewear-VisionExpress RT
153 Pierre Vernie GodfreyBikewear-VisionExpress RT
154 Conor Williams GodfreyBikewear-VisionExpress RT
155 Joe Harris Maxxis 4 Racing Team
156 Kieran Wynne-Cattanach Maxxis 4 Racing Team
157 Stephen Collins Pedal Power RT
158 Callum Sharp Pedal Power RT
159 Martin Woffindin Secret-Training.cc
160 Richard Taylor Harry Middleton Cycling Club
Send your results as well as club, team & event news here
---
Other Results on VeloUK (including reports containing results)

---
Other News on VeloUK