Chris Opie, Alice Barnes and JLT Condor were the big winners at the first round of the Tour Series in Redditch on Tuesday night
---
Feature Report: Tour Series Redditch (first report, more to come)
JLT Condor and Drops take opening Tour Series rounds in Redditch
JLT Condor and Drops were the winners at the opening night of the 2017 Tour Series in Redditch, Worcestershire. Defending champions JLT Condor took the honours in the opening Team Time Trial before following that up with victory in the evening's circuit race.
In between Alice Barnes had led her Drops team to a dominant performance in Redditch, winning the race, team prize, Eisberg Sprints Jersey and helping herself to the Brother Fastest Lap along the way.
The men's race was a much tighter and closely fought affair, with the Redditch event coming down to a bunch sprint for the first time in six visits by the Series, with BIKE Channel Canyon rider Chris Opie outsprinting Australian Brenton Jones and Spaniard Enrique Sanz, both of whom were making their Series debuts.
The victory, Opie's third in the Series and first since 2013, helped his BIKE Channel Canyon team into second place on the night, repeating their runners-up spot from the afternoon's Team Time Trial, leaving them two-points behind JLT Condor.
Opie's final lap effort at the head of the bunch earnt him the Brother Fastest Lap award, while Team Raleigh GAC's Sebastian Mora pulls on the new-look Wiggle Points Jersey.
The opening women's race of the year went the way of Alice Barnes, with the Drops rider leading home a pair of 2016's Olympic Gold medalists from Rio in Katie Archibald and Elinor Barker in second and third, helping their teams, WNT and Breeze to the same spots overall. Barnes also won the first ever Brother Fastest Lap award for the women's series, and took the Eisberg Sprints Jersey.
Photo Reports
Team Time Trial
JLT Condor, led here by multi Olympic champion Ed Clancy, were the fastest by three seconds
New team for 2017, Bike Channel Canyon, led here by the crit winner later in the evening, Chris Opie, were second
A former series winner, Madison Genesis is led home in the TTT by a rookie in his first Tour Series, Matt Holmes, 5th in the recent Tour de Yorkshire
Women's Race
The race gets underway 
Alice Barnes soon putting the pressure on and riding away from everyone. She explains what happened below …
Katie Archibald and Elinor Barker lead the chase but Barnes was unstoppable
In between Barnes, the chasing duo of Archibald and Barker and the peloton above, were a few solo chasers who were unable to join the chasers Archibald and Barker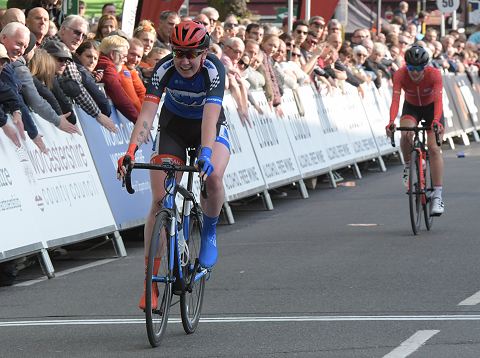 Whilst Barnes won solo, Archibald outsprinted Barker for second
MENS RACE
A fast but not explosive start to the men's race
Then Zach May of Metaltek Kuota slipped off the front and stayed away for some time on his own including taking some points in the sprint competition. "I wasn't expecting to get away" he explained after the race. I was just pressing on the pedals going up the climb and I looked back and I had a few bike lengths and so I thought I'd press on over the top and the next thing I was away. It was nice to be back in the Tour Series after missing it last year.  Hard old racing. The first one is always a shock to the system and the last few laps, I thought something might go away so I was being attentive to that but nothing did and then the last lap was pretty quick!"
More moves off the front followed like this from Steele Von Hoff and Jack Pullar as the sun sets 
Seb Mora of Raleigh GAC leads a small group off the front but it never managed to stay clear
That didn't stop Raleigh GAC putting more pressure on as Hill Climb champion Adam Kenway launched himself off the front on the courses main climb
And Tobyn Horton (Madison Genesis), who explains below how it was a negative race, tries to liven it up on the climb
His Madison Genesis teammate Matt Holmes also tried to break clear with three laps to go
But at the bell, JLT Condor were in control with their team on the front
And a lap later, Chris Opie sprinted clear to win the race individually, and said (below) he had never been happier after a victory
A serious racer but a happy face off the bike, Raleigh GAC rider Seb Mora leads the Sprints competition – "Yes, I am happy with the podium" Seb mora said afterwards "It is the first round of the series so it is just the start, a crazy  series that I like the format and a new opportunity for me. I attack in the first part of the race but I see it was better to wait for the peloton, and later I get more sprint points. On the last lap, I help Enrique to third postion which is good."
As well as winning the race, Opie also got the fastest lap trophy
But the team of the night, with two victories, was JLT Condor – L-R: Brenton Jones, Jon Mould, Ian Bibby, Ed Clancy and Alex Frame
Race action vids
Opening laps

---
Mid Race

---
Six laps to Go
---
Interviews
Chris Opie, winner of the first crit in the 2017 Tour Series
---
Alice Barnes, winner of the Women's race
---
Tobyn Horton (Madison Genesis)
A former winner in the Tour Series, Tobyn Horton (Madison Genesis) assessment of the first round
---
Brenton Jones, winner of the Bay Crits in Australia, loving the Tour Series
---
Alex Frame, talks about his team winning the Team Time Trial
---
Chris Opie – Post TTT
Winner later in the evening, Chris Opie was also part of the team second in the Team Time Trial
---
Pre-Race – John Herety, Manager of the team that is a double winner of the Tour Series
---
Mike Northey of Madison Genesis looks back at his teams TTT (3rd)
---
… continued after advert
MENS
Individual Race Result
1, Chris Opie, GBR, BIKE Channel Canyon, 1:11.197
2, Brenton Jones, AUS, JLT Condor, same time
3, Enrique Sanz, ESP, Team Raleigh GAC, same time
4, Alex Frame, NZL, JLT Condor, same time
5, Tobyn Horton, GBR, Madison Genesis, same time
6, Tom Stewart, GBR, Madison Genesis, same time
7, Ed Clancy, GBR, JLT Condor, same time
8, Rory Townsend, GBR, BIKE Channel Canyon, same time
9, Matt Holmes, GBR, Madison Genesis, same time
10, Jon Mould, GBR, JLT Condor, same time
11 Jacob Hennessy Great Britain
12 Johnny McEvoy Madison Genesis
13 James Lowsley-Williams BIKE Channel Canyon
14 George Pym Metaltek Kuota
15 Will Fox Catford CC Equipe/Banks
16 Jack Pullar BIKE Channel Canyon
17 Callum Ferguson Catford CC Equipe/Banks
18 Zach May Metaltek Kuota
19 Adam Kenway Team Raleigh GAC
20 Connor Swift Madison Genesis
21 Adria Moreno Team Raleigh GAC
22 Steele Von Hoff ONE Pro Cycling
23 Sebastian Mora Team Raleigh GAC
24 Jacob Tipper Brother NRG Driverplan
25 Peter Williams ONE Pro Cycling
26 Hayden McCormick ONE Pro Cycling
27 Bertie Newey Metaltek Kuota
28 Marcus Burnett Spirit Racing Tifosi
29 Jake Stewart Great Britain
30 Harry Tanfield BIKE Channel Canyon
31 Adam Hartley Great Britain
32 Daniel Bigham Brother NRG Driverplan
33 Tom Mazzone Metaltek Kuota
34 Mikey Mottram Morvelo Basso
35 Stanley Kennett Spirit Racing Tifosi
36 Ian Bibby JLT Condor
37 Kristian House ONE Pro Cycling
38 Matt Cronshaw Madison Genesis
39 Martin Ford Brother NRG Driverplan
40 Rhys Lloyd Metaltek Kuota
41 Stephen Bradbury Morvelo Basso
42 William Brown Brother NRG Driverplan
43 Jake Hales Spirit Racing Tifosi
44 Jack Waller Spirit Racing Tifosi
45 Scott Probert Morvelo Basso
46 Yoeri Havik Team Raleigh GAC
47 Ben Marks Morvelo Basso
48 Will Ranoe Morvelo Basso
49 Richard Haughton Brother NRG Driverplan
50 Rhys Britton Great Britain
51 Ed Clemens Spirit Racing Tifosi
52 George Fowler Catford CC Equipe/Banks
53 Charles Walker Catford CC Equipe/Banks
54 Matthew Webster Catford CC Equipe/Banks
Brother Fastest Lap
Chris Opie, GBR, BIKE Channel Canyon, 1:51.699
Team Race Result
1, JLT Condor
2, BIKE Channel Canyon
3, Madison Genesis
4, Team Raleigh GAC
5, ONE Pro Cycling
6, Metaltek Kuota
7, Morvelo Basso
Team Standings, post-Round One
1, JLT Condor, 20pts
2, BIKE Channel Canyon, 18pts
3, Madison Genesis, 16pts
4, Team Raleigh GAC, 13pts
5, ONE Pro Cycling, 13pts
6, Metaltek Kuota, 10pts
7, Morvelo Basso, 8pts
Wiggle Points, post-Round One
1, Sebastian Mora, Team Raleigh GAC, 14pts
2, Zach May, Metaltek Kuota, 8pts
3, Tom Stewart, ONE Pro Cycling, 5pts
WOMEN
Individual Race Result
1 Alice Barnes Drops
2 Katie Archibald Team WNT
3 Elinor Barker Team Breeze
4 Rebecca Durrell Drops
5 Eileen Roe Team WNT
6 Lydia Boylan Team WNT
7 Lucy Shaw Drops
8 Emily Nelson Team Breeze
9 Megan Barker Team Breeze
10 Charmaine Porter Team Ford EcoBoost
11 Manon Lloyd Team Breeze
12 Annie Simpson Drops
13 Alice Sharpe NCC Group Kuota Torelli
14 Neah Evans Storey Racing
15 Jennifer George Storey Racing
16 Gaby Shaw Team WNT
17 Lauren Dolan Liv Epic
18 Amy Hill Team OnForm
19 Julie Erskin Team OnForm
20 Anna Henderson Team OnForm
21 Rebecca Goodson VeloSchils Interbike
22 Lauren Humphreys Aprire HSS Hire
23 Annasley Park Drops
24 Lauren Creamer NCC Group Kuota Torelli
25 Sian Botteley Team OnForm
26 Lauren Murphy Liv Epic
27 Gwenno Hughes NCC Group Kuota Torelli
28 Madeleine Gammons VeloSchils Interbike
29 Lizzy Bennett Liv Epic
30 Mel Brand Team Ford EcoBoost
31 Jenny Holl Team Jadan Weldtite p.b Vive
32 Jessica Woodworth Team OnForm
33 Charlotte Broughton Team Ford EcoBoost
34 Lorna Bowler Team Jadan Weldtite p.b
35 Joscelin Lowden Aprire HSS Hire
36 Steph Clayton Sunsport Velo 14
37 Fiona Redding Sunsport Velo 14
38 Bethany Taylor Team RGB Building Supplies
39 Steph Mottram NCC Group Kuota Torelli
40 Kelly Murphy Team Ford EcoBoost
41 Monica Dew Storey Racing
42 Joanne Clay VeloSchils Interbike
43 Beth Crumpton Storey Racing
44 Sophie Thackray NCC Group Kuota Torelli
45 Amber Joseph Storey Racing
46 Alice Staniford Team RGB Building Supplies
47 Rosie Walsh Sunsport Velo
48 Emily Tillet Liv Epic
49 Louise Scupham Team Jadan Weldtite p.b Vive Le Velo
50 Julie Elder Aprire HSS Hire
51 Felicity Gledhill Sunsport Velo
52 Emily Kay Team WNT
53 Connie Hudson Liv Epic
54 Nicola Soden VeloSchils Interbike
55 Jenny Corser Team RGB Building Supplies
56 Sandra Mackay VeloSchils Interbike
57 Rhona Callander Team Jadan Weldtite
58 Emma Lewis Aprire HSS Hir
59 Adele Martin Team Ford EcoBoost
Brother Fastest Lap
Alice Barnes, GBR, Drops, 2:09.881
Team Standings, post-Round One
1 Drops 96
2 Team WNT 95
3 Team Breeze 88
4 Team OnForm 51
5 NCC Group Kuota Torelli 44
6 Storey Racing 43
7 Liv Epic 36
8 Team Ford EcoBoost 35
9 VeloSchils Interbike 23
10 Aprire HSS Hire 15
11 Team Jadan Weldtite p.b Vive Le Velo 7
Send your results as well as club, team & event news here
---
Other Results on VeloUK (including reports containing results)

---
Other News on VeloUK