Tommy Power  took VC Revolution's Ken Wright Memorial Road Race by the narrowest of margins from "Titch" Richards
Report: Ken Wright Memorial Road Race
(by Fergus Muir)
VC Revolution Ken Wright Memorial Road Race, Abberton, near Colchester, Essex.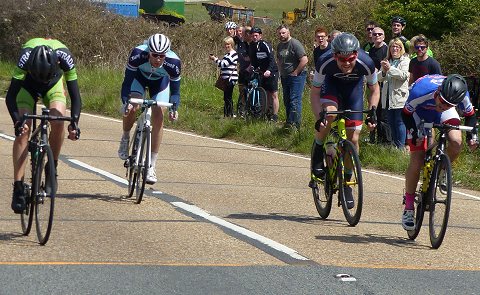 Tommy Power (Strada Sport) (above left) took VC Revolution's Ken Wright Memorial Road Race by the narrowest of margins from "Titch" Richards (VC Baracchi) after The 68 mile race on the Abberton-Layer-Great Wigborough circuit was held in steadily improving conditions after a damp start.
Colin Ward (Essex Roads) made a strong lone attack at about 25 miles. Power chased alone, getting in sight but not making the junction until joined by reinforcements. A group of ten or so split off the front of the bunch and reached the leaders, but shortly afterwards everything came back together.
Tom Elwood (CC London) attacked and was joined by Power. As the race crossed the Abberton Reservoir dam with just over a lap to go these two together with
Paul Saunders (API) had 21 seconds lead over a bunch with David Warwick (Orwell Velo) just off the front and looking poised to take his leave. As spectators waited for the finish, competitors started arriving from behind, reporting a considerable pile-up in the still large bunch, near Great Wigborough.
Eventually four sprinting riders came in sight from the "right" direction. In the last couple of yards Tommy Power (Strada) overhauled Mark Richards (VC Baracchi) to take the win with Jonas Rooze (CC London) next and David Warwick (Orwell Velo) fourth. Tom Elwood and Sam Toye (Velo Schils) took the next two places alone. Then 52 seconds after the winner, Liam Gentry (VC Baracchi) won the bunch sprint for seventh place from Matthew Carter (Velo Schils) with Gary Freeman (Fast Test) taking ninth – the latter having amazingly extricated himself from the hedge after the crash and re-caught the bunch.
Sprint for 7th
Full Result
1 Thomas Power Strada-Sport
2 Mark Richards Velo Club Baracchi
3 Jonas Rooze CC London
4 David Warwick Orwell Velo
5 Tom Elwood CC London + 00:07 secs
6 Sam Toy Velo Schils – Interbike RT + 00:22 secs
7 Liam Gentry Velo Club Baracchi +00:52 secs – Bunch at same time
8 Matthew Carter Velo Schils – Interbike RT
9 Gary Freeman Fast Test Racing Team
10 James Sale Pro Cycle Hire UK Racing Team
11 Daniel Drewery Fast Test Racing Team
12 Michael Auger API-Metrow/Bodyby JR
13 Tom Rowson Velo Schils – Interbike RT
14 Tim Mason Eagle RC
15 Malcolm Smith Peterborough Cycling Club
16 Jeremy Perks Rapha Cycling Club
17 Nicholas Esser Velo Club Baracchi
18 Charlie Wright VC Norwich
19 Simon Hance Ipswich Bicycle Club
20 Liam Fenner API-Metrow/Bodyby JR
21 Alan Brophy Peterborough Cycling Club
22 Charles Jones Velo Club Baracchi
23 Will Drury Pro Cycle Hire UK Racing Team
24 Gregory Bassam London Phoenix CC
25 Lucas He Velo Club Baracchi
26 Ian Perry Velo Schils – Interbike RT
27 Jamie Hazelton Colchester Rovers CC
28 Bjorn Krylander Cambridge CC
29 Peter Blenkinsop Fast Test Racing Team
30 James Sherwood Orwell Velo
31 Tim Guy DAP Cycling Club
32 James Newton CC Sudbury
33 Ian Franklin Pro Cycle Hire UK Racing Team
34 Cameron Hurst Colchester Rovers CC
35 Nathan Howard Finchley Racing Team
36 John Swindells Iceni Velo
37 Edward Lee-Six Cambridge CC
38 Stuart Weatherley Colchester Rovers CC
39 Bob Longstaff Colchester Rovers CC
Send your results as well as club, team & event news here
---
Other Results on VeloUK (including reports containing results)

---
Other News on VeloUK