Louis Szymansk won the 8th annual Ian Mountain Memorial road race organised by Dan Haigh and the Wakefield Cycling Club
Report: Ian Mountain Memorial RR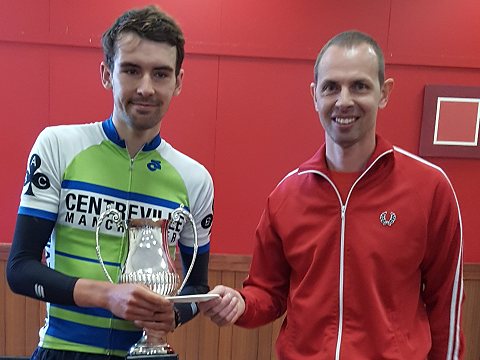 A strong field of 60 riders started the 8th annual Ian Mountain Memorial road race, organised by Dan Haigh and the Wakefield Cycling Club. The race was held over 20 laps of a 3.3 mile circuit, between the villages of Notton and Old Royston.
The first 5 laps saw plenty of attacking racing but nobody was able to break away from the main group. On the sixth lap a group of 3 riders, James Hill, Josh Housley and Ben Joughin, managed to breakaway building up a lead of 40 seconds. The breakaway lasted for 2 laps before they were caught, at which point George Sewell attacked and opened up a 45 second solo lead. George maintained the lead for the next five laps, but the aggressive nature of the riders behind ensured that he was reeled in with 8 laps to go.
With 20 miles to go Josh Housley went on the attack once again, building up a solo lead of 20 seconds. 15 miles from the finish 4 riders, Louis Szymanski, James Bryan, Pierre Vernie and Robert Watkinson, joined up with Josh to create the decisive break.
Working well together the lead group opened up a 1 minute 30 second gap on the main bunch with two riders, Joseph Bowers and Ben Joughin, stuck in no man's land between the two groups.
On the final lap, Louis Szymanski attacked up the final climb to take a fantastic win, 6 seconds ahead of Josh Housley and a further 3 seconds ahead of James Bryan in third place. Pierre Vernie and Robert Watkinson took 4th and 5th place respectively. A further 35 seconds later Joseph Bowers outsprinted Ben Joughin to take 6th place. The main bunch was lead home by Alexander Simmons a further 1 minute 30 seconds behind.
Event organiser Dan Haigh and Ian's widow, Rae Mountain, would like to thank all of the friends and family of Wakefield Cycling Club, without whom the event could not take place.
RESULT
1. Louis Szymansk
2. Josh Housley @ 6s
3. James Bryan @ 9s
4. Pierre Vernie @ 12s
5. Robert Watkinson
6. Joseph Bowers @ 47s
7. Ben Joughin
8. Alexander Simmons @ 2min 17s
9. Joe Williams
10. Simon Deplitch
Send your results as well as club, team & event news here
---
Other Results on VeloUK (including reports containing results)

---
Other News on VeloUK