Team Sky leader Chris Froome seeking fourth Tour de France victory with help from Geraint Thomas in his 8th Tour and Luke Rowe (3rd Tour), both from Wales
Team News: Froome Aims for 4th Tour Win
Team Sky has announced its lineup for the 2017 Tour de France, which starts in Dusseldorf on Saturday 1st July. Team leader Chris Froome will be seeking a fourth Tour de France win and a third straight Tour victory. Froome previously won the 2013, 2015 and 2016 editions of the race.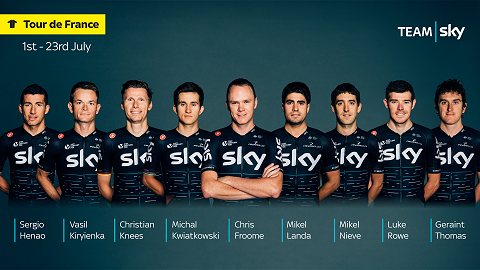 Froome will be joined in the Team Sky lineup by:
— Sergio Henao
— Vasil Kiryienka
— Christian Knees
— Michal Kwiatkowski
— Mikel Landa
— Mikel Nieve
— Luke Rowe
— Geraint Thomas
CHRIS FROOME Q & A
On the Tour de France
The Tour is a special race. It's three weeks of racing under the most extreme circumstances. Everything is intensified. You have to be able to deal with that pressure and expect the unexpected, like at Ventoux last year. That's the Tour de France. It's what makes the race what it is.
You know that there are going to be things that go against you in those three weeks, things that might be out of your control. Being able to cope with those under that pressure is a huge part of the challenge. The Tour has given me memories that I'll keep with me for the rest of my life. I can't wait for it to start now. Honestly, I just love it. It's a feeling that you don't get from any other race.
Preparing for this year's Tour de France
My preparation has been going well. I've had a slow build up, but that was always part of the plan. I've got a busy summer ahead, obviously with the Tour de France being the main goal but also with the Vuelta a Espana afterwards as well, so there's a lot of racing still to come. Something that really helped me last year with the Tour, the Olympics and the Vuelta was to take a slower start to the season.
I have taken a much more relaxed start to the year. I haven't done as many race days as I have in previous seasons. That will hopefully mean I'm going to be a lot fresher coming into this period, when I'll be racing a lot. To be honest, I've been enjoying my riding but also enjoying spending time with my family as well. It's been really nice to be able switch off at times and spend some time at home. I think it's been healthy for me and it gives me a good balance.
This year's Tour de France route
I don't think this year's course necessarily suits me as well as previous Tour de France courses have. I say that because of the lack of mountain top finishes and also the lack of time trial kilometres. Having said that, it means that it's going to be a lot closer race and a lot more exciting for the fans.
Every Tour is a different race. I can't just rely on what I did the year before. I have to always try to look to improve, try and look at upping my game.
I'm going to have to make sure I'm absolutely at my best and to take advantage of any situations out on the road.
Style of riding at last year's Tour de France
At the end of the day the goal is to win and it's not necessarily about how you win. But if I look back at last year's Tour and some of the gambles I took, and some of the risks I took in terms of going for it on the descent, going for it in the crosswinds with Peter Sagan on a flat stage which would typically be a bunch sprint, it does make things more exciting, even for me. It's fun and it does bring the racing alive.
Key stages at this year's Tour de France
This year I think the real key stages are going to be the Izoard mountain top finish, which is the biggest mountain top finish in the Tour this year at over 2000 metres. It's a massive climb. Stage Nine is also a hard stage with the final climb up Mont du Chat and descending down into Chambery – I think that's going to be a key stage. I don't think this Tour will be won and lost on a single stage, but a combination of three weeks put together.
Rivals at this year's Tour de France
It's difficult to name just one rival. Richie Porte is one of them, Nairo Quintana, Romain Bardet, who was second last year. You can never rule out Alberto Contador. I'm certainly going to have my work cut out for me. I think there are maybe a dozen riders who are in with a shot of winning the Tour this year, but I think my main rival is Richie.
I've said for a long time that Richie has got the potential to win the Tour de France, it's just a matter of time until everything works out for him. There are plenty of other guys who will be up there challenging for the overall win, though. I think the route really suits a rider like Bardet, and he showed last year that he has to be taken seriously. He's definitely one of the guys to look out for. I know Quintana's always said he goes stronger in the second Grand Tour, so I expect he'll come to the Tour very strong.
Aiming for a fourth Tour de France victory
It would just be incredible to win a fourth Tour. A lot of people say it's just another number, but each Tour to me tells a different story. Each Tour is unique. It's a different battle in terms of getting that Yellow Jersey and then trying to hold on to it.
It's such a big goal to go for my fourth Tour, it feels as if it's an even greater achievement if I'm able to win four, so I have to work even harder to get there. That's given me a lot of motivation.
I do want to try and be up there with the guys who have won multiple Tours.
They are seen as part of Tour de France history, and it's a goal for me to try and be up there with them.
… continued after advert
Froome on Luke Rowe – Luke has a really important role in the team and he has been a big part of our success over the past two Tours. He's got such a good racing brain and when he has something to say about how we are going to approach a stage then you know it's worth listening to.
This will only be his third Tour but he's already one of those riders who is really well respected and just calmly goes about getting his job done.
Froome on Geraint Thomas – G is one of the most tenacious riders I know. A typical Welsh character! He's just so versatile. What he's done in the last few years, going from the track, going to the Classics and now focusing more on stage racing, it's amazing to see how he has evolved and he can literally now do anything he wants.
Team Principal, Sir Dave Brailsford, said: "We're really looking forward to the Tour. Chris is in good shape and he's ready for it. To win the Tour once is a huge achievement, but to win it a fourth time would be remarkable. "We've selected a strong and experienced lineup who will support him, and we'll be looking to use the strength of the team to our advantage."
The British Riders
Two of the team hail from Wales and whilst its a surprise the likes of Peter Kennaugh and others are not in the team, Luke Rowe and Geraint Thomas have shown over and over their predigree for the Tour de France;
Q & A with LUKE ROWE
Experiences of the Tour de France
This will be my third time doing the Tour de France, and I think what you have to get used to is the scale of it. It's just far, far bigger than any other event in the sport. The race is harder, faster and more stressful and the off bike stuff is just on a different
level. I think what I realised was the need to take it all in my stride and not let individual things get on top of me. Everything is just one piece of a much bigger puzzle, so you have to accept it's one big show and go with the flow.
This year's route
The thing that jumps out is the lack of summit finishes. There are a lot of hard stages and hard finishes, but only three that actually finish on top of a mountain. I think that probably benefits someone who is more of an all-rounder, which we certainly have with Froomey.
It should lead to some pretty wild racing. It's wide open and should be good for the fans. There are plenty of days where this race could throw up a surprise.
Adapting from the Classics to the Tour
It's strange because you go from training for shorter efforts to having to be ready for a three-week stage race. You end up teaching your body to do one thing and then, when it's got the hang of that, you switch gears and have to get it used to coping with something completely different. I think it's gone as smoothly as can be expected. I'm feeling pretty good and hopefully it'll be another successful three weeks.
GERAINT THOMAS
On riding his eighth Tour de France
The racing doesn't get any easier. Your role changes and it's still just as hard, but riding it that many times gives you a feel for the race and you know what to expect, like how certain teams will ride etc. The experience certainly helps.
On Chris Froome
He's the main man and we'll be going there to help him win. Hopefully I can be in decent shape so I'm in there right to the end with him. He knows how to win the Tour and he knows how to get in good shape. I'm confident he'll be there and he'll be going as well as ever.
On the route
There's only three mountain top finishes, but a lot of the other stages are still going to be decisive. You just need to look at the Dauphine – the race was in bits earlier on other types of stages. There are a lot of hard stages that don't necessarily finish up hill that can still catch people out and can still be hard enough to create decent gaps. It's going to be exciting.
On bouncing back after the Giro
I'm certainly looking forward to the Tour. Having it to focus on having come off the Giro has been really, really good for me. Obviously the way the Giro ended for me was frustrating, as it was a big opportunity for me to show what I could do as a leader over a three-week Grand Tour. But now hopefully I can go to the Tour, put on a good show, and next year try all over again.
The Stages
 1 (Saturday) Stage 1 – Dusseldorf ITT (14km)
 2 (Sunday) Stage 2 – Dusseldorf to Liege (203.5km)
 3 (Monday) Stage 3 – Verviers to Longwy (212.5km)
 4 (Tuesday) Stage 4 – Mondorf-les-Bains to Vittel (207.5km)
 5 (Wednesday) Stage 5 – Vittel to La Planche des belles filles (160.5km)
 6 (Thursday) Stage 6 – Vesoul to Troyes (216km)
 7 (Friday) Stage 7 – Troyes to Nuits-Saint-Georges (213.5km)
 8 (Saturday) Stage 8 – Dole to Station des rousses (187.5km)
 9 (Sunday) Stage 9 – Nantua to Chambery (181.5km)

10 (Monday) REST DAY 1

11 (Tuesday) Stage 10 – Perigueux to Bergerac (178km)
 12 (Wednesday) Stage 11 – Eymet to Pau (203.5km)
 13 (Thursday) Stage 12 – Pau to Peyragudes (214.5km)
 14 (Friday) Stage 13 – Saint-Girons to Foix (101km)
 15 (Saturday) Stage 14 – Blagnac to Rodez (181.5km)
 16 (Sunday) Stage 15 – Laissac-Severac l'Eglise to Le Puy-en-Velay (189.5km)

17 (Monday) REST DAY 2

18 (Tuesday) Stage 16 – Le Puy-en-Velay to Romans-sur-Isere (165km)
 19 (Wednesday) Stage 17 – La Mure to Serre-Chevalier (183km)
 20 (Thursday) Stage 18 – Briancon to Izoard (179.5km)
 21 (Friday) Stage 19 – Embrun to Salon-de-Provence (222.5km)
 22 (Saturday) Stage 20 – Marseille ITT (22.5km)
 23 (Sunday) Stage 21 – Montegron to Paris Champs-Elysees (103km)
Send your results as well as club, team & event news here
---
Other Results on VeloUK (including reports containing results)

---
Other News on VeloUK