Dylan Teuns (BMC) wins the Tour of Poland after an explosive stage 7 won by Wout Poels (Sky) and animated by the World Champion Peter Sagan – Adam Yates second on stage
Tour of Poland: Stage 7
Event Press Release
Dylan Teuns (BMC) wins the Tour of Poland after an explosive stage 7 won by Wout Poels (Sky) and animated by the World Champion Peter Sagan – Adam Yates second on stage
The 2017 Tour de Pologne was hard fought up to the last metre. The seventh and last stage on the hard circuit in Bukowina Tatrzanska covered 132.5 km with 6 gpm primes, delivering plenty of thrills.
Stage victory went to Holland's Wout Poels (Team Sky) who got the best of the group of 5 riders in this Tour de Pologne after Adam Yates had led out but was passed in the final moments by Poels who snatched the stage victory.
At the end of the battle, Belgian Dylan Teuns (BMC Racing) managed to defend his place, calling on all his energy to hang on to the yellow Carrefour jersey he captured yesterday in Zakopane, deservedly winning the 74th edition of the Tour de Pologne – UCI World Tour.
Applause also goes to the rest of the competition, especially the Polish rider Rafal Majka (Bora-Hansgrohe) and Wout Peols who were second at 2″ and third at 3″ respectively in the final classification.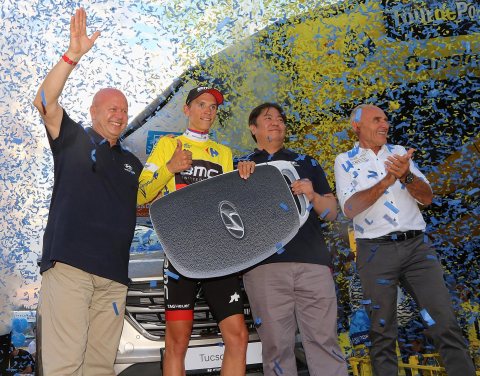 On the final stage, they figured as the most active participants in the group of top riders, but this was not enough to steal the jersey from a fantastic Dylan Teuns. The Belgian from team BMC Racing seemed to be having some trouble on the second-to-last climb of the day, but then he managed to catch up to the best of them and on the climb towards the finish line in Bukowina, helped along by his team mate Tejay Van Garderen, he bit the bullet and resisted wonderfully, catching up to the fastest without giving a metre to Majka or Poels all the way to the finish line.
It was a victory of legs, heart and tactical brilliance that proves the maturity this rider has reached. It's a golden moment for Dylan Teuns, 25 years old, who, in the last 12 days between Belgium and Poland has obtained 5 successes, with Tour de Pologne becoming the most prestigious victory in his career.
Dylan Teuns: "No, I can't believe it. It still hasn't sunk in. It's unbelievable!" How did you manage to stay calm? "This was the thing, to stay calm. We needed to control the top ten and take care at the start because it could be a little bit hectic. It went pretty well and a big breakaway went but there was nothing dangerous for us. UAE Team Emirates took control so we were able to sit behind them and leave the group four minutes ahead and bring them back to two minutes in the final and let them go for the stage win. But, it didn't go like this"
"We knew the last lap would be harder than the first one and it was climb after climb. I was still feeling good before the really steep climb but I knew when I was climbing that I was quite at the limit and then I found it difficult to recover for the second to last climb. It was a really hard moment for me. I was so lucky to have Tejay van Garderen with me. He was pacing but it was too hard so I called him back in the radio and he did directly and did a perfect pace on the climb.
I was still at my limit but not over my limit so I could come back in the descent and recover in Tejay's wheel a bit. Then we had a flat part and I could take a few breaths. In the last climb I said to myself "Now it's all in. I have Tejay with me" and it was perfect. I could see that he still had something left in the legs to do this last climb. Majka tried to attack me three times I think and I knew I had to follow. I was hurting so much in the final sprint but I knew what it was for. I gave it everything I had in my legs."
"My teammates were all amazing. Like I said a couple of days ago when I won the stage, the confidence and trust they gave me was unbelievable. I'm still young but when these guys with so much experience and these palmares believe in you, that's an honor. They knew I was in second place yesterday and they did everything to put me in the lead and today they did everything to defend this jersey. It's amazing."
You recorded your first professional victory less than two weeks ago and now you have five to your name. What can you attribute this to? "It's difficult to say. I showed already some good results in the last two years at hard races but I never had these results. This year in Wallonie I was really confident in myself and then two days before Poland, you hear you can be leader together with Samuel Sanchez, then you know the team believes in you also. I started to believe more and more in myself. I had a hard Giro d'Italia because I was a little bit sick before but after I recovered a lot, and I did a good altitude training camp. And now one success follows another success. I have made the step to  become the winner I was in the U23."
… continued after advert
Rafal Majka: "Yes, I did the best I could and sometimes it's not the win, but I tried, really I tried today, on the last climb. Maybe it was too late because it was not so steep, and the riders with me were not so many seconds behind: Kelderman only 4 seconds, Poels… it's like a lottery, it's not easy. I tried 3 or 4 times, and in the end I'm 2nd by 2 seconds, but I'm so happy, because the team helped me a lot today. The world champion (Peter Sagan) worked for me and they all did a great job, thanks to all of Bora Hansgrohe , we will try again next year. I'm so happy to be racing in Poland. Every time I've raced here I've been on the podium and I'm so happy," says Rafal Majka, winner of the 2014 Tour de Pologne and second in this edition.
Wout Poels: "Yeah, it was really nice, I moved up onto the podium, and I won the stage, and it was really nice. Unfortunately not the GC, but my form is coming back so that's good for the upcoming races. I felt really good at this race, I trained very well, I was struggling with a bit of a knee injury earlier this season so it's really nice to be back on a good level and here in Poland it's really nice to race, a lot of great roads and a good atmosphere, it's really nice. My next race is the Vuelta so 2 weeks rest and then off we go again. I'm leaving Poland with a really good feeling, and it was a good race," says Wout Poels today's winner and third in the general.
Peter Sagan: "I was enjoying being out front, the situation at the back was better for Rafa if he could have someone in the front so that was the tactic. After the starting kilometres it was a little different, in the end I put in a lot of effort without any result. It was a hard Tour of Poland but still it was good week, Rafa was 2nd on the GC. A lot of people came here from Poland and Slovakia and we had a lot of energy from cheering fans.
Peter Sagan had a good Tour de Pologne, winning one stage and wearing the yellow leader's jersey and ended up coming away with the white Hyundai jersey for the points classification. In other classifications: Italian Diego Rosa (Team Sky), in a break for many kilometres today, captured the cyclamen Tauron jersey for the gpm. Holland's Bert-Jan Lindeman (LottoNL-Jumbo) won the blue Lotto jersey for the most active rider in the group. Rafal Majka clinched the Lotos classification for the best Pole rider. Team Lotto Soudal won the team classification.
Stage 7
1. Wout Poels Team Sky
2. Adam Yates ORICA-Scott
3. Rafal MajkaBORA – hansgrohe
4. WilcoKelderman Team Sunweb
5. Dylan Teuns BMC Racing Team
6. Domenico Pozzovivo AG2R La Mondiale 0:05
7. Sam Oomen Team Sunweb 0:12
8. Jack Haig ORICA-Scott 0:14
9. Tejay van Garderen BMC Racing Team 0:18
10. Rui Costa UAE Team Emirates 0:54
Overall
1. Dylan Teuns BMC Racing Team
2. Rafal Majka BORA – hansgrohe :02
3. Wout Poels Team Sky :03
4. Wilco Kelderman Team Sunweb :10
5. Adam Yates ORICA-Scott :13
6. Domenico Pozzovivo AG2R La Mondiale :23
7. Sam Oomen Team Sunweb 36
8. Jack Haig ORICA-Scott :57
9. Vincenzo Nibali Bahrain Merida Pro Cycling Team 1:19
10. Rui Costa UAE Team Emirates 1:22
Send your results as well as club, team & event news here
---
Other Results on VeloUK (including reports containing results)

---
Other News on VeloUK