The winningest rider in the British pro races in 2017 has been Aussie Brenton Jones – we had a chat at Ryedale last Sunday
Feature Interview: Brenton Jones
During the 2017 British road season, two riders in have stood out in the British events, local Ian Bibby (winner of the Bay Crits in Australia as well as the Velothon, Lincoln, and Chorley events) and Aussie Brenton Jones. Both riding for John Herety at JLT Condor.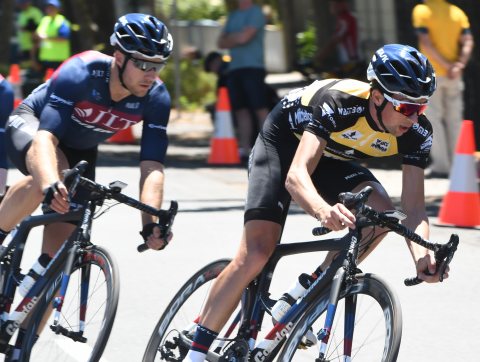 Bay Crits 2017 – Bibby leads Brenton during the final race of the series
Both riders began their seasons on January 1 in Australia and both were new to the team with Bibby having ridden for NFTO the year before and Brenton coming from Aussie Pro Conti team Drapac which merged with Cannondale.
Whilst Bibby's ability to win big races here was well known, Brenton's ability was not something the locals here knew about. He'd won the Bay Crits before in Aussie so was obviously a good crit rider but how would that form stack up in the UK?
Very well indeed as we all saw with more wins than you can poke a stick at (10) and so good that his ability to win races has seen him go to a new team in 2018, French Pro conti Squad Delko Marseille Provence KTM.
Winning though is not new to Brenton, not by a long way. My first race watching him was seeing him take on World class sprinter Caleb Ewan at the Bay Crits and whilst beaten into second in that race, Jones was certainly in the world class category of sprinters as he's gone on to show.
Sprinting with Caleb Ewan, Brenton knows what it will take to be winning sprints at the highest level.
As well as his victories in Britain, Brenton has had success in Asia as well but a look back through his races over the last five years, this season certainly seems to have been his best. For the person who signed him, John Herety, it is one signing that certainly paid dividends.
Herety admitted at the time the team was revealed in 2016 he'd been wanting Brenton's signature for a few years and while there was said to be other teams interested in the Aussie, it was John who got his rider and Brenton a team who backed him 100 per cent in races.
Last weekend in a race not known for being kind to sprinters, the Ryedale GP, Brenton was in the mix and finished 10th showing his all-round ability from crits to grippy Yorkshire races. When asked if he's been happy with his performances in Britain this year, Brenton replied, "for sure. It's been a great year, for myself and for the team and there is still a lot of racing left."
When asked about highlights, Brenton explains "The Tour Series has been the biggest event for the team so to perform well there, get a couple of wins myself and finish the job off for John was fantastic."
Before the team had seen a British crit, Brenton was winning at the Tour of the Wolds
I then asked what event(s) he enjoyed the most regardless of result and the one he chose was where he won two races in three days. "I enjoyed the Stockton weekend because there was a crit and road race on different days and it was nice for us to be able to go away for the weekend and have a few races and not just a crit at night".
On whether the British road season matched his expectations before he came to race here, Brenton replied "I had few expectations of the season here but I think I have enjoyed it more than may be I thought I would".
Brenton explained when comparing the British and Aussie racing calendar's that the racing calendar in the UK is more intense and one he liked. "Cycling in Australia at the moments is struggling a bit (The Bay Crits have been cancelled for 2018 is an example of that) and their calendar is not ideal with too much variety in the times of the racing and they need a structure like the Tour Series and the GP series and set it up properly so riders can have a clear focus".
His racing programme though will be very different again in 2018 as he moves back to Pro Conti level. Whilst his time at ProConti before saw him winning races in Asia, he did also compete in races like RideLondon, Tour of Turkey and others in Europe. But being part of a French team now, he does expect his race programme to be more exciting than ever.
Close in a proper sprinters battle but Brenton (right) gets the verdict at Stockton
"It is a good opportunity for me and one where I hope to do well and progress in my cycling at that level. It will be good fun, learning French, meeting new guys and learning a lot I expect. The race programme they had this year was impressive but it does depend on the wild cards they get next year but I'm expecting they'll be in the big French races and I'm hoping they get into Paris Roubiax which would be a dream ride for me. That would be awesome."
Going to a French team, that will no doubt welcome some extra fire power in helping them get results and enhance their ranking in France, the move will also give Brenton the opportunity to test himself at the highest level and against the best riders in the world.
Brenton has signed a one year contract with the team and certainly seems to have ambitions to move up even further in the world of pro racing. World Tour in 2019? Who knows but certainly 2018 will give him the opportunity to fight for that opportunity.
Winning at the Tour Series was a key goal – box ticked.
Prior to heading to France though, there is a little matter of a stage race here, the Tour of Britain, and one which is said to be set up for a load of bunch sprints which should give him the opportunity to show his talent for sprinting at the highest level with many of the world's best expected to be in the National Tour this year.
"That's a massive priority for me and the team and hopefully we can go there and get a few results" he explained. It is also an opportunity for him to learn more about sprinting at that level before his season in France in 2018 and from what we saw this year locally, some great results could well be on the cards.
It could also have a profound effect on the strategy for JLT Condor and the Tour of Britain. Getting in breaks and staying away like Graham Briggs did in 2016 (2nd, stage 3) has always been a goal for the British teams but perhaps 2017 will be different for JLT.
All season, the team have had a great leadout train for Brenton and whilst the Tour of Britain only has six man teams, the JLT team when announced may well have a strong focus on supporting Brenton for the sprints who admits with the some good preparation, they could well be challenging for the wins.
The final word with Brenton was to find out about his favourites back home in Oz starting with his favourite holiday destination? "Perth WA, down the coast at Cottesloe Beach. It was a nice holiday with great beaches and I'm looking forward to going back".
Favourite Car in Aussie: My little Ford Focus does the job but you can't go past a Skoda back home and a Holden HSV Ute …
Favourite Aussie Food: Barbeque
Favourite Sport outside of cycling: AFL (Aussie Rules) Sydney Swans all the way
Thanks Brenton for the chat. Good luck in the coming month and for 2018.
Send your results as well as club, team & event news here
---
Other Results on VeloUK (including reports containing results)

---
Other News on VeloUK