Mike Bell winner of the Orwell Velo Road Race at Gosbeck, Sunday 10th September
Top 10: Orwell Velo Road Race
From Fergus Muir
An early break of three dominated this 57 mile race in mid-Suffolk. Mark Powell from Stowmarket & District CC, Mike Bell from the Stowmarket club's Fast Test Racing Team and James Sherwood from the Ipswich-based promoting club escaped on the first lap and the bunch never saw them again.
L-R Sherwood 3rd), Bell, winner, and Powell
… continued after advert
At the finish Bell took the win from Powell, who is effectively his clubmate, with Sherwood third. It was a first-ever win for Bell, a 33 year-old print finisher. Autumnal mist caused a 30 minute delay to the start, but conditions soon became brighter, with a headwind on the finishing straight – the finish returning to the straight road outside Crowfield Rose, after some years of finishes at Framsden.
As it became obvious that the break was not coming back, Robin Hawes (Chelmer CC) launched himself off the front of the bunch for a last lap attack, which proved doomed. However Cambridge CC's Bjorn Krylander tried and succeeded – taking fourth place, 11 seconds ahead of his clubmate Sam Barker and the bunch.
Bell takes the win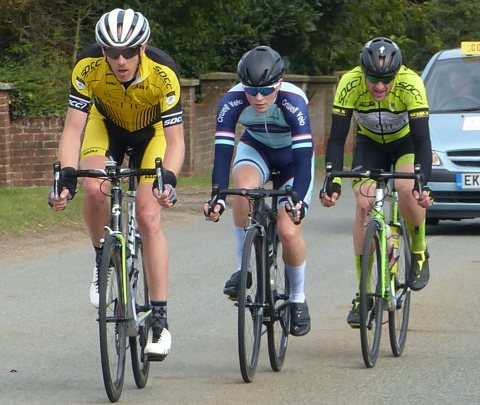 The break
Top Ten
1 Mike Bell (Fast Test)
2 Mark Powell (Stowmarket & District CC)
3 James Sherwood (Orwell Velo)
4 Bjorn Krylander (Cambridge CC) + 2 mins 50 ses
5 Sam Barker (Cambridge CC) + 3:01
6 Jonathan Poole (Chelmer CC)
7 Steven Messenger (East London Velo)
8 Mike Padfield (North Norfolk Whs)
9 Liam Fenner (API-Metrow)
10 Douglas Allen (Velo Schils)
Send your results as well as club, team & event news here
---
Other Results on VeloUK (including reports containing results)

---
Other News on VeloUK