From a pro rider who knows what it means to stay dry on the bike comes SPATZ 'Pro' Overshoes that are unique and never seen before
Any bike rider who knows what it is like to have cold feet or wet feet, never mind both at once may well be interested to know that former professional Tom Barras from a cycling family has come up with what he calls an utterly unique product; a game changer. Spatz Overshoes
Tom was a pro for many years as was his dad Sid before him and so it is no surprise that Tom, with the help of others, has developed this product which could well take the cycling world by storm worldwide.
They are overshoes which do the job they should – from the knee down. Fast, warm, sleek, comfortable is the description on the product website.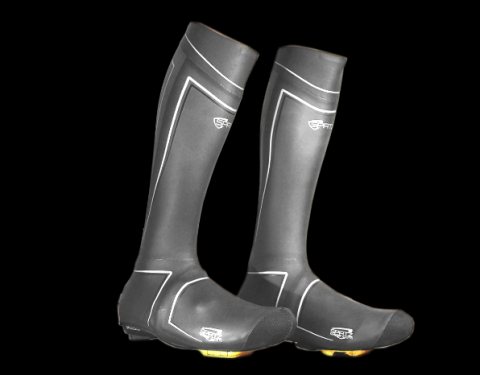 The Spatz Overshoes have been developed by Olympians, Pro Cyclists, Special Forces Veterans and an Everest Summiteer and are engineered from the finest neoprene on the planet. They are revolutionary knee length overshoes which Tom says will transform your wet/cold riding experience.
They have a water-dispersing lining and Hydrophobic outer layer with heat welded and taped seams. Liquid seal gripper seals top and bottom and there is a stretch velcro fastener behind the cleat. They also have a reinforced toe area and wrinkle-free 'pro' cut.
THE STORY OF THE SPATZ
Spatz, says the story on the website, have evolved through countless cold wet miles in the Yorkshire Dales and designed out necessity to keep the feet dry when riding in the wet which we all do even if we didn't intend to.
Spatz are the brainchild of professional cyclist and NFTO team manager Tom Barras. Tom needed a solution to cold, wet feet whilst cycling. In the winter of 2006, he put pen to paper and developed early prototypes, but the right materials were not available yet. The project was shelved until Tom retired from cycling competitively.
Fast forward to the winter of 2016, Tom met a famous triathlete in Ilkley, Yorkshire for a standard Wednesday bike ride. It was freezing cold and the roads were flooded. But they need to ride for 4 hours. They needed to train. As the rain ran down their faces and the wind gathered, they headed out up Wharfedale. … continued after advert
The triathlete's feet were wet and cold as the spray from his front wheel ran down his shins and into his shoes. Tom's feet were warm and dry. Tom's overshoes were hugely different. Tom was wearing Spatz prototypes he'd made on his dining room table. He hid them under his cycling tights to keep them away from prying eyes.
The triathlete thought the prototypes were revolutionary. A game changer. He wanted to be part of Spatzwear.com. A partnership was born between Burnsall and Grassington. Tom developed the prototypes using his sewing machine and glue. The triathlete donated some fabrics. 10 generations of prototypes evolved; each sleeker, warmer, more ergonomic and more aerodynamic than the last. They were able to train in the cold and wet without cold feet being a problem.
If you can train more than your competition – you'll beat them.
But they needed another element. A person with not only product development and retail skills, but also experience in extreme conditions. Tom knew just the character; John Wood. John is an experienced Special Forces veteran. He has operated at a super elite level all his life and has climbed the peak of all peaks, Everest.
He knows about extreme weather. He knows about materials. He knows about sport (he owned the NFTO Pro Cycling Team) and he knows what it takes to be at the top of your game. Between the three of them, they developed an overshoe system which allows you to train longer and further than your competitors in cold and wet conditions.
Spatz shield your lower legs and feet from the elements like no other product. You won't know you're wearing them. But you will be glad you are.
Find out much more about them here … 
Send your results as well as club, team & event news here
---
Other Results on VeloUK (including reports containing results)

---
Other News on VeloUK