Liam Killeen, April Tacey, Darren Atkins & Stephen Knight winners at round 7 of the Ridley Lazer West Midlands CX League at Misterton
Report/Result: Ridley Lazer West Midlands CX League
WORDS: Ben Goddard | PICTURES: David Perry
Liam Killeen (Malvern Cycle Sport) and April Tacey (Team 22 WRT) took the senior men's and women's victories respectively in round seven of the Ridley Lazer West Midlands Cyclo-Cross League. Killeen, 35, from Malvern, made his first appearance of the season at the league and despite having to chase early on road to a clear victory.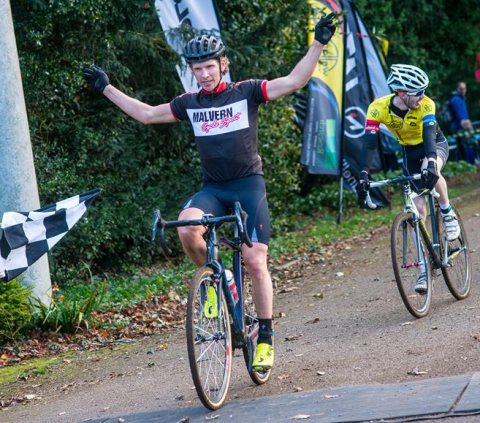 Round seven, organised by Welland Valley CC, took riders to the picturesque Misterton Hall in Lutterworth with the course including a combination of fast wooded and grass sections. Junior rider Toby Barnes (Lichfield City CC), who has won three of the opening six rounds, got off to a perfect start in the senior race and led by nine seconds after the opening lap over Killeen and Dan Booth (Hope Factory Racing).
That gap stayed the same until the mid-way point when Killeen, who won a Commonwealth Games Gold medal earlier in his mountain biking career, showed his experience to catch Barnes. With his junior competitor fading Killeen kept consistent lap times for victory. Barnes' Lichfield City CC team-mate and fellow junior Marcus Holmes took third after winning a close battle with four other riders. Booth fell back to the chasing group and eventually finished seventh.
Darren Atkins (Ride Coventry) continued his domination in the veteran's over-40 category finishing 10th overall, despite starting over a minute behind the seniors. Dan Alexander (Zepnat.com) won the battle for second in the veterans ahead of Philip Glaze (Stourbridge CC)
Tacey, 17, from Leicester, finished second at the same venue earlier this month in the Leicestershire league but went one better on this occasion. The velodrome and road specialist used the speed she learnt from the track to devastating effect pulling out an early lead and holding on for victory. Jules Toone (unattached) lost a minute on the leader after the opening lap but was the fastest on the course pulling back Tacey's lead.
However, she would run out of time as the junior took victory by 20 seconds. Third place saw a close battle between series leader Melissa Baker (unattached) and veteran rider Karen Summers. The duo traded blows throughout the race but it was eventually Baker who took third by just seven seconds.
"I had a plan to just lead from the start and try and hold it to the end," said Tacey. "The course suited me as it was quite fast and following. I do a lot of track and road racing as well which helped me today. "I did the Derby National Trophy a couple of weeks ago and started at the back and moved up to 19th which I was pretty happy with. I also aim to do the National Trophy at Shrewsbury as well as a couple of the local leagues."
Stephen Knight (Team Jewson-MI Racing) made it seven victories from seven in the veteran's over-50 event. Roy Chamberlain (Team Corley Cycles) won a close battle for second from Kirby Bennett (Team Jewson-MI Racing) in third. Simon Wyllie (Halesowen A&CC) took victory in the under-16 boys race after continuing his season-long battle with Daniel Barnes (Lichfield City CC).
Wyllie had won the four opening rounds he had competed in before being beaten by Barnes last week. However, the Halesowen A&CC rider took the lead from the outset and increased it ever lap on a chasing group of three riders. In a close finish for second Barnes edged out Alec Gregory (Pedal Power) for second while Emile Alexander (Lichfield City CC) finished a handful of seconds further back.
The under-14 boys race was equally as close with four riders battling it out for victory with Ben Askey (RST Racing Team) taking the win during a close sprint finish. Series leader Alex Barker (Halesowen A&CC) was edged into second while Max Greenshill (unattached) took third. Young Grace Lister (Wolverhampton Whls) again shone in the girl's event taking victory by a minute.
The under-14 rider beat those in the older category and Isla Mason (Redditch Road & Path) finished second but first under-16. Spencer Corder (Stratford CC) continued his domination of the under-12 category while Cerys Greaves (Mid Shropshire Whls) was first girl. In the under-10 category George Cooper (Pines Cycles Enve) took the boy's victory while Rose Lewis (Halesowen A&CC) took the girls win.
Louis Inman (Bolsover & District CC) took his fourth victory of the series in the under-eights while Rose Neely (Solihull CC) was first girl. Finally, Harry Donald (Leicester Forest CC) took victory in the under-six category while Millie Barton (Mid Shropshire Whls) took the girls victory.
… continued after advert
Senior/Vet 40-49/Junior
1 Liam Killeen Malvern Cycle Sport Senior
2 Toby Barnes Lichfield City CC Junior
3 Marcus Holmes Lichfield City CC Junior
4 Jacob Knight Solihull CC Junior
5 Ross Harnden Malvern Cycle Sport Senior
6 Harrison Knight Solihull CC Junior
7 Isaac Hedson Welland Valley CC Junior
8 Robert Burns Islabikes Senior
9 Ewan Grivell-Mellor Mid Shropshire Wheelers U23
10 Darren Atkins Ride Coventry V45
11 Oliver Snodden SF Racing Junior
12 Anthony Neave Stourbridge Cc U23
13 James Garrett Rugby Velo Senior
14 Samuel Morris Revolutions Racing U23
15 Matt Humpage Trek Bicycle Club Senior
16 Jonathan Brain Private Member Senior
17 Jeremy Hicks Rugby Velo Senior
18 Oli Cox Club Le Club Velo Club Senior
19 Dan Alexander Zepnat.com V45
20 Jason McNulty Royal Leamington Spa CC (RLSCC) Senior
21 James Paradine Run & Ride / Midland Bike Fit Senior
22 Phillip Glaze Stourbridge Cc V40
23 Ryan Henry Oakham Sports Massage Senior
24 Carl Dyson Leicester Forest CC Senior
25 Colin Miller Ride Coventry V40
26 Sebastian Bacon Wolverhampton Whls Junior
27 Henry Lloydlangston Halesowen A & CC Junior
28 Gary Price Dynamic Rides CC Senior
29 Philip Hinch Stourbridge velo V40
30 Robert Grimes Bikestrong KTM V40
31 Nick Morris Clee Cycles Senior
32 Simon Stretton Bicicielo V45
33 Gary Brain Pearce Cycles RT Senior
34 Andy Collis Bicicielo V45
35 Darren Shaw Stourbridge velo V40
36 Jake Hubbard Welland Valley CC U23
37 Hans Vannierop V40
38 Pete Matthews Senior
39 Gary Howard Private Member V45
40 Ben Beauchamp Private Member Senior
41 Sean Byatt Private Member Senior
42 Gareth Vickers Stourbridge Cc Senior
43 Ian Critchley C2 Racing Senior
44 Matthew Barrett Renvale RT V40
45 Joshua Van Nierop Welland Valley CC U23
46 Dan Fisher Lfcc Senior
47 Kyle Martin Private Member V45
48 John Darroch Private Member V45
49 Johann Breytenbach Stratford CC V40
50 Jonathan Perks CC Giro V40
51 Jake White Wolverhampton Whls Junior
52 Andy Jones Clee Cycles V45
53 Simon Askham Leicester Forest CC V40
54 Sam Chatwin Run & Ride / Midland Bike Fit V40
55 Chris Corbett Private Member Senior
56 Fraser Ayears Welland Valley CC Junior
57 Graeme Davidson Kenilworth Wheelers CC V45
58 Gareth Evans Revolutions Racing V40
59 Michael Burke Welland Valley CC Senior
60 John Buchan Lichfield City CC V45
61 Matt Dowling Lfcc Senior
62 Benjamin Caine Private Member Senior
63 Nathan Smith Windmill Wheelers Senior
64 Scott Matthews Redditch Road & Path CC Junior
65 Martyn Gall Royal Sutton CC Senior
66 Lee Monks Pearce Cycles RT Senior
67 Terry Richardson Redditch Road & Path CC V45
68 John Dyer Mammoth Lifestyle Racing Team V40
69 Spencer Parker Private Member V45
70 Austin Smith Rockingham Forest V40
71 Stephen Wallis Senior
72 Steven Proud Senior
73 Mark White Mid Shropshire Wheelers V40
74 Phil Richards Rugby Velo V40
75 James Moore Welland Valley CC V40
76 Philip Bromwich Stratford CC V45
77 Andy Stevenson V40
78 Steven Humphreys Rugby Velo U23
79 Oliver Bill Wyre Forest CRC Junior
80 Nick Horder Welland Valley CC V40
81 Ian Carter Tamworth Cycling Club Senior
82 Ian Warr Redditch Road & Path CC V40
83 Fraser Howard Stourbridge velo V45
84 Dave Cherry Private Member V45
85 Joshua Hubble Halesowen A & CC Junior
86 Nik Kershaw Welland Valley CC V45
87 Matthew Newman Private Member V45
88 Neil Pattinson Halesowen A & CC V45
89 Thomas Green Solihull CC Junior
90 Kevin Lister Kenilworth Wheelers CC V40
91 Jonathan Mouzer Private Member Senior
92 James Ralph Solihull CC Junior
93 David Wilson Welland Valley CC V40
94 James Strain Redditch Road & Path CC V40
95 Hamish Low Bcccc V40
96 Adrian Read Welland Valley CC V45
97 Daniel Reid Solihull CC V45
98 Jason Hawkins Ride Coventry V45
99 David Green Solihull CC V45
100 Matthew Harris Halesowen A & CC V40
101 Russ Parker Private Member V40
102 Michael Harrison Solihull CC V45
103 Charlie Stenson Junior
104 Dan High Welland Valley CC V40
105 Tim Mason Redditch Road & Path CC V45
106 Keith Jones Solihull CC V45
107 Dan Booth Hope Factory Racing Senior
108 Neil Taylor Solihull CC V45
109 Neil Wood V45
110 Anthony De-Leon Wolverhampton Whls Senior
111 Mark Ainge V45
112 Ben Smith Hiplok Senior
113 Stacey Hubble Halesowen A & CC V45
114 Julian Holt West Midlands Police CC V40
115 Emerson Graham Ride Coventry V45
116 Johann Venter Private Member V40
117 Chris Lydall Welland Valley CC V40
118 Jonathan Durnin Welland Valley CC V45
119 Tim Gordon Solihull CC V45
120 John Potts Redditch Road & Path CC V45
121 Paul Berry Redditch Road & Path CC V40
Women
1 April Tacey Team 22 Junior
2 Jules Toone Senior
3 Melissa Baker Private Member U23
4 Karen Summers Private Member V45
5 Lauren Humphreys Aprire Bicycles/HSS Hire Senior
6 Sara Willhoit Senior
7 Sally Reid Cheltenham & County CC V55
8 Amanda Whitehouse Stourbridge Cc V40
9 Maxine Filby Cannondale Girls Senior
10 Annie Lindsay Redditch Road & Path CC Junior
11 Lisa Garside Private Member V50
12 Lindsay Newman Team Jewson-M.I.Racing-Polypipe V45
13 Francesca Hall Claycross Rt Senior
14 Ella Roper Newport Shropshire CC Senior
15 Alison Bagnall Stratford CC V50
16 Nicola Traynor Welland Valley CC V45
17 Clair Wadden Bristol Rc V40
18 Samantha Hughes-Dowdle TEAM MILTON KEYNES V40
19 Wendy Holmes V50
20 Jessica Cobbe Leicestershire Road Club Junior
21 Claire Murphy Kenilworth Wheelers CC Senior
22 Sarah Vigrow Welland Valley CC V45
23 Bridget Jones Mid Shropshire Wheelers V50
24 Maria Gent Kettering CC Senior
25 Helen Jamieson Beacon Roads CC V40
26 Anna Bower Llcc V40
27 Gwen Wathne TEAM MILTON KEYNES Senior
28 Rita Humphreys Coventry Cycling Club V50
29 Emma Darroch V45
30 Heather Douglas Beeston Cycling Club Senior
31 Joanne Barnett Matlock CC V40
32 Judith Harper Solihull CC V50
Vet 50
1 Stephen Knight Team Jewson-M.I.Racing-Polypipe V50
2 Roy Chamberlain Team Corley Cycles V50
3 Kirby Bennett Team Jewson-M.I.Racing-Polypipe V55
4 Phillip Roach Team Jewson-M.I.Racing-Polypipe V55
5 Tim Gould V50
6 Nigel Gregory Pedal Power Loughborough V50
7 Steve Large Private Member V50
8 Ian Wright Team Jewson-M.I.Racing-Polypipe V55
9 Glenn Coltman Leicestershire Road Club V55
10 Vince Page Worcester St Johns CC V50
11 Peter Busby Team Jewson-M.I.Racing-Polypipe V55
12 Peter Harris Pearce Cycles RT V60
13 Harvey Levann Team Jewson-M.I.Racing-Polypipe V50
14 Stephen Whitehouse Stourbridge Cc V50
15 Nigel Jones Absolute Black Racing Team V55
16 Timothy Stowe Team Jewson-M.I.Racing-Polypipe V60
17 Mark Mullender V55
18 Andy Collins Mid Shropshire Wheelers V50
19 Gary Hipwell Rugby Velo V55
20 Gareth Highley Private Member V50
21 Neil Taylor Coalville Wheelers CC V50
22 Julian Gould Zepnat.com V50
23 Jeff Farmer Hinckley Cycle Racing Club V50
24 Tim Bailey Nbrc V50
25 Shaun Campling Leicester Forest CC V50
26 Richard Graham Worcester St Johns CC V50
27 Paul Turner Leicester Forest CC V50
28 Peter Bromwich Private Member V55
29 Steve Proud Mike Vaughan Cycles V55
30 Kevin Bodley Fred Williams Cycles V55
31 Lorenzo Buratti Team Jewson-M.I.Racing-Polypipe V50
32 Michael Vaughan Mike Vaughan Cycles V50
33 Chris Watts Matlock CC V60
34 Carl Max Taylor Stratford CC V50
35 John Byatt Private Member V55
36 Brian Handley Wolverhampton Whls V50
37 Victor Barnett Welland Valley CC V70
38 Simon Jones Fred Williams Cycles V50
39 Neville Gunn Solihull CC V50
40 Gary Rowing-Parker Solihull CC V55
41 Jonathan Todd Rugby Velo V50
42 John Risby TEAM MILTON KEYNES V50
43 Joseph Rowe Bush Healthcare CRT V65
44 Andy Webb Kenilworth Wheelers CC V55
45 Steve Chapman Nova Raiders Cycling Club V55
46 Michael Webb Lichfield City CC V65
47 John Wright VC Long Eaton V50
48 Michael McDermott Heanor Clarion CC V65
49 Garry Bolton Wolverhampton Whls V50
50 Philip Richardson Wolverhampton Whls V50
51 Mike Snell Royal Leamington Spa CC (RLSCC) V60
52 Wayne Henderson Leicester Forest CC V50
53 Simon Laight Halesowen A & CC V50
54 Stephen Croggon Beacon Roads CC V55
55 Peter Mooney Rugby Velo V65
56 Dennis Smith Windmill Wheelers V70
57 Jim Woodward Ride Coventry V50
58 Adrian Ravenscroft Beacon Roads CC V50
59 Ian Spark Fred Williams Cycles V50
60 Robin Corder Stratford CC V50
61 Keith Weavin Halesowen A & CC V60
62 Jake Jakobson Welland Valley CC V50
63 Paul Askey Lichfield City CC V50
64 Peter Carman Lyme RC V60
65 Peter Varian Birmingham Midland Cycling Club V55
66 Mark Deakin Private Member V50
67 Michael Field Halesowen A & CC V50
68 Robert Burns Islabikes V55
69 David Simmons Private Member V50
70 Gary Hodkinson Private Member V55
71 Ian Wyllie Private Member V50
72 Mike Matthews Redditch Road & Path CC V50
73 Stephen Elcocks Revolutions Racing V50
74 David Mackey Private Member V50
75 Martin Tinsley Private Member V55
76 Paul Lewis Halesowen A & CC V50
77 Michael Haddon Wyre Forest CRC V50
78 Mike Bazeley Mid Shropshire Wheelers V50
79 Nik Bettam Private Member V55
80 Steven Jenkyn Team PB Performance V55
81 Mark Humphreys Rugby Velo V50
82 Derek Hill Stourbridge Cc V65
83 John Homer Redditch Road & Path CC V50
84 Mick Peakman VC Sevale (Malvern) V55
85 Charlie Simpson Welland Valley CC V50
86 Paul Brown Leicester Forest CC V50
87 Stuart Walters Kettering CC V75
88 Andrew McGowan Solihull CC V55
89 Richard Taaffe Private Member V55
90 Rocheford Pearson Solihull CC V50
91 John Claydon Private Member V65
92 Pete Marshall Beacon Roads CC V60
93 Michael Cooper Private Member V65
94 Eric Wilcock Ambleside Velo V50
… continued after advert
YOUTH
1 Simon Wyllie Halesowen A & CC U16 Male
2 Daniel Barnes Lichfield City CC U16 Male
3 Alec Gregory Pedal Power U16 Male
4 Emile Alexander Lichfield City CC U16 Male
5 Matthew Kingston Lichfield City CC U16 Male
6 Kieran Riley Langdale Lightweights Racing Team U16 Male
7 Ryan Greaves Mid Shropshire Wheelers U16 Male
8 Edward Woodward The MI Racing Academy U16 Male
9 David Hird Halesowen A & CC U16 Male
10 Owen Lightfoot Bourne Wheelers U16 Male
11 Ben Askey RST Racing Team U14 Male
12 Alex Barker Halesowen A & CC U14 Male
13 Max Greensill Private Member U14 Male
14 Sullivan Berry Redditch Road & Path CC U14 Male
15 Josh Field Halesowen A & CC U16 Male
16 Louis Jacobson Welland Valley CC U16 Male
17 Harrison Tacey Leicester Rc U16 Male
18 Oliver Baker Wolverhampton Whls U16 Male
19 Conor Jones Solihull CC U16 Male
20 Jacob Jones Solihull CC U16 Male
21 Jude Chamberlain TEAM MILTON KEYNES U14 Male
22 Sam Wainwright Redditch Road & Path CC U16 Male
23 Max Walling Lfcc U16 Male
24 William Farmer Wolverhampton Whls U16 Male
25 Joseph Brookes Halesowen A & CC U14 Male
26 Dominic Switzer Welland Valley CC U14 Male
27 Grace Lister Wolverhampton Whls U14 Female
28 Oliver Tandy Solihull CC U14 Male
29 Tomos Pattinson Halesowen A & CC U14 Male
30 Luke Harris Halesowen A & CC U14 Male
31 Oscar Laight Halesowen A & CC U16 Male
32 Edward Hopkins Mi Racing U14 Male
33 Isla Mason Redditch Road & Path CC U16 Female
34 Thomas White Wolverhampton Whls U14 Male
35 Jack Newman Private Member U14 Male
36 Kian Traynor Welland Valley CC U14 Male
37 Joe Homer Redditch Road & Path CC U14 Male
38 Bell Libby Lfcc U14 Female
39 Billy Laight Halesowen A & CC U14 Male
40 Alex Dalton Redditch Road & Path CC U14 Male
41 Alexander Ward Wolverhampton Whls U14 Male
42 Harriet Limb Matlock CC U14 Female
43 Daphne Jones Mid Shropshire Wheelers U14 Female
44 Huw Wilson Welland Valley CC U14 Male
45 Ben Lucas Private Member U14 Male
46 Molly Lewis Halesowen A & CC U16 Female
47 Thomas Danvers Welland Valley CC U16 Male
48 Grace Nolan Wyre Forest CRC U14 Female
49 Eleanor Partridge Welland Valley CC U16 Female
50 Will Lewis Halesowen A & CC U14 Male
51 Isla Blain Halesowen A & CC U14 Female
52 Ben Brunt Welland Valley CC U16 Male
53 Joshua Pearson Solihull CC U14 Male
54 Kasim Lone U14 Male
55 Joel Ayears Welland Valley CC U14 Male
56 Posie Forrester Wyre Forest CRC U14 Female
57 Bethany Harris Wolverhampton Whls U16 Female
58 Aleksandra Franks Redditch Road & Path CC U14 Female
Under 12
1 Spencer Corder Stratford CC Male
2 Jude Du Toit Kirklees Cycling Academy Male
3 Max Saunders Solihull CC Male
4 Luca Bradley Lichfield City CC Male
5 Alex Hart Mid Shropshire Wheelers Male
6 Noah Inman Bolsover & District Cycling Club Male
7 Ryan Oldfield Redditch Road & Path CC Male
8 Alexander Burden Stratford CC Male
9 Jesse Bradley Lichfield City CC Male
10 Cerys Greaves Mid Shropshire Wheelers Female
11 Ben Woodhouse Solihull CC Male
12 Thomas Brookes Halesowen A & CC Male
13 Luke Mannings Halesowen A & CC Male
14 Tom Jackson Newport Shropshire CC Male
15 Joshua Darlow Stratford CC Male
16 Zoe Parker Stratford CC Female
17 Bethany-Ann Jackson Leicester Forest CC Female
18 Rebecca Woodvine Mid Shropshire Wheelers Female
19 Andrew Groves Lichfield City CC Male
20 Luke Jones Welland Valley CC Male
21 Ella Tandy Solihull CC Female
22 Matthew Dalton Redditch Road & Path CC Male
23 Harriet Greensill Rapid Racer Products Female
24 Jake Bazeley Mid Shropshire Wheelers Male
25 Ellis Jackson Leicester Forest CC Male
26 Mia Hopkins Welland Valley CC Female
27 Samuel Abbott Stratford CC Male
28 Tom Lucas Private Member Male
29 Mari Porton Redditch Road & Path CC Female
30 George Lewis Halesowen A & CC Male
31 Charlie Price Mid Shropshire Wheelers Male
32 Cole Locklin Newport Shropshire CC Male
33 Patrick Neely Solihull CC Male
34 Amelia Jackson Female
35 Joseph Turnbull Redditch Road & Path CC Male
36 Harriette Taylor Newport Shropshire CC Female
37 Samuel Brownsword Solihull CC Male
38 Danielle Barker Halesowen A & CC Female
39 Evangeline Hopkins Halesowen A & CC Female
Under 10
1 George Cooper Pines Cycles Enve Male
2 Daniel Ward Mercia CC – Lloyds Cycles Male
3 Ruben Stringfellow Stratford CC Male
4 Noah White Mid Shropshire Wheelers Male
5 Oliver Ward Wolverhampton Whls Male
6 Jamie Kershaw Welland Valley CC Male
7 Corin Bradley Lichfield City CC Male
8 Rose Lewis Halesowen A & CC Female
9 Callum Moss Stratford CC Male
10 Holly Saunders Solihull CC Female
11 Megan Cherry Leicester Forest CC Female
12 Lauren Oldfield Redditch Road & Path CC Female
13 Joseph Egan Beacon Roads CC Male
14 Matthew Hitchmough Solihull CC Male
15 Toby Stokes Redditch Road & Path CC Male
16 Teddy Taylor Newport Shropshire CC Male
17 Florence Switzer Welland Valley CC Female
18 Ashleigh Kennedy Beacon Roads CC Female
19 Henry Lewis Wolverhampton Whls Male
20 Ella Harris Halesowen A & CC Female
21 Harry Parkes Newport Shropshire CC Male
22 Annabella Cook Private Member Female
23 Samuel Bishop Redditch Road & Path CC Male
24 Toby Booth Coalville Wheelers CC Male
25 Zac Jones Leicester Forest CC Male
26 Teddy Wright Solihull CC Male
27 Sophie Smith-Jackson Lakeland Sports Female
28 Daniel Brownsword Solihull CC Male
29 Ronan Finlinson Redditch Road & Path CC Male
Under 8
1 Louis Inman Bolsover & District Cycling Club Male
2 Jude White Mid Shropshire Wheelers Male
3 Jet Du Toit Newark Castle CC Male
4 Arly Berry Redditch Road & Path CC Male
5 Andrew Deathridge Welland Valley CC Male
6 Rose Neely Solihull CC Female
7 Tamsin Moss Stratford CC Female
8 Lewis Colley Newport Shropshire CC Male
9 Stephanie Hopkins Halesowen A & CC Female
10 William Stokes Redditch Road & Path CC Male
11 Seb Rogers Solihull CC Male
12 Matthew Smith Jackson Lakeland Sports Male
13 Erin Barton Mid Shropshire Wheelers Female
14 Daniel Philpotts Wyre Forest CRC Male
15 Eddy Porton Redditch Road & Path CC Male
16 James Caine Solihull CC Male
17 Sam Thomas Solihull CC Male
18 William Mansell Solihull CC Male
19 William Garner Solihull CC Male
20 Louie Kennedy Beacon Roads CC Male
21 Oliver Durose Beacon Roads CC Male
22 Alexander Gilmour Redditch Road & Path CC Male
23 Eva-Joan Leavis Leicester Forest CC Female
24 Henry Egan Private Member Male
25 Joshua Wood Wolverhampton Whls Male
26 Ben Purkis Male
27 Milo Cook Private Member Male
Under 6
1 Harry Donald Male Leicester Forest CC
2 Toby Leavis Male Leicester Forest CC
3 Benjamin Gilmour Male Redditch Road & Path CC
4 Millie Barton Female Mid Shropshire Wheelers
5 Charlie Parkes Male Newport Shropshire CC
6 Harry Taylor-Bowen Male
Send your results as well as club, team & event news here
---
Other Results on VeloUK (including reports containing results)

---
Other News on VeloUK